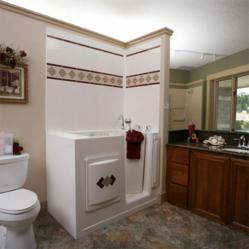 New York, NY (PRWEB) July 01, 2013
National bathtub supplier, Aging Safely Baths announces improved functionality to their walk in bathtubs ecommerce shopping cart website. This unique platform allows visitors from all over the United States and Canada to purchase walk in tubs from a computer. The company has walk in bathtub and wheelchair access shower consultants that can provide detailed information on the specialized products offered.
The bathroom can sometimes be an obstacle course, especially for the elderly or someone with a disability. Walk in tubs and roll in showers may be a better alternative for some bathers. Several of the bathtubs offered can even come with warm air hydrotherapy. This incredible feature is completely natural and fills the bathtub with tiny air bubbles that massage the body. There are multiple settings in which the bather can adjust the pressure from low, medium to high.
Water hydrotherapy is also an option on most tubs offered by Aging Safely Baths. This type of jetting system is different from air hydrotherapy. The water jets are very similar to what one would find in a traditional hot tub. The jets force out pressurized water to massage the bathers body. Depending upon the bathers particular needs, they can choose air jets, water jets or dual jetting. This new site improvement makes it easier for shoppers to find the options they are looking for in a hydrotherapy walk in bathtub.
According to Aging Safely, the air hydro-therapy is a favorite due to a couple factors. Typically the air jets arent as aggressive as the water jets. Secondly, the air jets dont utilize the bathwater. No water is forced out of an air hydrotherapy system, its only air that comes through check valves. Air jets typically are considered the more hygienic of the two types of jets. However shoppers can add accessories such as ozone sterilization and UV lighting to the systems as well to help clean the jetting pipes of their walk in tub.
The website improvement also includes new detailed information on walk in bathtubs, wheelchair access showers, wheelchair access transfer bathtubs and hydrotherapy. In addition, the site boasts new navigational graphics to assist customers in finding the features and options they want in a step in tub. Almost all of the bathroom products offered can be custom ordered and shipped nationally. Nursing homes, assisted living facilities, hospitals and homeowners are encouraged to contact a representative for a no obligation consultation today.
Contact Information:
Zachary Wennstedt

72-495-5497

info(at)walkbathtubs(dot)com
VMI Gives Mobility Sales the Ability to Hold Handicap Vans via the Computer












(Vocus/PRWEB) March 31, 2011
VMI has released the ability for Mobility Sales to put handicap vans on hold for customers through a simple, easy-to-use computer interface. This offers myriad benefits, and can ensure that customers are able to get the wheelchair van of their choice, without hassles.
VMI has implemented several key Internet improvements, one of which is this new feature. Mobility dealers can put any Vantage Mobility International van on hold through their computer for a 48-hour period. Moreover, this can be done at any time, day or night. This provides dealers with the ability to bypass the need to go through VMI's Dealer Relations Department and speed the closing process along for their customers.
Mobility dealers need only follow a simple four-step process to place a hold on any handicap van. They must first log on through the dealer section of Vantage Mobility International's website. They must then select the Available Inventory section. From this point, the dealer simply finds the van in question and clicks on the photo. A new window will appear, containing information and details about the van. From this page, the dealer simply fills in the pertinent information required, and clicks the submit button. The van is now held for up to 48 hours.
In addition, Vantage Mobility International's automated system will send the dealer with the hold a reminder at the 24-hour mark, as well as another at the 48-hour mark. The reminder is simply a notice that the hold will expire. Dealers will also have access to information about all vehicles currently being held under their dealership number, which makes managing this aspect of the process far simpler than ever before.
Mobility Sales can use this new tool to the advantage of their customers, helping to create a streamlined process from the beginning of the sale to handing over the keys.
About Mobility Sales: Mobility Sales has one goal – to provide their customers with the highest quality mobility solutions possible. They offer an immense inventory of wheelchair vans, wheelchair lifts and mobility equipment designed to give handicapped individuals greater freedom and more control over their lives.
###
©Copyright 1997-
, Vocus PRW Holdings, LLC.
Vocus, PRWeb, and Publicity Wire are trademarks or registered trademarks of Vocus, Inc. or Vocus PRW Holdings, LLC.