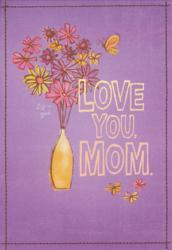 Kansas City, MO (PRWEB) May 02, 2013
This Mothers Day, Hallmark introduces new cards and gifts that make it easier than ever to celebrate Mom in a personal and meaningful way.
We know from our research that moms want Mother's Day to be meaningful for them and for their families, said Dan Woodall, product manager at Hallmark. Personal touches within cards or gifts, such as a child's handprint or a photograph, help make Mom feel loved and appreciated.
With more than 1,300 Mother's Day cards and a wide variety of customizable gifts, Hallmark makes it simple to make it personal for Mom or Grandma.
2013 Mother's Day Cards & Gifts
Hallmark Signature Collection

http://www.hallmark.com/card-collections/

This greeting card collection features 72 sophisticated, stylish designs with simple messages. Each card is handcrafted with beautiful papers, rich textures and sophisticated embellishments. Choose a design and sentiment that fits Mom's personality or current stage in life, like the "Mommys Own Sippy Cup" card featuring a tropical adult beverage and a detachable wine charm for Mom to keep. Available at Hallmark Gold Crown
Calabasas, CA (PRWEB) November 12, 2008
Just in time for the holiday season, Hallmark Software announces the availability of the newest versions of the best-selling Hallmark Card Studio software. Hallmark Card Studio 2009 and Hallmark Card Studio 2009 Deluxe include more customizable Hallmark greeting cards and projects than ever before, new designs and premium art images, transforming the PC into an all-in-one creative design center.
With Hallmark Card Studio software, anyone can make personalized cards in three easy steps, ideal for printing or e-mailing year-round. Users simply select a professionally designed Hallmark greeting card from thousands of pre-loaded designs, or create a completely customized project from scratch. Hallmark Card Studio also offers 3D projects including greeting cards, photo cubes, frames and mini-albums, plus other fun, creative projects such as calendars, gift tags, invitations and scrapbook pages. With the holiday season quickly approaching, Hallmark software can create memory-filled gifts for friends and family at the suggested retail price of $ 29.99 for the Standard version and $ 49.99 for the Deluxe version.
"Hallmark Card Studio software captures the quality and creativity of Hallmark greeting cards, while at the same time providing customization features that yield truly one-of-a-kind projects," said Barry Evleth, director of product marketing for Hallmark Software.
"With Card Studio 2009, the new Photo Calendars project category adds to the many ways users can commemorate life's special moments and digitally share them with friends and family," added Tom Esselman, director of new concept development at Hallmark.
Hallmark Card Studio 2009 Deluxe includes advanced digital photography features allowing users to enhance and customize personal photos to their liking and insert them into their cards and projects. Removing red-eye, correcting brightness and contrast, and cropping photos into unique shapes are just a few of the built-in digital photo editor's foremost capabilities.
Hallmark Card Studio 2009 features more than 5,000 projects and more than 600 new designs. The Deluxe version includes more than 9,000 projects and 1,200 new designs. Both versions come with a complete Hallmark sentiment library, exclusive Hallmark fonts and a new animated user interface that makes it easier than ever to create personalized projects. In addition, both new versions of Hallmark Card Studio 2009 include an event planner and address book to make sure important friends, family and events are never forgotten.
Hallmark Card Studio software easily prints high-quality cards using Hallmark Premium Blank Greeting Card or Photo Greeting Card paper products. Each paper product prints vibrant colors, crisp text and is designed to work seamlessly with Hallmark Card Studio software and all popular brands of color inkjet printers.
Hallmark Card Studio 2009 is compatible with Microsoft Windows XP and Vista and requires Pentium III 800 MHz or faster; 512 megabytes RAM; CD-ROM or DVD-ROM drive; 1024 x 768 screen with 16-bit color and a color printer. Hallmark Card Studio 2009 is available at http://www.hallmarksoftware.com and through major retailers across the nation.
About Hallmark Software:

Based in Southern California, the Hallmark Software is developed and distributed by Nova Development Corporation, the No. 1 publisher of home graphics and greeting card software in the United States, according to The NPD Group. For more information, visit http://www.hallmarksoftware.com.
For evaluation software or more information about Hallmark Card Studio, contact:

Jessica Nu