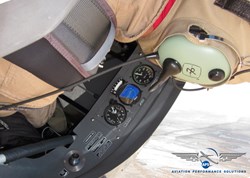 Mesa, Arizona (PRWEB) August 30, 2013
Aviation Performance Solutions LLC (APS), a USA-based flight school with training centers in Arizona, Texas and Europe, announced today setting a record on their status as the world leader in number of specialized master instructor pilots on staff. APS now has five Master Certified Flight Instructor - Aerobatic (MCFI-A) instructors on their team, more than any other training organization.
For perspective on this achievement, there are approximately 97,000 CFIs in the United States. Fewer than 800 of those aviation educators have achieved the status of Master CFI with only 32 of those instructors attaining the Master CFI - Aerobatic designation. "Aviation Performance Solutions (APS) places significant and well-placed emphasis on the critical importance of instructor professionalism, quality assurance and instructional effectiveness." said Sandy Hill, president and co-founder of the Master Instructor Continuing Education Program (MICEP), the international accrediting authority for the Master Instructor designation, "APS should be congratulated on being the established leader in having the most active MCFI-Aerobatic designated instructors on staff of any training organization in the world today."
The MICEP Master Instructor designation is a national accreditation recognized by the FAA and available to other flight instructors around the world. Candidates must demonstrate an ongoing commitment to excellence, professional growth, and service to the aviation community, and must pass a rigorous evaluation by a peer Board of Review. The process parallels the continuing education regimen used by other professionals to enhance their knowledge base while increasing their professionalism. Designees are recognized as outstanding aviation educators for not only their excellence in teaching, but for their engagement in the continuous process of learning -- both their own, and their students'. The designation must be renewed biennially and significantly surpasses the FAA requirements for renewal of the candidate's flight instructor certificate. In the words of former FAA Administrator Marion Blakey, "The Master Instructor accreditation singles out the best that the right seat has to offer."
ABOUT AVIATION PERFORMANCE SOLUTIONS

Aviation Performance Solutions LLC (APS), an Arizona USA limited liability company dba APS Emergency Maneuver Training, headquartered at the Phoenix-Mesa Gateway Airport in Mesa, Arizona USA, has trained over 5,500 professional pilots in fully comprehensive upset recovery skill development. For two decades, with additional training locations in Dallas (Texas USA) and The Netherlands (Europe) APS has been committed to giving professional pilots of all skill levels the highest quality upset prevention and recovery training available. APS offers comprehensive LOC-I solutions via industry-leading computer-based, on-aircraft, and advanced full-flight simulator upset recovery and prevention training programs. In addition to all flight training being in full compliance with the internationally-recognized Airplane Upset Recovery Training Aid Revision 2 and the recently issued FAA Aviation Circular 120-109 on Stall and Stick Pusher Training, APS is the only Part 141 Flight School currently certified in the delivery of complete upset recovery, stall/spin and instrument recovery training courses worldwide.
Find More Computer Press Releases


(PRWEB) June 14, 2013
According to a new market research report, "Commercial Aviation Flight Management Systems Market (Flight Management Computer, Flight Management Control Unit, Flight Management Visual Display), 2013-2018", published by MarketsandMarkets the total FMS market is expected to reach $ 1.8 billion by 2018 with a CAGR of 3%.
Browse:

73 Market Data Tables
27 Figures
105 Slides & In-Depth Table of Content on Commercial Aviation Flight Management Systems Market
http://www.marketsandmarkets.com/Market-Reports/flight-management-systems-market-1105.html
Early buyers will receive 10% customization on this report.
Nextgen FMS is going to determine the future of aircrafts. Research is going on to improve the aircraft performance there by making aircrafts more fuel efficient. Single European Sky ATM Research (SESAR) in Europe is mainly focused at improving the air navigation systems to the next level of technology. Typically introduction of 4D trajectory in air navigation is an initial step in it. The aircraft industry is expecting a huge technological transformation due to Nextgen systems. The FMS market; when considered for a short period, say five years; cannot be expected to grow huge. There will be a slow but steady growth for this short period of time. But in the long run the market is huge having ample opportunities.
There are major players in this market that operate globally. Most of the players are concentrated in North America and Europe. They cater to the global markets. There are eight major players in the world who serves the need of the global market.
The FMS market is expected to grow at a CAGR of 3% during the period 2013-2018.The market is expected to reach $ 1.8 billion by 2018. US and Europe will be the fastest growing regions and the most potential markets by 2018.
Scope of the Report
This report analyzes the Global Commercial Aviation Flight Management Systems Market based on: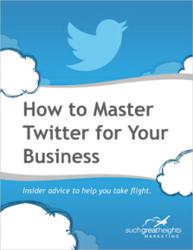 (PRWEB) October 22, 2012
Such Great Heights Marketing LLC, a marketing company serving Detroit and Southeast, Michigan, released a free guide for small businesses striving to maximize their effectiveness on Twitter. The PDF guide, How to Master Twitter for Your Business, is available on the companys website.
The three-part Twitter guide covers what to tweet about to provide value and encourage interaction, how to successfully grow a quality following, and advanced tips and tricks to help companies take flight. Not only does the document outline best practices, it cites actual examples to show business owners how its done.
After encountering dozens of businesses in the Detroit area not using Twitter to its full potential, the idea to provide a free downloadable guide was born.
A lot of businesses grasp how to use Facebook, but we see so many that struggle with Twitter, said Brett Heitz, President of Such Great Heights Marketing. The ideas outlined in our guide are specifically for the needs of local businesses. What works for a Fortune 500 company doesnt necessarily work for the mom-and-pop shop down the street.
Whether your business wants to use Twitter more effectively or if youre looking to get started, you can download the free guide at http://bit.ly/S88OBZ.
About Such Great Heights Marketing

Such Great Heights Marketing LLC is a Detroit marketing company that provides quality, affordable marketing services for small businesses. In addition to managing Twitter accounts for small businesses, the company provides a variety of social media management services, email marketing and other forms of online marketing, inbound marketing, consulting, graphic design, and more. For more information, visit SuchGreatHeightsMarketing.com.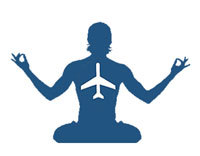 San Bruno, CA (PRWEB) April 30, 2012
With summer just around the corner, more people will be traveling for business and pleasure. Many dream of traveling internationally, but summer can be an expensive time to do so. AlphaFlightGuru.com has tips for consumers and businesses looking to cut the costs of summer airfare.
Now is the time to buy, said Tim Gibson, CEO of Alpha Flight Guru.
The best-priced airline fares are on sale today, Gibson said. Between rising oil prices, and increased travel demand during the summer, airfare rates will only climb as time goes on.
He noted that it is especially important to book business class flights to Germany, Italy, Spain and China while fares are relatively low.
If you want to plan a business class flight from Boston to Hamburg sometime this summer, then youre going to want to schedule it for sometime in August when the rates are low. If you book it in September, the rates jump back up again, Gibson said.
The U.S. Travel Association estimated that 448 million people traveled for business in 2010.
When booking a flight, Gibson recommended being flexible with travel dates to ensure the best airfare.
The trip from Boston to Hamburg is the same price in June and August, Gibson said. But it spikes in July.
Tempe, AZ (PRWEB) April 14, 2010
Broad Reach Engineering has completed development and delivery of the Mirideon single board computer. It is the first flight computer to include the BRE440 PowerPC, the aerospace industry's highest-performance radiation-hardened microprocessor.
"Integrating peripheral functions with embedded 'system-on-a-chip' processors is an idea whose time has come in the space market," said Broad Reach CEO Chris McCormick. "The evolution of system-on-a-chip technology has driven Broad Reach to create the highest-performance rad-hard CPU available in the space market, and is now embedded in our new Mirideon 3U single board computer."
The Mirideon radiation-hardened board is built around a BRE440 rad-hard system-on-a-chip processor. It features 512MB DDRAM, 128kB EEPROM, 16MB FLASH with TMR, PCI backend interface, dual Ethernet ports, and dual UART. The board is available at various CPU clock frequencies ranging from 83MHz to 133MHz. The board runs from 5W to 9W, depending on clock speed, and is rated for -40C to 71C. All parts on the board are latch up immune to greater than 80MeV, all memory is SEU mitigated, and parts have a high total dose rating, including a processor rated to >1MRad TID.
The BRE440 is based on a high-performance, dual-issue (2 MIPS/MHz), superscalar 32-bit RISC PowerPC440 CPU Core that is part of the PowerPC 400 Series of advanced embedded processor cores, and is supported by the PowerPC Embedded Tools Program. IBM and third-party vendors offer a full range of development tools including compilers, debuggers, real-time operating systems and logic analyzers. A commercial prototype board based on the 440GP processor is available for code development.
"With the Mirideon, Broad Reach has achieved higher performance in smaller packages for our next generation avionics" said McCormick. "This computer and chip open the door for smaller, lower power, higher performance instruments for space."
About Broad Reach Engineering

Broad Reach Engineering produces spaceflight hardware and software solutions, integrating vehicle design, component design and engineering services for aerospace, scientific, commercial and military customers on four continents and for global space centers and contractors. The company's radiation-hardened avionics and electronics product lines include the next-generation BRE440 "system-on-a-chip" – the world's highest-performance radiation-hardened microprocessor. Founded in 1997, the company has office and laboratory locations in Tempe, Ariz., and Golden, Colo. For more information, please visit www.broadreachengineering.com.
The PowerPC name is a registered trademark of IBM Corp. and used under license there from.
# # #