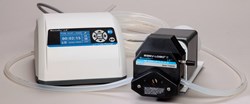 Vernon Hills, IL (PRWEB) September 24, 2013
The new Masterflex® L/S® Digital Modular Dispensing Drives from Cole-Parmer offer three dispensing modes and precision motors for accurate, repetitive dispensing. With a modular format that allows users to place the motor and controller separately, these units are an optimal choice for limited spaces, hoods, or isolation chambers.
These peristaltic pump drives feature a programmable dispense interval that lets users set the delay between dispense cycles for convenient, automated dispensing by time or by volume. An antidrip function ensures dispensing accuracy. Precise PWM speed control (±0.1%) maximizes accuracy and efficiency while the brushless motor provides quiet, maintenance-free reliability. Programmed calibration ensures dispense and display accuracy—the drive stores one calibration value per tubing size. Program the drive via the simple membrane keypad or control all functions remotely; a keypad lock/unlock feature protects settings. A graphical LCD indicates four operating modes for continuous run, timed dispense, copy dispense, and volume dispense.
Choose from the modular drive with a benchtop controller or the washdown modular drive with wall-mount controller. The benchtop model includes a splash-resistant ABS plastic controller housing that is IP33 rated. The wall-mount controller housing is powder-coated aluminum with a powder-coated steel drive housing; both are IP66/NEMA 4X-rated for washdown. For more information on the new Masterflex® L/S® Digital Modular Dispensing Drives from Cole-Parmer, call 800-323-4340 or go to ColeParmer.com/20545.
Cole-Parmer has been a leading global source of laboratory and industrial fluid handling products, instrumentation, equipment, and supplies since 1955. Our product lines, including popular brand names such as Masterflex®, Oakton®, and more, are sold through company-owned customer channel outlets and a strong network of international dealers. We also feature an ISO-17025-accredited metrology lab for instrument calibration and repair. Cole-Parmer responds with excellence to customer needs, and offers application expertise and technical support. For more information, contact Cole-Parmer, 625 East Bunker Court, Vernon Hills, IL 60061. In the US, call 800-323-4340. International customers, call 847-549-7600. Visit us at ColeParmer.com.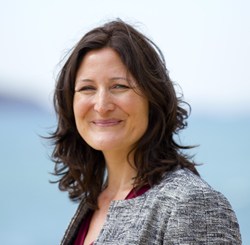 (PRWEB) August 09, 2013
Providing its team with the choice of onsite or remote work and hours to suit the demands of family life has resulted in high productivity and client satisfaction.

In a recent expansion, six content writers were added to the internet marketing team in March this year. Individually, they bring years of experience from the fields of journalism, public relations, account management and corporate communications.
One thing common to the content marketing team is that all the new writers are women combining the rewards of producing high quality work with an enviable work-life balance.
"When we advertised for content writers I was keen to hear from anyone with good editorial skills and marketing experience. It happened that all those who fit the bill perfectly were women juggling family responsibilities," said Deb Jeffreys, Managing Director.
The writers complement Brilliant Blues established crew of web programmers, web designers, administration and sales staff. Those positions are also made up of women enjoying flexible working hours while putting their professional skills to good use in a dynamic and creative environment.
"A culture of productive collaboration has developed by mixing remote and office-based work," said Jeffreys.
"Its an atmosphere thats good for team camaraderie and very efficient for Brilliant Blue. Its been great for our clients too, because just like them, our focus is always on the outcome of their projects."
Jeffreys acknowledges the reality is that women still prefer working flexible hours. She says the versatile approach taken by Brilliant Blue is highly valued by all.
"Good business leadership now depends on offering flexibility, mutual trust and respect," she said. "Despite the times, women still resist committing to rigid work hours at certain times in their careers. It might be because they have young children, or they might be a carer. They may have other personal priorities and pursuits, such as study or sport, competing for their limited time," she said.
Providing this desirable flexibility means Brilliant Blue Internet Marketing depends on its staff logging on to work in progress from their home offices. The multitude of technology available, such as cloud computing makes it easy to maintain workflow and meet deadlines.
"Were thriving by using remote access to complete assignments during the hours that suit the individual team members lifestyle. It means were easily as efficient as any traditional nine-to-five business. We also pool our talents and networks and regularly share ideas to keep the business moving forward," said Jeffreys.
The Brilliant Blue management style is also far removed from traditional corporate progression pathways, where working shorter hours usually means receiving fewer opportunities.
"Training is available for anyone on the staff who has an interest in learning website construction, SEO or other IT skills we require as the business grows. Offering these advantages means we have a loyal team that shares the business commitment to improving performance and growth," said Jeffreys.
True to its core services of content marketing and SEO, where results are instantly measurable, proof of Brilliant Blues successful flexibility is in its client feedback crediting the agency with consistently high quality that translates to new business.
Chicago, IL (PRWEB) January 30, 2012
As acute care facilities continue to face some of the most daunting challenges in history, flexible and future-directed systems are on the short list of must-have technologies. When Jeron Electronic Systems designed its new Provider
Atlanta, GA (PRWEB) February 29, 2012
ProviDyn, a provider of IT support, managed and cloud services for small and medium-sized businesses, announced today that its client, the Atlanta Humane Society, has decided to move its existing managed services to ProviDyns private cloud. This builds on ProviDyns existing partnership with the Atlanta Humane Society which included managed services, application and IP telephony support, as well as vendor management for both Atlanta Humane Society locations.
The Atlanta Humane Society, Atlantas oldest private non-profit animal welfare organization, expanded its reach in December 2011 by opening a second location. After consulting with ProviDyn, the Atlanta Humane Society decided centralizing its technology infrastructure and applications would provide increased capabilities and the advantage of unified communication between facilities. As a result, employees and executives are able to seamlessly collaborate across locations, accessing systems and maintaining capabilities from any Atlanta Humane Society facility.
ProviDyn has been an extension of our team and an invaluable partner in helping manage the technology needs for our business, said Chris Slee, Vice President of Finance for Atlanta Humane Society. After opening our second location, ProviDyn made the recommendation that a private cloud would give us more flexibility and enhance collaboration across the organization.
This is a wonderful opportunity to continue supporting the Atlanta Humane Society in its mission to prevent neglect, abuse, cruelty and exploitation of animals, said Hamish Davidson, president and co-founder of ProviDyn. As with many other non-profit organizations, the Atlanta Humane Society is extremely budget conscious. Being receptive to new solutions such as a private cloud, can bring tremendous benefits, including reliability and enhanced security, at a reasonable cost.
About ProviDyn

ProviDyn provides technology expertise, services and support to Atlanta-area small and medium-sized businesses. Backed by certified technology professionals, ProviDyns services include managed services, cloud computing solutions, virtualization, help desk and computer support, IT strategy, network security, backup and disaster recovery and IP telephony. ProviDyn delivers the right mix of technology and expertise allowing its clients to focus on growing their business. To learn more about how ProviDyn is Driving Business Through Technology and helping companies reduce costs, improve efficiency and maximize productivity, visit http://www.providyn.com or follow us on Twitter.
About the Atlanta Humane Society

Founded in 1873, the Atlanta Humane Society and Society For Prevention Of Cruelty To Animals, Inc. is the oldest private non-profit animal welfare organization in Atlanta and one of the oldest humane agencies in America.
Stamford, CT (PRWEB) October 11, 2006 –
As trade shows and corporate events stack up during the coming holiday months, enlisting a short-term computer rental service like Vernon Computer Source can ease the burden of supplying and managing necessary technical equipment. Vernon Computer Source, a leading computer technology sourcing company, offers short-term computer rental for companies especially at this hectic time.
Vernon Computer Source's short-term computer rental program provides ideal options for businesses making final-push efforts during the busy year end. Companies may need added technical systems and support for conducting internal special projects, employee training, extra board meetings or extensive travel. Industry-wide trade shows also present the need for technical support in order to achieve easy registration, perfect presentations, engaging forums, interactive exhibits and overall attractive and innovative booth design.
"It doesn't make sense to buy computers when you only need them for a few weeks or months," said Anthony Randazzo, Vice President of Sales & Marketing for Vernon Computer Source. "But since business needs are changing all the time, it makes a lot of sense to rent them from Vernon and keep your future options flexible. Our customers find enormous value and peace of mind in Vernon's Switch-At-Any-Time programs, knowing we're partners for all their technology sourcing."
If a short-term need turns into a long-term need, Vernon Computer Source can switch contracts easily at any time through its flexible "4 Ways to Go" program. This includes options for short-term rental, long-term rental, computer rent-to-own and purchase. Because Vernon Computer Source furnishes a broad range of computer and peripheral equipment including new and used computers, notebooks/laptops rental, desktops, monitors, projectors, printers, servers and other equipment they can supply the necessary tools for any amount of time at the discretion of the client.
All equipment sourced by Vernon Computer Source is brand name, Tier One level and arrives onsite fully configured, including custom software loads. Technical staff members will deliver, install and remain onsite if requested. Computer technicians are also available over the phone 24 hours a day, seven days a week.
Beyond computer rental and purchasing options at Vernon Computer Source, they also offer unique end-of-life solutions for computer equipment. If computers become insufficient for company needs, Vernon Computer Source will purchase used equipment at a mutually agreed fair market price. If the equipment is too outdated Vernon Computer Source removes it and safely disposes the obsolete hardware. Yet, if equipment is still in good condition and company employees wish to purchase it for individual use, Vernon Computer Source acts as the middleman and sells the used equipment online at a discount.
For more information about computer rental or purchase, call 800-827-0352 or visit www.vernoncomputersource.com.
About Vernon Computer Source
As a recognized leader in computer technology sourcing, Vernon Computer Source is committed to offering the broadest range of brand name computer and peripheral equipment under the most flexible terms in the industry. Vernon Computer Source constantly strives to serve each client with comprehensive, personalized service, providing a full range of integration and technical support services, including installation, full configuration of computers, and round-the-clock technical support. Whether serving a corporate client with long-term, project-oriented needs or providing event-oriented sourcing solutions for a trade show or corporate event, Vernon Computer Source has the products, the experience, and the unsurpassed expertise required to ensure success.
###
Find More Computer Press Releases
(PRWEB) January 31, 2006
Montrose, CA -- The new Micro/sys OPTO104 expansion card accommodates eight industry-standard digital or analog OPTO plug-in modules plus any PC/104 CPU or I/O cards that are needed to make a rugged, compact industrial controller. Any combination of digital or analog I/O modules can be plugged into this 4.53" x 6.50" EPIC sized board that is designed for rugged environments and extended temperature ranges of -40 to + 85 degrees C operation. These features provide a solid platform upon which I/O intensive systems can be built.
When the application demands even more I/O, up to four of the OPTO104 boards can be connected together in a slave configuration using a 26-wire ribbon cable. This makes available 32 slots for OPTO 22 G4 modules for AC or DC digital I/O, and/or Grayhill G5 modules for analog I/O. All of these modules offer opto-isolation up to 4000 volts.
Additional system-level features of the OPTO104 include watchdog timer, rotary encoder input, onboard temperature sensor, and interfaces for a character-based LCD, keypad, CAN bus, and Dallas iButton Probe. These features, when combined with the users' favorite off-the-shelf plug-on PC/104 CPU boards, provide the unique system features required in industrial applications.
The board operates at 5V ± 5%, or, a selection of DC-DC converter options allows an input voltage range from 9V to 75V. A user-selectable jumper can bleed off common mode leakage current to the negative inputs or to safety ground in order to reduce susceptibility to ESD. On-board or off-board contrast adjustment for the character LCD is also provided. A flexible I/O base address range and 16 bit pass-through connector makes the OPTO104 an ideal board for high-voltage isolation applications.
The OPTO104 is $ 375 in single quantities. Significant OEM discounts are available. In addition, Micro/sys offers cables, breakout boards and related products that can minimize prototype efforts and improve time to market.
Contact Technical Sales Dept., Micro/sys, Inc., 3730 Park Place, Montrose, CA, 91020, phone (818) 244-4600, FAX (818) 244-4246, email: info@embeddedsys.com, URL: www.embeddedsys.com.
Micro/sys has been manufacturing OEM industrial microcomputer products since 1976, including board-level products and integrated computers. Micro/sys embedded computers are specified by OEMs in semiconductor processing, medical, mail handling, pharmaceutical, industrial marking, process control, and many other industries.
Lauren Dowden
3730 Park Place
Montrose, CA 91020
818-244-4600
# # #
Related Cpu Press Releases