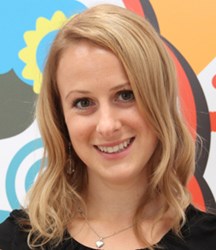 Poole, Dorset (PRWEB UK) 14 October 2013
Poole based exhibition and design contractors Quadrant2Design have launched a new series of blog articles aimed at exposing the hidden costs passed onto exhibitors by event organisers, contractors and venues.
Written by Design Consultant Chloe Anderton, the new blog series will educate exhibitors on the 'Stealth-Costs' Show Organisers and exhibition Venues, directly and indirectly impose on exhibition stand projects, and show how to avoid or minimise them.
In recent years UK shows have been burdened with increasing costs, mostly as a result of unnecessary regulations and extra costs imposed by venues, trade bodies, show organisers and their 'on-site' contractors.
These costs act as a 'stealth tax' on exhibiting in the UK, as all the costs are passed onto the end customer, exhibitors. As a result the UK exhibition industry is increasingly under effective competition from foreign exhibition destinations who typically impose fewer unnecessary regulations and costs.
Take electrics for instance, where every individual plug socket is charged at up to £120. Recently, a minor change in a BSA guideline resulted in increased electrical inspection costs. Unfortunately this has little effect on the safety of the exhibition stands but only increases costs for exhibitors.
Chloe Anderton said: "It seems that UK exhibitors are at breaking point with the absurd cost of stand electricals. I believe we're at the point now where exhibitors are actually voting with their feet, and choosing to take their exhibiting overseas".
Likewise, organisers have in recent years begun imposing extremely short build-up and break-down deadlines on exhibition contractors. Whereas in other European countries contractors can work 24 hours, UK halls sometimes require large exhibitions to be completely assembled in a single day between 8am and 6pm.
For large shows with numerous exhibition stands this means contractors inevitably have to use significantly more workforce labour to get the job done on time. Again this only has the effect of inflating costs for the exhibitor.
So while Show Organisers benefit from lower venue cost, the exhibitor simply pays extra.
Managing Director of Quadrant2Design, Alan Jenkins, said: "We can't understand why these stealth costs are being imposed on UK exhibitors. We would understand if there was a genuine safety, or other sensible reason, but all too often there isn't. It's not fair on our customers, and we are going to do our best to help our customers avoid or offset these costs being imposed on them"
"Unfortunately we can't change the rules, but we can point out the flaws and hope Organiser and Venues see sense."
To help with costs, Quadrant2Design will often work with customers to design an electrics plan to reduce usage. Other popular solutions are for customers to 'self build' their Prestige Events System stand. The modular stand is easy to assemble, so removes installation costs. Lastly customers can take advantage of Quadrant2Design's popular 'free hire' scheme, whereby they only pay for the graphics they use, not the hire of the exhibition kit. This has been found to save around 20% to 30% on costs.
Chloe comments: "This new Blog campaign will focus on beating these costs, or if you can't beat them, minimise them as much as possible"
You can view the first entry to the blog here, with more to follow:

Quadrant2Design's 'War on Cost'
Any exhibitors looking for further advice on cost, please do get in contact with a Quadrant2Design Design Consultant via: phone +44 (0)1202 650 333 or email designteam(@)quadrant2design.com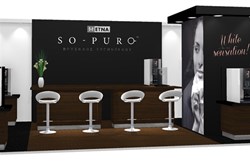 (PRWEB UK) 2 October 2013
Arcade Design, a Midlands Exhibition Design Stand company has been elected to refit a showroom and reception area for high end coffee machine company So Pure.
So Pure produce high quality Swiss brew systems through their affiliate, Etna Coffee Technology. The continued partnership was confirmed after Arcade Design created the So Pure stand for the AVEX Vending Show 2013 which received positive feedback.
Allan Ward, Managing Director at Arcade Design, says: "The AVEX Vending Show was a resounding success. We're delighted to continue our work with So Pure and design their showroom and reception area."
"We will be incorporating and expanding on our original designs. So Pure are a luxury brand with a high end finish on all of their machines so the stand design and refit reflects the exclusivity of the brand"
The Avex Vending Show is the largest UK exhibition for vending and water. The event takes place every two years with over 150 exhibitors and visitors from the world's major manufacturers, operators and service companies.
"Many of the other stands at the Avex show have loud graphics and are somewhat gaudy. We built a stand that resembles a sports car showroom; it exudes class and style in a minimalistic way that really catches people's eye," says Allan Ward.
The exhibition stand company highlight the importance of designing bespoke quality stands that can be re-used in showrooms in order to cut costs for clients.
Suky Matharu, Managing Director at So Pure, says: "We submitted a design brief to three suppliers in order to prepare for the industry trade show, one of the biggest in our calendar. Arcade Design were the company out of the three that got back to us quickly and provided an illustrated brief at our initial meeting."
"Due to this prompt response and the time invested prior to meeting this company was selected as not only a supplier but a partner for all our future requirements. The expertise, knowledge, advice and professionalism throughout our first project far exceeded our expectations and we're very pleased to have them as a long term partner. "
About Arcade Design

Arcade Design are an exhibition design stand company in Sutton Coldfield. They design and build exhibition stands for both large and small companies with stands designed for Claire's Accessories, LG and So Pure.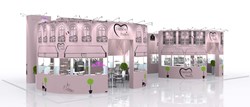 Poole, Dorset (PRWEB UK) 30 September 2013
Quadrant2Design, the Poole based exhibition design agency, has launched a new, innovative way to expose their competitors shortcomings.
It has launched a 'questions for our competitors' section on its website, posing the very questions many exhibition contractors don't want their customers to ask.
Quadrant2Design believe it's understandable that new customers like to shop around when choosing an exhibition company for a new project, or when they're looking for new ideas.
To help with this process, Quadrant2Design's new 'questions for our competitors' list suggests the 'blind side' questions that, although important, clients might not think to ask.
Alan Jenkins, Managing Director of Quadrant2Design said: "We are very confident in our Prestige Events System, our offer and service. If potential buyers ask our competitors the same probing questions we have asked of ourselves, we will win the business. This might upset a few sales people out there, but I'm not worried!"
Alan continues, "Competitors with 'cheap' exhibition stand solutions and inferior service levels, should be worried about well informed customers, who ask 'difficult' questions".
Quadrant2Design would like to challenge any competitor to match the Prestige Events System's capabilities and their service model. Does their system have seamless-effect graphics, curved graphic walling, integrated showcases and digital screens? Can their solutions be easily self-installed by a client, without tools or special knowledge?
Do other exhibition stand solutions have the Prestige Events System's flexible and modular characteristics, the ability to reconfigure for any exhibiting space?
And can they offer Quadrant2Design's Free-Hire Service, or their promise to pre-build every exhibition stand before it leaves the premises - the ultimate 'quality control check'?
"Our 'Questions for our Competitors' also highlights a disturbing omission on many exhibition contractors websites, the total lack of any photographs of 'real' exhibition stands that they have produced for clients, as well as any genuine sounding reviews," comments Alan Jenkins.
To see the list of questions go to: Questions for our Competitors.
For further information, please contact a Quadrant2Design Design Consultant: phone +44 (0)1202 650 333 or email designteam(at)quadrant2design(dot)com.
Related Graphic Press Releases
Los Angeles, CA (PRWEB) May 02, 2012
Fusing visual statements with devotion to detailed craft, Meticulosity, a multimedia exhibition at Otis College of Art and Designs Ben Maltz Gallery, features the work of eleven Southern California-based artists and three poets who work in a variety of different formats: sculpture, painting, digital media, photography, video, textiles, and installation.
Artists: Tanya Batura, Hilary Brace, Eileen Cowin, Linda Hudson, Gegam Kacherian, Otis Alumnus Sandeep Mukherjee (Fine Arts '96), Ross Rudel, Linda Stark, Arthur Taussig, Elizabeth Turk, Samira Yamin. Poets: Graduate Writing Faculty members Guy Bennett, Dennis Phillips, and Martha Ronk.
The title Meticulosity references both the technical/formal approach of the artists and the spiritual focus of their creative efforts -- their tenacity and continuity. The premise for Meticulosity is that these artworks are created in a meditative mode, or through a trance-like process, and that the painstaking exactitude expressed by these works is intended for the viewer to perceive along with the work's conceptual values. We connect that visual meticulousness to a sense of the ineffable, or that which is beyond words, and to the meaning of beauty.
Our interest is in bridging the way in which the conceptual and the visual seem to have diverged. As curators, our self-appointed task was to avoid preclusions on either side of this divide. We are presenting exceptionally thoughtful artwork where the visual acuity is as important as the originating idea, and have selected a variety of genres to underscore the plurality of our point of view.


Co-curators Meg Linton and John David O'Brien
Leah Ollman, Los Angeles Times art critic, calls Meticulosity a meeting of the mind and spirit. In her review, Ollman writes, The increasing academization of the art world and the shift, among many artists, to a practice that involves actions outside the studio rather than objects made within it, have reinforced that notion of divergence: beauty headed in one direction, brains another. Either/Or. "Meticulosity" makes a case for And.
This project is sponsored in part by the Otis Board of Governors, and supported in part by the Pasadena Art Alliance.
Meticulosity

April 28 July 7, 2012 at Ben Maltz Gallery

Curators: Meg Linton and John David O'Brien

Poets selected by Graduate Writing Chair Paul Vangelisti
The Ben Maltz Gallery is located at the Otis College of Art and Design Elaine and Bram Goldsmith Campus on the 1st floor of the Bronya Galef Center for Fine Arts - 9045 Lincoln Blvd., Los Angeles, CA 90045.
Admission and Parking: free

Gallery Hours: Tuesday-Saturday 10am-5pm, Thursday 10am-7pm,

Closed Sunday-Monday, May 26-28, July 4

Gallery Contact Information: (310) 665-6905, galleryinfo(at)otis(dot)edu
Events in Conjunction with the exhibition, all free and open to the public:

June 9, 11am: Tour of exhibition with the curators and artists

June 16, 2pm: Poetry reading by Guy Bennett, Martha Ronk, and Dennis Philips
Workshops:

Offered through Otis Continuing Education; for more info and how to register, contact: 310.665.6850, otisce(at)otis(dot)edu, http://www.otis.edu/ce
Introduction to Woodcarving with Ross Rudel 8 Saturdays, June 2 August 4, 2-6pm

Paper Cutting with Samira Yamin 1 Sunday, June 3, 10am-1pm

Writing for Artists with Samira Yamin 10 Saturdays, June 2 August 4, 10am-1pm
An Exhibition Catalogue, available June 2012, features an essay by co-curators Meg Linton and John David OBrien; full-color reproductions of the artwork in the exhibition; and a poem each by Guy Bennett, Dennis Phillips, and Martha Ronk.
About Otis College of Art and Design

Founded in Los Angeles in 1918, Otis College of Art and Design prepares diverse students of art and design to enrich the world through their creativity, their skill, and their vision. The College offers an interdisciplinary education for 1200 full-time students, awarding BFA degrees in Advertising, Architecture/Landscape/Interiors, Digital Media, Fashion Design, Illustration, Graphic Design, Product Design, Painting, Photography, Sculpture/New Genres, and Toy Design; and MFA degrees in Fine Arts, Graphic Design, Public Practice, and Writing. Continuing Education offers certificate programs as well as personal and professional development courses. Additional information is available at http://www.otis.edu.
BigDigit and Computer Graphics World Partner to Present the First "World's Smallest Animation Festival" at SIGGRAPH Conference and Exhibition











Los Angeles, CA (PRWEB) July 30, 2004
BigDigit, Inc., a pioneer and worldwide leader in made-for-mobile content distribution for the mobile phone market will present its first "World's Smallest Animation Festival" next month at the 2004 SIGGRAPH conference here, August 8-10, in collaboration with Computer Graphics World magazine.
The "World's Smallest Animation Festival" (WSAF) will feature entries from some of the leading animators and filmmakers in the industry, who have created cutting-edge content designed for presentation on mobile phones and other wireless-enabled mobile devices. Judges representing the technology, entertainment and publishing industries will select finalists and winners in the competition, and prizes will be awarded for those entries judged to be the best in mobile animation. Prizes have been donated by sponsor companies, which include Motorola, Inc. (http://www.motorola.com), NVIDIA (http://www.nvidia.com), and mFlix (http://www.mFlix.com).
During SIGGRAPH 2004, finalists in the animation contest will be shown on wide-screen plasma displays, and will be available for viewing on mobile devices at the Computer Graphics World booth (#1455). On Thursday August 12, the winner of the contest will be announced at the booth. In addition to winning valuable prizes, the winning entry will also be featured in the BigDigit.com library which is available for license by mobile phone operators and device makers, and soon on the mFlix mobile content channel.
"Last year, when we first reported on BigDigit.com's push into this arena, we could tell this would create a new path for many artists," said Computer Graphics World Chief Editor Phil LoPiccolo, who is one of the judges in the WSAF competition. "Since that time, BigDigit has signed operator deals and is expected to have launched their mobile channel mFlix by the time the WSAF is held at SIGGRAPH. Considering this, and with the near-term potential of more than a billion handset users, the opportunity for creative work to reach this audience is tremendous."
About BigDigit, Inc.
Founded in 2002 BigDigit, Inc. is the producer of 'The World's Smallest' mobile multimedia festivals, which are recognized as the definitive competitive showcases of digital video, graphic, and TV content for the newest generation of mobile phones. Recent WSFF events have been held in conjunction with major mobile technology and film festivals worldwide. In fact, 'The World's Smallest Film Festival – London' will take place in September 2004 in association with the Mobile Commerce World conference and exhibition. BigDigit also hosts a variety of panel presentations on mobile media at various short film festivals worldwide, including the Aspen ShortsFest and The WorldWide Short Film Festival in Toronto. BigDigit's mobile content libraries, as well information on events and submitting content are available at the company's web site http://www.bigdigit.com.
About Computer Graphics World
Presenting innovation in digital media has been the standard for Computer Graphics World for over 25 years. As the leading monthly publication for digital content professionals, Computer Graphics World reports on the latest news, technology and products shaping our industry. As the best read magazine with SIGGRAPH attendees for over 15 years, Computer Graphics World remains one of the most respected names in computer graphics. For news, opinion, resources archived webcast events and free subscriptions, visit http://www.cgw.com. Computer Graphics World is part of the PennWell family of publications. Founded in 1910, PennWell Corporation is a highly diversified media company providing print and online publications, conferences and exhibitions, research, databases, internet-based services and other information products to strategic global markets, including electronics, semiconductor manufacturing, communications, lasers, optoelectronics, computer graphics, information technology, oil and gas, electric power, fire services, dental, and water and wastewater.
For further information please Contact:
Beau Buck
BigDigit, Inc.
CEO
310-277-3456
http://www.bigdigit.com


beau@bigdigit.com
# # #
©Copyright 1997-
, Vocus PRW Holdings, LLC.
Vocus, PRWeb, and Publicity Wire are trademarks or registered trademarks of Vocus, Inc. or Vocus PRW Holdings, LLC.
NetClarity Launches Zero Day Exploit Protection Software at CSI 33rd Annual Computer Security Conference & Exhibition












Bedford, MA (PRWEB) November 6, 2006
NetClarity, Inc., a leading provider of proactive network security products and services, today announced the release of Protection for Windows version 5.0, the company's latest release of its patent-pending endpoint defense technology. Unlike traditional spyware or anti-virus software, this new software release will block zero day threats before a signature test is available. It's designed to protect government, banking and corporate networks with stronger malware defense and data leakage protection.
"We believe that Protection for Windows completely complements our award winning Auditor line for extremely powerful endpoint defense. It is designed to provide our customers with the most cost-effective preemptive, proactive protection of their network assets, keeping them one step ahead of the next threat," said Gil Roeder, CEO, NetClarity.
In addition to these zero day defense features, this release now:

         Blocks USB ports and CD/DVD/floppy usage on systems that need to be locked down

         Prevents installation of unauthorized software including risky ActiveX programs and backdoors

         Detects and quarantines keyboard loggers, remote access Trojans and surveillance tools

         Kills and quarantines NT rootkits and spyware in real-time

         Blocks adware, trackware and spyware websites using host-based URL protection

         Discriminates between usage errors and unauthorized access

         Cannot be shut down by an attacker

         Comes with a built-in event management and alerting console

         Self-defends against known and unknown forms of malware, automatically

         Uses only 5% of the CPU and a small amount of system memory

         Frees up critical resources during a malware attack so users can stay productive
"Protection for Windows is a technological breakthrough in network security. It provides an unparalleled solution for safeguarding the integrity of your information and Microsoft® Windows® laptops, desktops and servers. It's the first software of its kind to reduce CPU consumption during an attack and protect a PC against denial of service," said Gary S. Miliefsky, Founder & CTO, NetClarity, Inc. Miliefsky will also be speaking at the CSI conference in the Critical Issues track and releasing a related whitepaper, entitled "Laws of Exploits" which can be found at Laws of Exploits.
CSI will be distributing free trials of the Protection for Windows – Enterprise Edition to all registered conference attendees in their conference bags. Those only visiting the exhibit hall of the conference can pick up a free trial copy at NetClarity's booth #1031 conveniently located near the attendee break area or by visiting the Protection for Windows website.
About Computer Security Institute
Computer Security Institute is the world's leading membership organization and training provider dedicated to serving and educating information security professionals in how to protect the information assets of their organizations. Since 1974 CSI has provided training through conferences, seminars and publications to thousands of practitioners. For more information on other CSI events, publications or membership, contact CSI at 415-947-6320. For additional information on CSI, visit the CSI website. To register for this conference, visit the 33rd Annual CSI Conference and Expo Website.
About NetClarity, Inc.
NetClarity is a leading provider of proactive network security products and services that increase uptime reduce risk, and facilitate IT compliance. The company delivers the only solution that proactively protects desktops and corporate networks by enhancing existing firewalls, antivirus, and intrusion detection and prevention systems. NetClarity's software and appliances solve the most challenging problem in network security by finding and fixing vulnerabilities, automatically protecting networks, conducting ongoing self-assessments, and producing turnkey compliance documentation. Based in Bedford, Massachusetts, NetClarity is a venture-backed, privately held company. For more information, visit NetClarity's website.
NetClarity, Protection for Windows, Auditor, and the NetClarity logo are trademarks of NetClarity, Inc. All rights reserved. All other marks may be the property of their respective titleholders. Microsoft and Windows are registered trademarks of Microsoft Corporation.
# # #








Attachments





















©Copyright 1997-
, Vocus PRW Holdings, LLC.
Vocus, PRWeb, and Publicity Wire are trademarks or registered trademarks of Vocus, Inc. or Vocus PRW Holdings, LLC.
(PRWEB) June 8, 2010
Marler Haley has found a massive 8 out of 10 small to medium sized businesses fail to use a professional graphic on their exhibition banner stands when first approaching banner display companies research shows. This is due to a false impression of high costs for professional advice, design and final print which, at Marler Haley, simply isn't the case.
To cut costs in the times of recession, companies are trying to create their own exhibition stand graphics which normally are not up to scratch and as such find their own designs do not attract the crowds they set out to target.
Whether looking to put on a small, in-house event or a grand-scale bash to attract new customers, clients want to wow the crowd the second they set foot in the door. While that's easier said than done, Marler Haley advises the hard part can be completed for customers by using expert banner stand design graphic designers to create customised, professional graphics giving banner stands the bold, innovative look that will win over clients before a pitch has even begun.
Marler Haley goes on to say that with so many details large and small to consider when staging an event, you don't want to be second-guessing the graphics chosen to represent company brand, the message a company is trying to portray while it also worth while keeping graphics up to date.
By using a graphic design team that specialises in banner stand designs such as Marler Haley's own on-house team, costs can be significantly reduced with prices starting from as low as £57.00. Findings show these services will not only keep companies within budget as opposed to approaching a full time graphics designer, the graphics created for the display stands will capture the tone of an event helping a company move towards the goals it is striving to achieve due to the expert knowledge offered.
Marler Haley has long offered graphic design services through their talented team of professional banner stand graphic artists. With banner stand graphic design options such as 'Artworking' (Designed from your own brief) and 'Graphic design' (Working with you to create a design from scratch) from as low as £57.00, exhibition stand design certainly is budget friendly.
For questions, quotes and other general queries, contact Marley Haley by calling 0808 100 3540.
# # #
San Francisco, CA (PRWEB) December 18, 2009
ad:tech expositions, LLC (www.ad-tech.com), the leading conferences and exhibitions organizer for the global marketing community, announced plans today to postpone its 2010 ad:tech Chicago event. Citing a new strategic vision across all of its global events, ad:tech will focus its North American efforts on its two thriving coastal events: ad:tech San Francisco and ad:tech New York.
"The decision was difficult," said Susan MacDermid, SVP of dmg world media, the parent company of ad:tech expositions. "But we're seeing a variety of signs that the industry prefers fewer, larger events. We have always delivered the best in-person venues for doing business, and exhibitors and attendees are favoring the larger coastal ad:techs for sourcing new business solutions. We will announce whether we will return to Chicago in 2011 at the close of 2010."
ad:tech will incorporate topics traditionally discussed at ad:tech Chicago into the ad:tech San Francisco and New York events. Additionally, participants will benefit from the expanded conference agendas, increased networking opportunities, access to substantially more technologies and vendor services, and greater audiences at these larger events.
ad:tech Chicago has long since been a favorite for the event producer and the mid-western region. Consistent support from regional powerhouses, such as Leo Burnett and Razorfish, and associations, including CIMA and ANA, helped sustain the ad:tech Chicago event in recent years. ad:tech would like to thank the many loyal clients, attendees, media and association partners, speakers and advisory board members who supported the event.
ad:tech's next North American event, ad:tech San Francisco, will be held April 19 – 21, 2010 at Moscone Center North. Event details can be found at www.ad-tech.com/sf
About ad:tech:

ad:tech expositions, LLC, is the leading organizer of conferences and exhibitions for the interactive marketing community worldwide. ad:tech produces the world's largest interactive marketing events held in New York, San Francisco, London, Paris, Shanghai, Singapore, Sydney and Tokyo. ad:tech is produced by dmg world media, based out of the company's headquarters in Larkspur, California. For listings of exhibitors, speakers, events and upcoming conference offerings, visit www.ad-tech.com.
About dmg world media:

An international trade show producer with principal operations across North America, Europe and Asia. dmg world media is a wholly-owned subsidiary of the Daily Mail and General Trust plc (DMGT). Additional information on dmg world media can be found at www.dmgworldmedia.com.
Event Management Contact:

Mike Flynn

mike at ad-tech.com
###
More Tech Press Releases