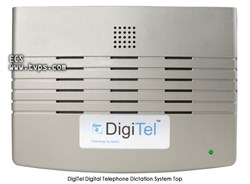 Ventura, CA (PRWEB) December 31, 2013
Since 1990, ECS has been providing high quality, dependable dictation/transcription solutions designed to address the needs of their customers. The latest release of Apptec DigiTel Dictation software/hardware enables ECS to provide their customers with the most economical dictation solution on the market.
Now available from one to twenty telephone ports. Visit ECS for more information.
Simply dial a phone number, enter a PIN and dictate! DigiTel is available 24 hours a day. With the ease of touch-tone control, start or pause dictation, listen to it, or send it off for immediate transcription. Access and operate DigiTel from any touch-tone phone including landlines, cell phones, VoIP phones, and dictate stations.
Just install the DigiTel software and connect the DigiTel Pod to a pc's usb port and to an analog phone line(s). Users preferences can be set and system activity viewed. Friendly prompts help each user get their work done with ease.
Authors enter their User-ID (PIN) and an optional Password to gain access to the system to ensure that only authorized users dictate into DigiTel. Each user's dictations are recorded directly onto a local pc so they're instantly available to your transcriptionist. Each dictation file is clearly identified with the Authors Name, Date and Time of Dictation, optional Work-Type Numbers and Reference Numbers that the author entered.
The dictation files use standard wav or vox encoding, so a transcriptionist or secretary can use their favorite audio transcription software program to play the files. If you need an audio player, ask about our popular transcription solution DigiScribe which comes with a foot pedal and headset.
Each user's dictations can be kept on the same pc that DigiTel is running on or sent automatically over your computer network or sent to one of Ftp Magic's 25 intake folders for transfer to up to 25 different FTP sites.
Each user can listen to the system's prompts in the language of their choice.
About Executive Communication Systems:

The prime focus for Executive Communication Systems (ECS) in Ventura, CA is customer satisfaction. Since 1990 ECS has been providing high quality, dependable dictation/transcription equipment and accessories with in-house service solutions designed to address the needs of our customers. Additionally, integrity isn't just a word for us, it describes how we live our lives and operate our business. Our staff will never sacrifice their integrity trying to over-sell or achieve sales quotas at your expense. We will discuss your needs with you and outline your options, large and small, quote you for every option you desire and let you decide what is best for you. We value each customer as individuals with specific needs and our goal is to provide a dictation/transcription solution that fits your needs so perfectly it keeps you coming back to us with confidence for years to come.
The ECS research and development department ensures we sell and service only the highest quality products possible with a wide range of versatility and flexibility for your recording needs. ECS stands solidly behind the products we sell.
ECS has three divisions:
Network Dictation Systems

http://www.WinscribeUSA.com

Voice Logging / Quality Assurance

http://www.PSAPLogging.com

Dictation / Transcription Equipment & Accessories

http://www.tvps.com
Executive Communication Systems has carefully cultivated a seasoned sales, service and support team of factory trained, knowledgeable, courteous and considerate individuals, proud of the roles they play here at ECS servicing over 40,000 customers worldwide.
ECS can meet your dictating and/or transcribing needs from a single transcription headset to robust WinScribe Network Dictation Systems.