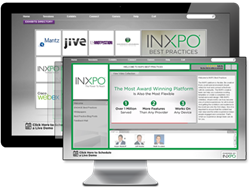 Chicago, IL (PRWEB) September 26, 2013
INXPO is proud to announce one of its partners, BNP Media, has won the 2013 APEX Award of Excellence in Electronic Media/Webinars. The award is based on excellence in editorial content, graphic design, and the ability to achieve overall communications excellence online.
According to an article about the APEX Awards, 100 Grand Awards were presented to companies in 12 categories. Winners were selected from around 2,400 entries.
INXPO and BNP Media originally developed a partnership to help the increasing demand for BNP Media's online sponsorship offerings. "The partnership has been extremely successful allowing BNP Media to expand its product offerings from webcasting and online events to hybrid events," noted Drew Vanvooren, Co-Founder and President at INXPO. BNP Media has already produced four hybrid events this year and have two more this fall.
"Winning the APEX award for our webinar program was very exciting," Danielle Belmont, Senior Online Events Manager at BNP Media boasts. "Our partnership with INXPO has freed up some of the technology set-up time allowing us to concentrate on what really matters – creating great content that generates high registration and a successful webinar for our clients."
About INXPO:
INXPO is changing the way businesses communicate better with their customers, employees, partners and prospects. The company's next generation webcasting platform can be deployed as a link on a website or in an email, in an online virtual event on the company's award-winning event platform, or as part of an ongoing 365 community inside its Social Business TV product. It has more than 3,000 successful online communications programs for global customers, including Autodesk, Cisco, Freeman, George P. Johnson, Hilton, HIMSS, P&G, PCMA, TechTarget, UBM and the U.S. Department of State. To learn more about INXPO's next generation webcasting and online events platform please visit inxpo.com, or email them at contactsales(at)inxpo(dot)com or call (312) 962-3708.
About BNP Media:
Since 1926, BNP media has been serving multiple industries with its leading business-to-business publications. The company is committed to helping industry professionals succeed in business by providing superior information through its industry expertise. BNP Media has over 50 publications catering to 11 distinct industry markets. For more information about BNP Media's award-winning webinar program, please visit BNP Events.
Find More Graphic Press Releases