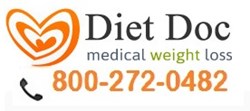 Chicago, IL (PRWEB) November 18, 2013
The professionals at Diet Doc are serious about helping everyone lose weight to improve health, longevity and quality of life. The company is consistently searching for new ways to make achieving weight loss goals simpler, more convenient and less costly for everyone in need. Utilizing Telehealth, the latest medical technology, now enables the company to reach patients in even the most remote regions of the country, delivering fast, safe and consistent weight loss directly to patients' doors. One of the first prescription diet companies to join this new revolution in healthcare, Telehealth allows patients and physicians to connect via the telephone, thus avoiding time consuming and costly visits to local weight loss clinics.
Patients who are ready to change their lives by losing unhealthy excess weight can begin simply by calling the company or logging on to the computer to complete a comprehensive, yet quite simple, medical evaluation, after which the patient will schedule an appointment, at their convenience, to speak directly with a board certified physician. This level of personal service allows the doctors to review and assess each patient's entire system and to identify any improperly performing organs or other barriers that may hinder fast weight loss, without the patient ever leaving their home. Each patient will receive a plan of action along with a complete and detailed physician report.
Qualified patients will work closely with nutritionists, who are certified and specially trained in the science of safe and fast weight loss. Diet plans will be designed that are unique to each patient's personal nutritional lifestyle and medical needs, designed to be rich in essential nutrients, helping the body to function at maximum capacity while melting pounds and inches. Because the diet plans incorporate a wide range of delicious food choices, patients find that they maintain their interest while the rapid loss of weight keeps them motivated. Each diet plan is uniquely developed with emphasis on achieving optimal weight loss with focus on safety and improved long term health and weight maintenance.
Diet Doc's prescription hormone complements the uniquely designed diet plans by sending a powerful signal to the hypothalamus to target stores of trapped fat to be released into the bloodstream and burned as the body's primary energy source. This dynamic combination turns the body into a fat burning machine with patients reporting fat melting from the body in areas that are typically the most stubborn and difficult areas to lose, such as the belly, hips, thighs and underarms.
Diet Doc offers incomparable services to dieters across the country, delivering a consistent effective medically supervised diet plan directly to patients' doors. To further add to the convenience of this revolutionized new diet plan concept, videoconferencing eliminates the need for costly, embarrassing and time consuming follow-up visits to weight loss clinics, while offering improved and easy accessibility.
The addition of Telehealth is making losing unhealthy excess weight easier than ever before. By shifting their focus to the numerous possibilities that Telehealth offers, Diet Doc has made their prescription hormone diet plans available nationwide. Diet Doc's physicians and nutritionists can reach out to a patient in any location using advanced technology, eliminating all geographical and communication barriers.
Diet Doc Contact Information:
San Diego, CA

(800) 272-0482

Weight-loss(at)Dietdoc(dot)info

http://doctorsupervisedweightloss.com/testimonials.php
Twitter: DietDoc10

Facebook: DietDocNaturalHealth
Parsippany, NJ (PRWEB) January 17, 2012
Dydacomp, a leading provider of business technology platforms for small and mid-sized eCommerce and multichannel merchants, today announced a strategic partnership with Magento, the world's leading open-source eCommerce platform. This partnership reinforces Dydacomps ability to provide Magento users with its industry-leading SMB commerce management solution, Multichannel Order Manager (M.O.M.), to automate and improve their online business operations and overall efficiency.
"Magento has quickly become the eCommerce solution of choice for merchants of all sizes, including over 100,000 small to medium-sized businesses looking for an affordable, fully functional and attractive eCommerce site, said Fred Lizza, CEO of Dydacomp. As these businesses grow, they need to integrate an order, inventory and customer management solution to successfully operate in the competitive multichannel market. The addition of Dydacomp to the Magento Partnership Program solidifies our ability to provide these vital management functions to Magento users and continue to be the commerce management solution of choice for multichannel merchants.
M.O.M. Version 8 offers the ability to seamlessly integrate with Magento Go, Community and Enterprise Editions via its open API or using the BizSyncXL extension from Freeportway available on Magento Connect. This integration provides Magento users with a PCI Compliant solution that can import orders, handle point-of-purchase or telephone orders, automate order workflow, track and manage products and inventory data as well as track, organize and access customer information for improved levels of service.
Magento allows users to create powerful and graphic-rich eCommerce sites that result in higher conversion rates. As a direct result of these increased sales, eCommerce businesses may need more capabilities than Magentos stand-alone shopping cart. This is where M.O.M. steps in to integrate order processing, payment processing, inventory management and shipping in one efficient multichannel solution at prices small and medium-sized merchants can afford.
We are excited to have Dydacomp become a member of our Industry Partner Program. M.O.M. enables Magento merchants to leverage their investment to grow and become more efficient in the back office, said Phil Robinson, Vice President of Business Development at Magento.This Extension facilitates the integration between Magentos eCommerce platform and M.O.M.s backend functionalities to create a user-friendly interface merchants can continually rely on to run daily business operations.
About Magento

The Magento eCommerce platform serves more than 110,000 merchants worldwide and is supported by a global ecosystem of solution partners and third-party developers. Magento is a feature-rich, open-source, enterprise-class platform that offers merchants a high degree of flexibility and control over the user experience, catalog, content and functionality of their online store. Magento Enterprise, the companys premiere solution, enables mid- to large-sized merchants to build and run world-class online stores. Magento Enterprise has been adopted by thousands of the worlds leading merchants and brands. Magento Go, the companys hosted software-as-a-service solution, provides small merchants with the tools to help them succeed online from payments to inventory management.
In 2011, Magento was acquired by eBay Inc. and became part of eBays X.commerce business unit. Magento is based in Los Angeles and employs more than 375 people worldwide. For more information, visit http://www.magento.com.
About Dydacomp

Dydacomp solves the business automation and order management needs of eCommerce, catalog, DRTV, and traditional point-of-sale businesses worldwide. Since 1986, nearly 10,000 companies have relied on the Multichannel Order Manager (M.O.M.) solution to streamline processes, increase efficiencies and boost revenue in areas such as inventory control, inventory management, order entry, customer maintenance, credit card processing, list fulfillment, shipping and more. Through its open API, M.O.M. connects to virtually any eCommerce platform as well as SiteLINK
GoGrid and ServePath Unveil "Cloud Connect" for Enabling Hybrid Dedicated and Cloud Hosted Server Network Infrastructures












San Francisco, CA (Vocus) November 19, 2008
Today ServePath, the leading Silicon Valley Managed Hosting Provider, and GoGrid, the largest Windows Server 2003/2008 and Linux Cloud Computing Infrastructure provider, released "Cloud Connect" which enables high-speed, private network connectivity between ServePath high-end dedicated servers and GoGrid Windows or Linux Cloud servers. Also, known as "cross connects," the new "Cloud Connect" service allows for customers to retain high-end and robust dedicated servers and all managed services, while receiving elasticity, ease and scalability benefits of GoGrid Cloud Web and Application servers.
Cloud Connect bridges the gap between traditional hosting and cloud hosting. It is the hybrid solution that delivers best practices and benefits of both cloud and dedicated hosted architectures from a single vendor. There is a modest security setup fee and no monthly fee charged for "Cloud Connect." All that is required is a ServePath Managed Hosting account and a GoGrid Cloud Server account.
Cloud Connect uses secure gigabit private networks to connect elastic cloud servers with custom-built dedicated servers to create hosted server networks that scale to meet seasonal or other spikes of internet traffic while providing the high I/O and CPU performance that large, fast database servers require. The gigabit private networks, the cloud and the dedicated servers are all located in the same data center with hard-wired connections between them ensuring high performance and a complete turnkey service.
"We view Cloud Connect as a Best-of-Class solution for customers looking to capitalize on tried-and-true dedicated environments in harmony with dynamic and elastic web environments of Cloud Computing," said John Keagy, CEO of ServePath and GoGrid. "Cloud Connect represents a fundamental change to how dedicated and cloud environments can be managed and used together seamlessly."
Some infrastructure examples of Cloud Connect network configurations include:

    Hybrid Load Balanced Server Network – hybrid infrastructure lets you combine cloud and dedicated servers to build a hosted load-balanced server network allowing you to harness the elasticity and low CapEx of cloud computing while getting the hardware control you need from dedicated hardware.
    Development and staging environment – build a development and staging environment in the cloud and conveniently connect to your dedicated server production environment.
    Sandbox – build a sandbox development area in the cloud to test websites, website operations, and untested code in an isolated manner.
    Spikes/surge – deploy servers in minutes to handle seasonal or sudden spikes of internet traffic and pay only for what you use. Avoid long-term contracts for the servers required to handle short-term internet traffic fluctuations.
    Database-intensive applications – deploy large databases with lots of bandwidth, processing power and persistent storage needs with very flexible front-end web servers that interact very efficiently with the database.
High-end dedicated servers hosted at ServePath can be fortified with a variety of managed services, including:

    Unified Security & Backup
    ProActive Monitoring
    Managed Server Security & Hardware Firewalls
    Managed Data Backup & Storage Area Network (SAN)
Customers interested in building hosted, hybrid infrastructure using Cloud Connect are encouraged to contact a GoGrid or ServePath Sales Representative at 1-877-946-4743 or visit http://www.gogrid.com/how-it-works/cloud-connect.php.
About GoGrid (http://www.gogrid.com):

GoGrid is the leading Cloud Computing, hosted, Internet service that delivers true "Control in the Cloud™." GoGrid enables system administrators, developers, IT professionals and SaaS (Software as a Service) vendors to create, deploy, and control load balanced cloud servers and complex hosted virtual server networks with full root access and administrative server control. Bringing up servers and server networks takes minutes via a unique web control panel or GoGrid's award winning API. GoGrid delivers portal controlled servers for Windows Server 2003, Windows Server 2008, SQL Server, ASP.NET, multiple Linux operating systems (Red Hat Enterprise and CentOS) and supports application environments like Ruby on Rails. Free f5 hardware load balancing and other features are included to give users the control of a familiar server environment with the flexibility and immediate scalability of the cloud. GoGrid recently won the coveted 2008 LinuxWorld Expo's Best of Show in Product Excellence award.
About ServePath (http://www.servepath.com):

ServePath, a Microsoft Gold Certified Partner, is the leading managed and dedicated hosted server provider, delivering custom solutions and managed services to businesses that need powerful Internet hosting platforms for their production environments. Thousands of companies worldwide look to ServePath for its reliability, customization, and speed. ServePath has a Keynote-rated A+ network and guarantees uptime with a 10,000% guaranteed™ Service Level Agreement. The employee-owned company has been in business for seven years and operates its own San Francisco data center and is SAS70 Type II certified.
###
©Copyright 1997-
, Vocus PRW Holdings, LLC.
Vocus, PRWeb, and Publicity Wire are trademarks or registered trademarks of Vocus, Inc. or Vocus PRW Holdings, LLC.
Integrated VoIP and FoIP Software — Enabling Telecom Devices Beyond Voice












San Jose, CA (PRWEB) February 5, 2011
Floreat, Inc. announces the immediate availability of FloVFoIP, an integrated software suite of host and embedded Voice over IP (VoIP) and Fax over Internet Protocol (FoIP) solutions, as well as product-engineering services for global markets. This will effectively meet the growing demand for Multimedia products that support more than just Voice. The main applications are IP enabled SOHO and other gateways, Media consoles, next generation Internet-enabled Fax and Voice machines, Green Fax, Smart Phones, Tablets, VoIP Fax, T.38 VoIP and other specialized applications. In addition to feature enhancements and reduced time-to-market, this suite of FloVFoIP software and associated services lower manufacturers' costs by more than 50% relative to other solutions.
With increasing e-communications and declining PSTN deployment, it was assumed that Fax would disappear; to everyone's surprise, its presence has grown steadily to meet the requirements of corporations, lawyers, hospitals and even home-users. With VoIP now widely-deployed and accepted, many VoIP users need reliable Fax communication over their VoIP lines. This is made possible by products such as our FloFoIP and FloVFoIP that enable Voice and Fax communication over the Internet.
With the goal of meeting any application or communication requirement, Floreat has integrated its VoIP and FoIP software products, using 20 man-years worth of proven legacy voice and fax technology, deployed by more than a dozen industry leaders. In addition to making the integrated VFoIP work seamlessly, Floreat's engineering team has taken care of quality related issues at the code level and thus enhanced the user-experience. FloVFoIP, our integrated VoIP and FoIP software solution, include an integrated VoIP and FoIP Framework; G.711, G.72x, iLBC codecs; VAD/CNG; G.168 Echo Canceller; Jitter Buffer management; PLC, DTMF; CP tones; G.167 AEC; Voice-Fax discrimination; T.38 FoIP relay with V.17, V.29, V.27ter, V.21ch.2 Group3 fax modems; Terminating T.38, T.30 Fax Application Software with Tiff support; QoE and performance enhancements; support of call control stacks – SIP, H.323, and others. FloVFax also supports Fax and Voice over RF links, and enables Green Fax that eliminates ink, paper and thermal transfers on mobile and portable communication devices.
Floreat also offers product-engineering services for software, firmware and hardware development. Floreat's team has developed this expertise while enabling and supporting customers' products with its software. The product-engineering services include software porting on embedded processors and DSPs, software optimization for footprints and CPU load, customization such as integration within any specified OS environment, development of device drivers, prototype hardware-design, and support of various AFEs. Our well-equipped test-lab facilitates testing and accommodates other development requests.
These unique, robust FloVFoIP offerings provide our customers a single source for their Voice and Fax requirements and overcome the challenges inherent in other solutions, such as incomplete vendor-offerings that do not permit a combined VoIP-FoIP product, lack of inter-operability with the numerous gateways and 100+ fax machine models available on the market, and inflexible incumbent (and obsolescing) hardware chipsets.
"Our team thrives on innovative and creative solutions to our customers' specialized requirements in these transitional times; we thus provide an essential ingredient for their success in the market-place. With an integrated VoIP and FoIP soft-solution, we can quickly provide essential communications functionality in devices- at a fraction of current recurring expenses. Seamless migration is facilitated by our structured APIs and our engineering expertise", said Raj Gupta, Floreat's Vice President of Sales and Applications.
Processors Supporting Integrated VoIP and FoIP Software (FloVFoIP):

ARM 7/9/9E/Cortex A8
MIPS
TI C5000 and C6000
Intel Pentium fixed and floating point, Atom
Marvell XScale
ADI Blackfin (BF53x)
PowerPC, STM, SuperH cores
CEVA DSPs
About Floreat, Inc.:
Floreat, Inc. (http://www.floreatinc.com) is a Silicon Valley provider of embedded multimedia software and services to the Telecom Industry (equipment and device manufacturers, service providers) and the Embedded World (semiconductors, mobile and portable devices, consumer electronics, MFPs).
We offer a range of rigorously tested and robust Fax, FoIP, Speech, VoIP, Telephony, Modem, DSVD, Imaging and Video Software Products that are supported on a variety of DSPs and Processors as well as in ANSI C. Floreat's XoIP software - Voice, Fax, Modem and Video enabled over IP- caters to embedded Triple Play applications and can be customized for specialized applications. Floreat's code is fully compliant with ITU and other applicable standards, and is field-proven. We also provide product-engineering and silicon-platform software services, hardware design services, and R&D consultancy from world-renowned experts. Floreat enjoys an excellent reputation in the marketplace and has many distinguished customers like Apple, Brother International, MultiTech, Siemens, LGE, Motorola, Hitachi, Lockheed Martin, NEC, Harris Corporation, National Semiconductor, ESS, Zilog, Casio, SmartLink, DSP Group, Infineon, STMicroelectronics, net.com, GVC, CEVA, AMCC, Ericsson, IPM Group, C&S Tech, ETRI, KICOM, Furuno, Sunrise Telecom, Honeywell, Govt. of Israel, US Government departments as well as many smaller customers.
# # #
©Copyright 1997-
, Vocus PRW Holdings, LLC.
Vocus, PRWeb, and Publicity Wire are trademarks or registered trademarks of Vocus, Inc. or Vocus PRW Holdings, LLC.
Multi-Tech Receives 2010 Connected World Magazine Value Chain Award for Enabling a Networking Solution for Electric Vehicle Charging Stations












Saint Paul, MN (PRWEB) June 24, 2010
Multi-Tech® Systems, a world leading manufacturer of cellular modems and device networking solutions, received a 2010 Value Chain Award on June 17, 2010 at the annual Connected World Conference in Chicago. The Awards recognize the most successful adopters of M2M (machine-to-machine) communications technology and the teams of solution providers that made their successes possible. Multi-Tech's team, which includes Coulomb Technologies and Aeris, received the silver award for an innovative solution in Energy/Utilities.
Selected by an esteemed panel of industry analysts and experts, the awards highlight the process of combining multiple technologies, such as Multi-Tech's device-connectivity hardware, Aeris' network service, as well as Coulomb's application in networked electric vehicle charging stations, to demonstrate a winning solution that provides significant business value.
Coulomb Technologies is using the MultiModem® CDMA cellular modem as part of its ChargePoint Network in the United States. Each local group of ChargePoint Charging Stations are mesh networked together, with a gateway charging station within the group consolidating and transmitting the data from the charging stations via a MultiModem CDMA cellular modem and the Aeris network to the ChargePoint Network Operating System platform. This unique M2M communications solution provides many advantages, including the ability to remotely authorize energizing and the ability for drivers to find unoccupied charging stations via web-enabled cell phones.
"Successful partnerships, such as ours with Coulomb and Aeris, streamline the M2M deployment process, and quickly generate business value which M2M communications provides," said Jen Meyer, Multi-Tech Vice President of Marketing Communications. "It is an honor to once again be recognized by the industry for one of the many innovative solutions that Multi-Tech enables."
"The companies that are receiving Value Chain Awards this year represent an excellent mix of applications and industries," says Peggy Smedley, editorial director, Connected World magazine. "They have truly demonstrated a commitment to the M2M marketplace by implementing cutting-edge technology, and winning a Value Chain Award acknowledges their effort."
About Multi-Tech Systems

Multi-Tech® Systems is a global manufacturer of award-winning device and embedded modems and Unified Communications products that connect data over cellular networks from anywhere in the world. As a leader in the industry for 40 years, Multi-Tech's reputation for reliability and innovative design is evident with 80+ patents, 20+ million devices being used by thousands of customers worldwide and certifications from more than 30 carriers and over 80 countries. Multi-Tech launched a comprehensive services program in 2010, as well as a Cellular Development Platform and Developer Resources website: http://www.multitech.net. Multi-Tech is certified by the WBENC as a Women's Business Enterprise and by C-TPAT (Customs–Trade Partnership Against Terrorism). Visit http://www.multitech.com. Follow Multi-Tech on Twitter: twitter.com/MultiTechSys
###








Attachments




©Copyright 1997-
, Vocus PRW Holdings, LLC.
Vocus, PRWeb, and Publicity Wire are trademarks or registered trademarks of Vocus, Inc. or Vocus PRW Holdings, LLC.