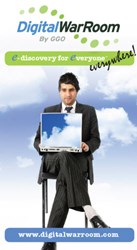 Seattle, WA (PRWEB) November 11, 2013
Digital WarRoom, creators of the Digital WarRoom all in one ediscovery software platform, will sponsor the Ediscovery Leadership Conference in Hollywood Florida on November 15th, 2013. The educational conference is offered by The Legal Learning Series, led by industry veterans Robert Friedman and Karen Chamberlain.
Industry experts at the 2013 conference will explore diverse topics including social media in ediscovery, international challenges, and a look at the technologies and practices in forensics investigations. Digital WarRoom is the first truly integrated ediscovery software that allows law firms and legal teams to process ESI, conduct attorney review, and create productions in a single software environment said Megan Miller, vice president of marketing and business development for Digital WarRoom. The growing interest in ediscovery is phenomenal, and education has been key to the rapid growth of Digital WarRoom as a leading ediscovery software solution. The Legal Learning Series really shares our belief that great software and ediscovery education go hand in hand.
About Digital WarRoom Ediscovery Platform

Digital WarRoom is the first ediscovery platform to provide law firms, corporate legal and ediscovery teams with complete ESI processing, document review and production in a single application, eliminating traditional high-cost volume-based processing fees. GGO created the Digital WarRoom technology for in-house use by solo attorneys, corporations and law firms of all sizes to address document processing, review and production in legal matters of all types. The software is licensed in a variety of forms, addressing any size law firm or matter:

Digital WarRoom Pro the first Windows PC application for ediscovery, allowing an individually licensed user to conduct complete ediscovery on a Windows computer;
DWR WorkGroup DWR WorkGroup, a multi-user ediscovery application that allows corporate IT, in-house legal, or law firm ediscovery practitioners to manage ediscovery case data processing, document review and production without high priced volume-based processing;
Digital WarRoom Remote hosted ediscovery, a full-service hosted platform designed for distributed and virtual team access to case data.
The Digital WarRoom platform has been acclaimed by e-discovery experts, law firms, and corporate clients as impressive, seamless, and easy to use. An LTN product review compared the platform favorably with better-known but far more expensive solutions, saying DWR seems to have adopted the best two or three features offered by leading ediscovery software makers such as Clearwell and kCura Relativity and packaged them all together in one functional, integrated platform, which can operate on a desktop, or laptop, computer in a distributed computing environment that incorporates other computers, such as a back-end database server.

To learn more about Digital WarRoom visit http://www.digitalwarroom.com.


(PRWEB) November 06, 2012
Advanced Discovery provides a full service electronic discovery solution, offering everything from forensic investigations and data collection to managed attorney review and productions. With their commitment to growth, Advanced Discovery is proud to announce the addition of Ben Gorman and Greg Smith to their team.
Ben Gorman has worked many years at law firms in Philadelphia. Ben transitioned to providing legal software and technology solutions to corporate legal departments and law firms throughout the US. For the past several years, he has assisted corporations and outside counsel with the use of technology to analyze and review Electronically Stored Information. In particular, he has extensive experience supporting organizations involved in complex multinational and multilingual litigation and investigations. Ben has appeared on panels and has presented to numerous organizations including the Pennsylvania Bar Institute and the Defense Research Institute.
Ben Gorman said "I am absolutely thrilled to join this team of dynamic, talented professionals at one of the fastest growing and most highly respected e-discovery firms in the world.
Greg Smith brings 20+ years of experience in the litigation support industry and has a proven track record as a client advocate and business leader. He has extensive experience assisting clients in all areas of the discovery process, working with major law firms and corporate legal departments throughout the Midwest - both at leading e-discovery service providers and cutting edge software companies. Greg will help bring more local e-discovery expertise to Chicago and surrounding Midwest markets, increasing Advanced Discoverys ability to provide leading technology solutions and support with a more local presence.
Greg Smith said "I am excited to join an organization that is committed to combining the best technology, people and service available in the industry."
Advanced Discovery CEO David Vandygriff said, We are excited to have Ben and Greg join us. Their years of experience in the litigation support industry bring the added expertise needed to achieve our continued expansion in the East Coast and Midwest regions. We are confident that their extensive knowledge and skills in the industry will give our customers the added confidence and continued success they are accustomed to."
ABOUT ADVANCED DISCOVERY:

Advanced Discovery is a leading provider of e-Discovery services to clients worldwide in both the legal and corporate communities. Our services include computer forensics, electronic discovery, early case assessment, web hosting, document review, and paper discovery. Advanced Discovery offers technology solutions that assist law firms and corporations to quickly and accurately reduce vast amounts of electronically stored information into essential and searchable data sets effectively providing a high value product at a low comparative cost. Headquartered in Mountain View, California, Advanced Discovery will now maintain locations in Los Angeles, San Jose, San Francisco, Orange County, Century City (California), Dallas, Houston, Austin (Texas), Chicago, Overland Park (Kansas), Washington D.C. and New York City. More information is available at http://www.advanceddiscovery.com
For more information contact:

Website: http://www.advanceddiscovery.com

Company: Advanced Discovery

Contact Name: Glenda Hoffman

Contact Email: marketing(at)advanceddiscovery(dot)com

Contact Phone: 866-342-3282
Houston, TX (PRWEB) March 28, 2012
SHMsoft, a global leader in providing innovative solutions to high-tech problems based upon disruptive technologies, is pleased to announce beta testing of SHMcloud, the companys Hadoop-based SaaS platform for processing and analyzing e-discovery.
SHMsoft, a Houston start-up providing big data technology solutions announced today that the company will begin a beta test of its new Hadoop-based Software-as-a-Service application, SHMcloud in April and May, 2012. The platform will allow enterprises, law firms and service bureaus the ability to process and analyze large amounts of data in the cloud. Cloud computing offers numerous benefits, most notably by providing virtually unlimited data storage and parallel processing scale, which minimizes the amount of time required for processing, minimizes costs and requires no long term contracts or commitments.
SHMcloud is a big data integration solution, is being implemented as a Beta Test for a select group of law firms and their enterprise clients and service bureaus through the Amazon Web Services EC2 computing platform. This will provide a tremendous advantage to clients, attorneys and their technical teams during early case assessment, explained SHMsofts Vice President, Julie Wade. Participants in the beta can now harness the power of processing volumes of e-discovery with state of the art technology in a Tier 4 data center," Wade said.
SHMsoft is the first company to develop an advanced distribution of Apache Hadoop for e-Discovery for the legal industry. By leveraging Apache Hadoops MapReduce architecture for highly distributed data processing, SHMcloud handles all the unstructured text collected in e-discovery. The platform generates native Hadoop code and runs data transformations directly inside Hadoop for maximum scalability.
Hadoop is a big-data mission-critical solution relied upon by Facebook, Yahoo! and Google to quickly process and analyze very large amounts of structured, unstructured, or semi-structured data. Hadoop consists of two key services: reliable data storage using the Hadoop Distributed File System (HDFS) and high-performance parallel data processing using a technique called MapReduce.
SHMsoft developed its open source Hadoop-based processing platform, FreeEed to process, analyze and review e-discovery to answer the need to reduce the overall costs of e-discovery. SHMcloud takes FreeEed one step further by making the solution available through cloud computing environments. Our Hadoop-based e-discovery cloud platform is a perfect business use for e-discovery, Wade said. Users will be able to process terabytes of data in days not weeks or months because the platform is scalable and costs are well under traditional pricing models. Once data is loaded in S3, they will be able to spin up 100 machines and process 50 gigs of data in under an hour at a price of approximately $ 500-$ 600 versus $ 500-$ 600 per gig under current traditional pricing models for processing e-discovery.
Participants in the Beta Test will be testing the platform in various ways. They will upload e-discovery into AWS S3 storage and then access SHMCloud through our companys Amazon Machine Image on EC2, which will spin the clusters, organize the processing, and deliver the results.
The cost savings alone of using SHMcloud is well worth the test drive, Wade said. This is true more so today than ever before, as the volume of e-discovery continues to grow and budgets to review those documents are subject to increasing scrutiny.
About SHMsoft
SHMsoft is a global Big Data solutions provider delivering value to its clients through software, hardware and methodologies. SHMsoft is the first company to provide an open source e-discovery technology solution based on Hadoop. e-Discovery provides an excellent business use case for Hadoop, which parallel processes text and other unstructured file types efficiently and cost-effectively. Our open-source products and professional services deliver value to law firms, enterprises, large organizations and governmental entities who are seeking relief from the high costs and undue burdens imposed by e-discovery requirements.
For more information, please visit http://www.shmsoft.com.
###


Newport Beach, CA (PRWEB) March 06, 2012
GTB Technologies, the Data Loss Prevention Company, announced that world-wide donations of GTB Technologies Inc's, eDiscovery Tools are currently underway to Non-Profit Cancer Centers. Due to the success of last year's donation event, GTB has decided to expand the program. Now GTB Customers, Partners & Business Associates can make a donation of GTB's eDiscovery tool to a Non-Profit Healthcare organization of their choice.
The GTB Donation program is in memory of Leslie Cohen Tully, a sister of one of GTB Technologies founders. Leslie was diagnosed with Stage II cancer in the Spring of 2002, who unfortunately, after a brutal fight, succumbed to the disease March 8, 2006; just a few days shy of her 48th birthday.
"Leslie had always been the first to lend a hand to various worthy charities including Cancer Research and Treatment, both before and during her struggle with the disease." says GTB co founder, Wendy Cohen, "We have seen firsthand that our donations help Cancer Centers avoid heavy fines and damaging publicity while achieving compliance and maintaining patient privacy. Now these organizations are able to spend valuable funds on research and patient care."
All eDiscovery donations include a perpetual license to the GTB eDiscovery tool, free training, free support as well as maintenance upgrades. To request a donation of the eDiscovery tool please Click Here
About GTB Technologies Inc:

With offices worldwide, GTB Technologies Inc. has re-invented the enterprise extrusion / data leak prevention marketplace, like no other; bringing a broad set of influential innovations such as solving the known market limitation of false positive rates.
Unlike others, GTB customers are comfortable moving into enforcement mode quite quickly. This is due to an innovative, unique differentiator in its DLP design. Based on a Content-Aware Reverse Firewall, GTB DLP is the only Data Leak Prevention solution which can block Real-Time, with unsurpassed accuracy, on all ports & protocols; while being intuitive for administrators to operate with minimal operating expense.
GTB customers' include enterprises across the Global 1000 in sectors such as financial services, healthcare, defense contractors, power and energy, telecommunications, retail, and high-tech, as well as government agencies around the world in defense, homeland security, law enforcement, and intelligence.
GTB's Flagship product, the GTB Inspector, a content-aware reverse firewall, provides port-independent inspection covering all 65,535 ports. This technologically unsurpassed platform - provides accurate visibility and control over all content and applications in use, on the network, in real time. Some of its market distinguishing features are:

Support for all file formats
Real-Time Detection (without the need for File Cracking Tools)
100% accuracy for detecting both Personal Identifiable Information, PCI and partial file matching (on fingerprinted data)
Multi-language detection
Flexible and easy policy definition
GTB SSL Proxy - for SSL encrypted visibility (all in one product)
Scalability to outbound network bandwidth
Workflow for event remediation
Port hopping
Tunnelling Detection
SIEM integration
24/7 support
All at a fraction of the cost of any other comparable DLP solution
Enterprises with Data Loss Prevention initiatives whom have an interest in evaluating the GTB DLP / Extrusion Prevention suite can sign up for a free 30 day evaluation at

http://www.gtbtechnologies.com/support_evaluation_dlp_downloads.asp
The Evaluation comes with free Data Leak Prevention education, training plus GTB's unprecedented support, analysis and reporting.
To learn more about next generation extrusion / data loss prevention solutions, how to "Put the 'P' back into DLP" , visit http://www.gtbtechologies.com or follow us on twitter@gtbtechnologies
Find More Tech Press Releases


Arlington, VA (PRWEB) January 24, 2012
Mindseye, developers of the powerful interactive filtering and ediscovery processing technology TunnelVision, today announced the release of version 3.2 of the flagship product, which introduces a seamless integration with Relativity. Companies using TunnelVision now have the ability to move data between TunnelVision and Relativity programmatically to sharply reduce the time in making review data available, while minimizing the risks of manual hand-offs between systems.
We are very excited to be a part of the Relativity ISV network, said Bob Krantz CEO of Mindseye. Our philosophy as a company is to maintain a sharp focus on being the best processing and analysis solution on the market. The integration with Relativity enables us to programmatically deliver data to an industry leading review solution to offer our clients a tightly integrated best of breed approach to addressing the challenges of ediscovery.
Leveraging Relativitys API, TunnelVision 3.2 enables administrators to bind Relativity workspaces to new or existing TunnelVision cases, view and map existing Relativity fields to available TunnelVision export fields, and add or update files to a Relativity workspace for review. In addition, administrators have the ability to account for and handle any records that fail to load and save all settings to templates in order to further streamline the process, ensure consistency across exports, and significantly reduce the time required to migrate date to review.
Were thrilled to have ISV partners like Mindseye building integrations that extend the capabilities of Relativity, said Andrew Sieja, president and CEO of kCura. By integrating TunnelVision with Relativity to more safely and easily transfer data from processing to review, Mindseye is improving e-discovery workflow for their users and ours.
Mindseye will be showcasing the integration and additional version 3.2 feature enhancements during LegalTech New York. Please contact Mindseye to schedule a private demo of the solution, or come see a demo of the integration at the Relativity Hands-on Lab between 11am and 3pm Tuesday, January 31st.
About Mindseye
Mindseye is the developer of TunnelVision, a powerful data assessment, interactive filtering and native processing software created through 30 years of ediscovery experience and specifically designed to address the unique requirements of the ediscovery process. TunnelVision enables efficient discovery of key data, communication and planning around detailed results, and support of the process through sampling, validation, and step by step reporting. Please visit http://www.mindseyesolutions.com for more information.
About kCura
Recognized as a Leader in Gartners 2011 E-Discovery Magic Quadrant, kCura are the developers of the e-discovery software Relativity, a web-based platform for the review, analysis, and production of electronic data. Relativity has more than 52,000 active users worldwide from organizations including the U.S. Department of Justice and 95 of the top 100 law firms in the United States. Relativity also powers Method, kCuras workflow and notification system for managing legal hold and risk assessment processes. kCura helps corporations, law firms, and government agencies meet e-discovery challenges by installing Relativity and Method on-premises and providing hosted, on-demand solutions through a global network of partners. kCura has been ranked the 42nd fastest-growing technology company in North America on Deloittes Technology Fast 500 and named one of Chicagos Top Workplaces by the Chicago Tribune. Please contact kCura at info(at)kcura(dot)com or visit http://www.kcura.com for more information.
###
Mindseye Solutions, One of the Fastest Growing eDiscovery Technology Companies, Launches Latest Release of TunnelVision v2.8 during Legal Tech New York












Arlington, VA (PRWEB) January 20, 2011
Mindseye Solutions has stepped ahead as a company and launched a speed enhanced data analytic tool, Tunnelvision v2.8. The release will be showcased during Legal Tech New York. The new version adds a number of key enhancements and new features that empower legal teams to simply, efficiently, and thoroughly assess, analyze, and filter the data surrounding each case. Through the use of TunnelVision legal teams are able to gain a better understanding of the data surrounding their case in order to build out effective negotiation strategies, define timelines and generate more comprehensive case budgets exponentially faster than traditional methods.
"This release is the tip of the iceberg in terms of what's in store for TunnelVision in 2011," said Elliot Nierman, CTO Mindseye Solutions. "The 64 bit architecture of version 2.8 allows TunnelVision to optimize for more powerful hardware empowering our clients to handle data sets of any size even faster than with previous releases with fewer resources."
Mindseye Solutions is forming a Client Advisory Board during Legal Tech with a formal announcement of members to be made March 1, 2011. The Client Advisory Board allows the opportunity to share ideas, collaborate with clients, and leverage industry experience and expertise to mentor Mindseye Solutions in developing technology to address current and future ediscovery challenges.
"Our expanding client base consists of many of the industry's best visionaries and business leaders," said Bob Krantz, CEO of Mindseye Solutions. "Through the launch of our client advisory board we have a collaborative environment allowing for focused feedback on improvements to TunnelVision while maintaining a keen focus on current and future business challenges associated with information management and how to address through new product offerings and increased functionality."
About Mindseye Solutions:

Mindseye Solutions is the developer of the e-discovery software TunnelVision. Mindseye's early data assessment solution is a simple, scalable, flexible and defensible processing and analysis software used to assist companies with gaining a better understanding of the data surrounding a case, identifying a reduction strategy, and quickly preparing the targeted data for further review and analysis. For further information, visit www(dot)mindseyesolutions(dot)com
About Legal Tech New York

Legal Tech is the most important legal technology event of the year. Legal Technology is ever changing and LegalTech offers law firms and legal departments the ability to stay on top of this evolving industry to improve their law practice management.
###
©Copyright 1997-
, Vocus PRW Holdings, LLC.
Vocus, PRWeb, and Publicity Wire are trademarks or registered trademarks of Vocus, Inc. or Vocus PRW Holdings, LLC.