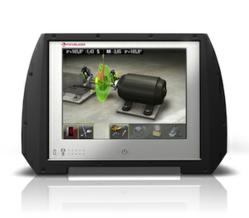 Richmond, Virginia (PRWEB) April 10, 2013
The new Fixturlaser NXA Pro laser-based shaft alignment tool utilizes the latest technology in digital signal processing, as well as other innovations, to provide faster and even more intuitive operation, but with advanced functions and capabilities.
"A revolution in usability" says Elos Fixturlaser's CEO Hans Svensson about the new high-end system for precision shaft alignment, the Fixturlaser NXA Pro. "If we can provide the ultimate shaft alignment system when it comes to usability, we will help thousands of companies worldwide to become more efficient, reducing waste of both components and energy. We believe strongly that if all rotating equipment in the world were aligned within specifications we would have a much healthier environment. An alignment system that is as easy to use as the Fixturlaser NXA Pro will pave way for this result."
The new Fixturlaser NXA Pro alignment system replaces the Fixturlaser XA Professional system, incorporating numerous innovations and improvements. The innovations start with a new display unit with a 6.5inch touch screen with video game style realistic graphics and include a completely redesigned set of transmitter/detectors.
A MEMS (microelectromechanical systems) gyroscope in the display unit powers the new OmniView function. With OmniView, the screen display changes in real time to always show the machine being aligned from the same viewing angle as seen by the operator, i.e., the system logs the users position and keeps track of it in relation to the machine. No other laser alignment system can do this.
The new sensors use a 2nd generation scientific grade CCD technology with 'best-in-class' accuracy as well as increased reliability. Resolution of the 30 millimeter vertical sensors is equivalent to the vertical resolution of ultra high-definition television. Updated algorithms improve the sensors performance for linearity, sidespot and dirt rejection, and ambient light filtration.
The redesigned sensors now offer the smallest form factor on the market, with batteries and Bluetooth communication built-in, providing for easier access on machines with limited space. The new high performance inclinometers incorporated into the sensors have 2.5 times higher accuracy and 10 times higher resolution than the previous generation. In addition to the new inclinometers, the sensors also have built-in MEMS gyroscopes, allowing the system to track shaft rotation angle, even when placed in the vertical orientation required for performing a vertical shaft alignment. No other laser alignment system can do this.
Power management has been completely redesigned for the new NXA Pro to provide the industrys best operating times while using 40% less power. The system operates, under continuous use, for up to 10 hours between charges. (The sensors can continuously measure for 17 hours without charging.) Also included is an advanced 1-hour quick-charge feature.
Reporting and data management has also been updated. Reports can easily be downloaded to a USB drive.
The Fixturlaser NXA Pro continues to support the Verti-Zontal Compound Move
Calgary, AB (PRWEB) June 10, 2013
Konect software was an integral part of the solution to simplify and cut administrative costs. Migrating from our legacy system cut our annual administrative overheads by more than 75%. Konect also enabled us to use our systems remotely, which allows us to hire the optimally skilled (high, mid, low as needed) administrative employees where they are, rather than drawing from a limited pool (in terms of size and range of skills) in a remote, rural area. Matthew Adams, President
THE CHALLENGE

The Ansel Adams Gallery has been in business under the same family ownership since 1902. What started as a painters studio is now a destination for photographers and aficionados of Ansel Adams worldwide.
Operating out of Yosemite National Park, CA, the client has an interesting combination of requirements: they have a complex POS system that needs to be onsite, while NPS (National Park Service) requires that administrative functions be housed outside the national park. The client also has many multi-site workers the website is administered remotely, general administration is done remotely, accounting and bookkeeping are administered remotely, and high end art sales operates remotely.
The client had a VPN connection in place, which had created several complexities: regular communications interruptions, a much slower connection to workers at remote locations due to large amounts of data being pulled across the network, and the POS and accounting software were recommended to be on same server for optimal performance, which wasnt possible with that delivery model. It soon became clear that they needed a more robust solution that was able to handle all of these requirements, and yet still be simple to use and manage.
THE SOLUTION

Back in April 2008, The Ansel Adams Gallery purchased Konect Elite when migrating from UNIX


Austin, TX (PRWEB) June 05, 2012
Transverse today unveiled the May 2012 release updates for TRACT


Houston, TX (PRWEB) June 20, 2012
SmartVault, a leading provider of Software as a Service (SaaS) document storage and sharing solutions, today announced a new partnership with nGenx, a leading provider of application hosting and virtualization services to small and medium businesses, to make SmartVault available to nGenxs full customer base.
The partnership offers nGenx subscribers an award-winning, on-demand document management solution that is built specifically for business users and uniquely optimized for QuickBooks
Wheaton, IL (PRWEB) April 25, 2012
Aleyant Systems, an innovative leader in providing robust software services to the graphic communications industry at value-driven prices, today announced it has secured a position in the drupa Innovation Parc at drupa 2012, where it will showcase the latest developments in its Pressero and eDocBuilder solutions. This includes a new touch-screen interface for the HTML5 interactive designer, tablet optimization, and increased automation with Presseros new job downloader. Aleyant Systems can be found in Hall 7, Stand 0B04, in the drupa Innovation Parc.
It is an honor to be participating in the drupa Innovation Parc, said Greg Salzman, Aleyants President. And we believe we have some amazing innovations that visitors will be excited to see. In a rapidly evolving marketplace, Aleyant has worked hard to not only keep up with changing requirements, but to lead the charge in bringing innovations to market that will make our customers more efficient, effective and profitable. Visitors to our stand at drupa will see this in action.
Tablet-Optimization for Interactive Designer

An exciting new capability Aleyant Systems will be demonstrating at drupa is its new touch-screen interface for its HTML5 Interactive Designer.
Interactive Designer, first shown at Graph Expo 2011 in the U.S., is a key component of eDocBuilder, Aleyants web-based variable data publishing system for rapid template creation. Designed to perform on both desktops and tablets, Interactive Designer uses HTML5 and jQuery instead of Adobe Flash and Adobe Flex used by most other template solutions. eDocBuilder is a standard component of Aleyants Pressero web-to-print solution. Touch-screen optimization for Interactive Designer will debut at drupa.
Being HTML5 compatible isn't enough, commented Salzman. With the rapid adoption of tablet computing and the desire to manage printingboth as a buyer and as a manufacturerremotely from a variety of devices, the user interface must be redesigned to work with a meaty finger rather than a mouse. Thats why we have invested in making our Interactive Designer tablet optimized. not just tablet compatible.
Increased Automation

Also new at drupa is Aleyants Pressero Job Downloader, a desktop or server application that will automatically check for new orders and download them into the print shop workflow. A rules engine can be set up to automatically drop files into different hot folders based on file metadata such as customer name, file type, or other criteria the print shop can establish to automatically manage incoming files. The Job Downloader runs on Windows, Mac, and Linux.
As print service providers make increased use of web-to-print solutions such as Pressero, said Salzman, they find customers to be delighted with the ability to order smaller quantities, on demand, and with faster turn times that traditional processes allow. But being able to receive this increased volume of smaller orders is not enough. In fact, trying to manage a flood of smaller, lower value orders without integration with an automated workflow can be disastrous. Thats why we have made it easy for print service providers to take the next step in automation and process integration that will allow them to profitably and competitively handle this new type of work.
Salzman cites automated preflighting, image conversions or resizing, and file renaming as a few examples of processes that can be automated by utilizing Job Downloader to hand off incoming files to a hot-folder-based workflow without human intervention. Not only does this streamline the process of getting jobs to production, he adds, but it takes away the need to have valuable employees spending their time doing nonproductive, repetitive work and frees them to spend their time on work that delivers value to the customer.
For more information about Aleyant offerings, please visit http://www.aleyant.com or call 800-571-2138. Our blog can be found at blog.pressero.com.
About Aleyant Systems

Founded in 2005, Aleyant Systems is an innovative leader, providing robust web-to-print software services at value-driven prices. Aleyant develops highly functional and flexible applications, delivering the most advanced web-based solutions on the market. Its flagship product, Pressero, is one of the most complete web-to-print systems within its price class. Pressero includes eDocBuilder, a web-based variable data publishing (VDP) system that is also sold separately for integration into other systems. For more information, visit http://www.aleyant.com.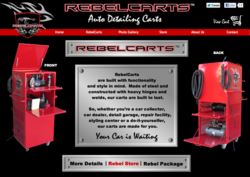 Phoenix, AZ (PRWEB) February 06, 2012
RebelCarts, which specializes in the design and manufacture of auto detailing carts is bringing their first mobile detailing cart to the car care market.
The cart, which is named the Renegade, brings various detailing tools together in one convenient mobile cart. It is designed to bring greater convenience, efficiency and style to the car care process.
The company successfully introduced the cart at the Barrett-Jackson Auto Auction in Scottsdale, Arizona in January. "We were determined to get our carts in front of the car crazy consumer that attends this auction. It was a great event and we are pleased with the consumer support we received," said Chris Hallsey, RebelCarts President and Founder.
RebelCarts has focused its efforts on combining the most commonly used tools in the car cleaning process into a single mobile cart. Their carts house a vacuum and air compressor, with additional storage areas that can be used for detailing tools, like polishers and buffers, in addition to cleaning supplies and towels. "Our research tells us that consumers don't have a convenient option to help in the auto detailing process, and would embrace one. Whether they're car collectors, car dealerships or service facilities, they all have the same need for quality, convenience and efficiency," says Hallsey.
However, targeting a savvy consumer requires a product that will meet the standard these consumers demand. Mr. Hallsey cites this as a key factor in product development, "We have been focused on quality and customization from day one. Our carts need to stand up to the rigors of a garage environment, while providing exceptional style and ease of use. We work hard with our customers to ensure our carts compliment their cars and garages. We offer various colors, and provide the ability to customize graphics." In order to achieve the desired quality, the company uses steel, and fabricates each cart individually with sturdy welds and heavy-duty hinges to ensure each consumer receives a product that will last.
The company is optimistic about the future of the car care industry, and their carts. As consumers have adapted to the economic environment, they have chosen to keep their vehicles longer. Rather than buy new, they are repairing and upgrading their existing cars. This provides great opportunity for the service, repair and detailing industry. "In the past a car in for repair may have been returned to the owner in less than clean condition, however, those businesses that adapt and return that car clean, inside and out, stand to gain market share. At RebelCarts, we believe we can help in this process," says Hallsey.
RebelCarts, based in Phoenix, Arizona was founded in 2011. The company designs and manufactures auto detailing carts that are designed to help auto enthusiasts maintain the great looks of their cars. RebelCarts wants you to be equally as proud of the cart you use, as you are the car you clean. RebelCarts. Your car is waiting. RebelCarts auto detailing carts are proudly made in the USA. For more information, please contact the company at info(at)rebelcarts(dot)com.
###
Back Up, Restore and Update Device Drivers With Ease!











(PRWEB) March 30, 2005
Nearly every computer user is aware of just how important device drivers are for the computer. Without them computer hardware doesn't function properly. If driver diskettes are lost and the internal hardware of the computer is unknown, it will be difficult to find and install device drivers after a system crash.
Driver Magician offers a professional solution for anyone who wants to back up device drivers for easy restoration. It identifies all the hardware in the system, extracts their associated drivers from the hard disk and backs them up to a location of your choice. Then when you format and reinstall/upgrade your operating system, you can restore all the "saved" drivers just as if you had the original driver diskettes in your hands. After one system reboot, your PC will be loaded and running with the required hardware drivers.
What's more, Driver Magician has a built in database of the latest drivers with the ability to go to the Internet to receive the updates. It saves lots of time to find the correct drivers and mature new drivers will obviously increase the performance of hardware. If there are unknown devices in your PC, Driver Magician helps you to detect them easily and quickly with its built in hardware identifier database.
Driver Magician is the right choice for device driver backup, restoration and update. It is both affordable to every computer user and a real value.
System Requirements
Driver Magician will run under Windows 98, Me, 2000, XP and 2003 on an Intel-based 586 PC or greater. The program requires 32 MB of RAM and 5 MB disk space to install.
Price and Availability
Driver Magician is available now. The price for single user license is $ 29.95 USD. A trial version is available from the GoldSolution Software web site at:
http://www.drivermagician.com
###
Evaluation Copies are Available on Request
©Copyright 1997-
, Vocus PRW Holdings, LLC.
Vocus, PRWeb, and Publicity Wire are trademarks or registered trademarks of Vocus, Inc. or Vocus PRW Holdings, LLC.