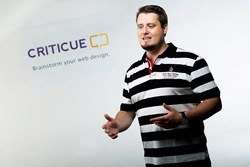 (PRWEB UK) 16 July 2013
(Marketing Empire PR) - To many, the biggest lure of the tech sector lies in possibility of becoming the next big thing, and, of course, the potential for lucrative returns never hurts. Unfortunately, despite their best efforts and, oftentimes, a great idea, a significant number of tech startups are destined for failure.
According to Inside Startups, 20 percent of businesses are doomed to fail within the first year of being established, and about 50 percent fail within three years. There are a number of reasons why an enterprise may fail to prosper, but The Financial Times Guide to Business Start Ups has said that 20 percent of failed companies would still be in operation if they had gotten advice at the beginning of their venture.
For those who are building a new website or creating a new app, Criticue.com can provide honest, thoughtful advice from fellow web and app designers. Users of the site reciprocate by providing reviews for others. After making changes, a website or app can be resubmitted, and members can continue the process until they are satisfied with their feedback and ready to roll out their new site or app.
Ilya Berelson utilised the innovative review site to get feedback on a number of projects and also for help in designing http://www.2fb.me. He commented, Nothing is more valuable to a product or service than a first impression. As a web engineer, I get to experiment with new features and designs and then get a few (first impressions) with Criticue. Criticue can be a websites best business partner. The reviews are sometimes harsh, but that's OK. Every new review on Criticue simply encourages your service to be as clear and perfect as can be.
Its not surprising that Criticue has been called one of the most promising tech startups of 2013. Martin Bilski, CEO of Designed.ly, has said, Criticue will create micro-communities of expert tech developers, providing each other with qualified reviews and suggestions on way to improve their software or avoid pitfalls an incredibly comprehensive resource provided for free to all users.
Theres no doubt that the companys growing popularity will enable it to beat the odds that face many newly established businesses, and with the likes of Google and Yahoo acquiring tech start-ups for their creativity, software, branding and members - odds are on for Criticue to be next in line to receive bids for the platform.
A recent report compiled by five top academic institutions examined the Goldman Sachs 10,000 Small Businesses programme and determined that innovative ideas and models were necessary to the continued growth of small businesses. With companies like Criticue.com driving the innovation and support of new Internet enterprises, many startups in the tech sector will easily move past being considered risky business to being hailed as good business.
-- END --
You have full permission to rewrite this article and feature it online/offline. For photography, high-res images, or interviews - please contact using the details below.
Fort Wayne, IN (PRWEB) May 01, 2013
The Northeast Indiana Innovation Center (http://www.niic.net) is pleased to announce the entry of two new student venture companies into NIICs nationally recognized Student Venture Lab program. Live Capture Sound LLC and D-n-S Design Company have both moved in and begun the venture start-up process this month.
As part of the Student Venture Lab program (http://www.niic.net/services/student-venture-entrepreneurship-programs), student companies receive an early stage funding investment (typically $ 3,000) and six months of office space & business services at the Northeast Indiana Innovation Campus (an in-kind investment valued at $ 3,000) in exchange for a small amount of equity in the student venture.
During the six month period, the student ventures use the lean start-up canvas and customer development tools to create a product demonstration, a business model, and validate both of those with prospective customers. Ventures receive one-on-one coaching from Mike Fritsch, the Innovation Centers Entrepreneur-In-Residence (http://www.niic.net/staff/mike-fritsch).
At the end of the six month term, each venture will demonstrate their product and their customer-validated business model at Demo Day to investors, bankers, and other leaders of the regions business and technology community. Ventures that have shown tangible progress during the first six months may receive up to two additional phases of follow-on business funding (totaling over $ 8,500 in additional early stage capital) and office space & business services to accelerate their venture's growth and development.
Live Capture Sound LLC is led by Jeremy Harmeyer, a student at University of St. Francis and Andrew Miller, a recent graduate. Live Capture offers live event production and sound recording as well as recorded advertisements. Live Capture aims at delivering the highest quality product without the high cost. Live Capture provides records and produces live sound for musicians, venues, TV and radio ads, video games, Internet videos, and any other application requiring quality sound.
D-n-S Design Company is led by Lindal Walker and Matthew Vanlandingham, both students at ITT Technical Institute. D-n-S provides various digital media-based products including web sites, mobile apps, digital graphics design and their big project, video games.
"For the past five years, the Innovation Center has invested financial and entrepreneurial training in the next generation of student entrepreneurial leaders. Instead of taking a ob, our students are making a job and career for themselves and others," stated Karl R. LaPan, President and CEO.
For more information, contact Student Venture Lab Program Manager Mike Fritsch at 260-407-1754 or mfritsch(at)niic(dot)net.
Live Capture Sound LLC, Jeremy Harmeyer, can be reached at livecapturesound(at)gmail(dot)com.
D-n-S Design Company, Lindal Walker, can be reached at dnscorporation.email(at)gmail(dot)com.
Northeast Indiana Innovation Center (NIIC) - NIIC is a non-profit, community-based resource center that catalyzes the growth and development of innovative companies in Northeast Indiana, thereby diversifying, improving, and growing the region's economy and enhancing our community's vitality.
NIICs Student Venture Lab is made possible by generous contributions from The Lincoln Financial Foundation, iAB Financial Bank, The Edward M. & Mary McCrea Wilson Foundation, and private individual & corporate donors. Any future proceeds from NIICs equity investments in Student Venture Lab ventures will be reinvested in support of the mission to grow the next generation of student entrepreneurial leaders. Interested in applying for an investment in your student venture or business? Contact Mike Fritsch at mfritsch(at)niic(dot)net for more information.
Check out our angel funding blog at http://indianabusinessfunding.com.
(PRWEB) October 16, 2012
This Cyber Monday is expected to set new records as more consumers turn to the web for their shopping, and with deals offering up to 40% off designer home finishes, they are set to land some pretty serious bargains.
While Black Friday has traditionally been one of the biggest shopping days of the year, Cyber Monday fever has been picking up steam, with Cyber Week 2011 recording more than $ 6 billion in sales according to comScore.
Unfortunately, there hasnt been much in the way of stunning sales announcements for this year, that really stand out so far, except for this massive sale from one of the webs favorite home lighting fixture stores.
Cyber Monday makes it easy for shoppers to skip the crowds in stores, though with such an enormous amount of online activity on a Monday past years have seen workers getting themselves in trouble for shopping from their office desktops or skipping work altogether.
Thanks to Suitable Lamps those looking for the best in home d
New York, NY (PRWEB) February 06, 2012
Dave Schuman, founder of the Schumans National Underclassmen Combines (http://www.nationalunderclassmen.com), the largest high school football combine and college football recruiting showcase in the country, released the organizations top 25 list for best recruiting classes as well as an early list of its top 25 teams for 2012-2013 NCAA football season this weekend. The official evaluation partner of the US Army All American game and the gold standard for high school football combines in the country, Dave Schuman and the NUC are renowned by NCAA programs as the go-to source for combine results, statistics, and expert recruiting information.
This signing day saw some very special talent commit to programs across the country, stated NUC founder and director Dave Schuman. As is the case each year, the NUC saw the majority of these players come through our combines and we are intimately familiar with their strengths. We are proud of each and every athlete going on to play collegiate football, and know they will all contribute to their respective programs through their athletic prowess and strength of character.
Dave Schuman and the NUC ranked the signing day classes attached:

Season Team Rankings Top 25

1
Independence Day Arrives Early as KiwiTech Makes '76 eBook Apps Free












Washington (Vocus) May 19, 2010
KiwiTech, a leading mobile technology firm that develops ebook apps and provides mobile app development services, announced that 76 ebook apps in the company's Classique reader are now available for free on Apple's iTunes Store™.

Rakesh Gupta, KiwiTech's chief executive officer, said "We are taking this step to make Classics2Go collections and other Classique titles available to a broader market of book lovers around the globe. As of today, we have had over half a million downloads of our apps."
KiwiTech's Classique titles are now the most heavily downloaded set of ebook apps in the iTunes Store™ globally. Much of the popularity of the Classique titles can be attributed to the beautiful formatting, custom cover art and broad range of international classics. These attributes were well described in "Incredible iPhone Apps for Dummies."
KiwiTech apps are now ranked in the #1 position for top free apps in the books category in four countries – Brazil, France, Germany and Portugal. Also, there are over 20 KiwiTech apps in the Top 100 free book apps in Brazil, France, and Portugal. As of today, the status of KiwiTech apps in these countries is:

Brazil: #1 app (22 apps in the Top 100)
France: #1 app (22 apps in the Top 100)
Germany: #1 app (11 apps in the Top 100)
Italy: #2 app (16 apps in the Top 100)
Mexico: #2 app (10 apps in the Top 100)
Portugal: #1 app (22 apps in the Top 100)
Spain: #2 app (15 apps in the Top 100)
UK: # 21 app (4 apps in the Top 100)
US: # 17 app (4 apps in the Top 100)
About KiwiTech

KiwiTech is a mobile app company with an emphasis on publishing and has developed apps for iPhone, BlackBerry, Android and Nokia platforms. KiwiTech develops state-of-the-art mobile app technologies and provides mobile app development services. With over 150 apps developed, KiwiTech is fast gaining recognition as a premier mobile app company. Our apps have been featured in BusinessWeek, Wiley's Dummies series and other publications. Also, KiwiTech apps have achieved top rankings in app stores in Brazil, France, Germany, Spain, U.K. and U.S.A. An innovative, new-age company, KiwiTech is reaching its fast growing list of followers through Facebook and Twitter as well as other social mediums.
Media Contact

Tarun Reddy

703-217-6499

tarun(at)kiwitech(dot)com
http://www.kiwitech.com
# # #
©Copyright 1997-
, Vocus PRW Holdings, LLC.
Vocus, PRWeb, and Publicity Wire are trademarks or registered trademarks of Vocus, Inc. or Vocus PRW Holdings, LLC.
Early Show & Best Magazine Test Aquapac Waterproof Cases













(PRWEB) August 8, 2005
On the CBS Early Show, senior editor of Best Magazine, David Gregg demonstrated Aquapac cases' ability to keep tech-gear 100% dry in and around the water this summer. Gregg submerged both a waterproof cell phone case and a waterproof ipod case in tubs of water to prove there are alternative ways to protect high-tech equipment -- and Aquapac cases topped the list. You can even listen to your tunes while your iPod is inside the case with the Swimman waterproof headphones.
Aquapac provides airtight, waterproof casing for cell phones, mp3 players, video cameras, point & shoot and digital cameras, gps, pdas and just about any portable device you want to take out in the elements. In the past, consumers would have to buy new tech-gear that was manufactured to be waterproof, which often added hundreds of dollars to the cost of the equipment. Or, consumers could play it safe and keep the cameras and cell phones at home away from the water. Today, people can safely and easily operate their tech-toys anywhere when the equipment is protected by Aquapac's amazing technology. Just slip the digital or video camera into its Aquapac case and take sharp, beautiful pictures at the beach with no worries about sand, salt or water damage. A great way to get a waterproof digital camera at a fraction of the cost. Cell phones, mp3 players and the like are also protected securely within their fitted Aquapac cases.
During the Early Show segment, Gregg also explained the difference between water resistant and waterproof. When something is water-resistant, it is protected only if it is exposed to moisture or a few drops of water. Better than that, Aquapac's waterproof cases protect your equipment even when they are totally submerged. All tech-gear is completely secure from water and moisture in Aquapac's airtight, waterproof casing.
In pursuit of electronic mobility, CS Ideas has offered a complete line of Aquapac cases that protect tech-gadgets and toys since 2001. The company is a member of the Better Business Bureau and is well known for its outstanding, personalized customer service. Cases can be purchased on their waterproof cases website.
CS ideas specializes in marketing niche products through their network of websites. Other products that tech-savvy customers enjoy are waterproof mp3 player from Waterproof Music as well as personalized gifts for all gift giving occasions at A Perfect Wallet.
###
©Copyright 1997-2010, Vocus PRW Holdings, LLC.
Vocus, PRWeb and Publicity Wire are trademarks or registered trademarks of Vocus, Inc. or Vocus PRW Holdings, LLC.