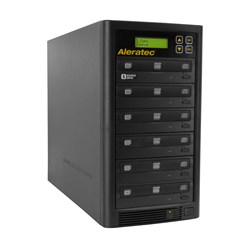 Chatsworth, CA (PRWEB) August 21, 2013
Aleratec Inc., an award-winning digital duplication technology manufacturer with customers worldwide, today announced the release of the 1:3 and 1:5 DVD/CD Copy Towers to help customers simplify disc publishing, boost efficiency and increase productivity. Both stand-alone, industrial-grade solutions deliver maximum speeds for disc replication, are easy to use, and do not require a computer to operate.
Housed in industrial metal cases, both the 1:3 DVD/CD Copy Tower and 1:5 DVD/CD Copy Tower use the latest 22x DVD recorders and 48x CD recorder speeds to create up to three or five simultaneous DVD or CD copies, respectively. With a dedicated source drive and easy one-touch functionality, Aleratecs prosumer solutions support all popular DVD formats and even have the ability to duplicate DVD-RAM media and up to 8.5GB on Double Layer Media, proving they are compatible with a wide range of formats. Each Copy Tower by Aleratec also offers a backlit LCD display and an intuitive menu for maximum copy control and flexibility, making them ideal solutions for professional disc duplication.
In todays day and age, where saving time has a direct impact on business success, companies are always looking for ways to get jobs done faster, said Perry Solomon, president and CEO of Aleratec. Thats why were thrilled to put these convenient disc duplicators with simple interfaces and quick recording speeds into prosumers hands.
Price and Availability
The 1:3 DVD/CD Copy Tower and 1:5 DVD/CD Copy Tower are available from Aleratec dedicated resellers and distribution partners.
Estimated retail prices:
1:3 DVD/CD Copy Tower (part number 260180) - $ 469

1:5 DVD/CD Copy Tower (part number 260181) - $ 599
The full line of Aleratec solutions and accessories is featured at AAFES, Adorama, Amazon.com, ANTOnline.com, B&H Photo Video, Barnes & Noble, Best Buy, Buy.com, CDW, Data Vision, Dell, HP, Insight, J & R, MacMall, Newegg, Office Depot, PC Connection, PC Mall, Quill, RadioShack, Sears, Tech Depot, Tiger Direct, and Wal-Mart in addition to other leading US retailers. Government and Education customers may purchase from Government and Education Specialists including AAFES, B&H Photo Video Gov, Best Buy for Business Gov/Ed, CDW-G, EnPointe, GovConnection, GOVPLACE, GTSI, Insight Gov, PC Mall Gov, SARCOM, Shi.com, Softchoice, SoftMart, Sparco.com, TIG, and Unisys. All products are available to resellers in the U.S. through D&H Distributing, Ingram Micro, and Tech Data; in Canada through Ingram Micro Canada and Tech Data Canada; in Latin America and the Caribbean through Tech Data Miami; in the EMEA (Europe, Middle East, Africa) region through Ingram Micro UK.
1:3 DVD/CD Copy Tower (Aleratec P/N 260180, D&H Distributing SKU 260180, Ingram Micro SKU RW7499, Tech Data SKU 11171416 and UPC 808068-00879-8)
1:5 DVD/CD Copy Tower (Aleratec P/N 260181, D&H Distributing SKU 260181, Ingram Micro SKU RW7498, Tech Data SKU 11171415 and UPC 808068-00880-4)
About Aleratec Inc.
Aleratec designs and manufactures high-performance products acclaimed for their reliability and ease-of-use.
Beginning in 2000, California-based Aleratec has met the needs of government, education and commercial markets with professional-grade duplicators for hard disk drives, USB flash drives and BD/DVD/CD discs. Aleratec also produces disc printers, blank media, shredders, disc repair and related accessories with the Prosumer in mind.
For more information, please visit http://www.Aleratec.com or contact us toll free at 866-77-ALERATEC (866-772-5372). You can also follow Aleratec at Blog.Aleratec.com, Facebook.com/Aleratec, Twitter.com/Aleratec and on YouTube.com/Aleratec.
Los Angeles, CA (PRWEB) March 14, 2012
It sounds like something from a sci-fi movie; the ability to photograph something and later have a physical copy of it to hold in your hand. According to Indian technological engineer, Balaji Tammabattula this could soon become a reality.
Capitalizing on existing 3D printing technology, Tammabattula has jumped light years ahead by creating a 3D camera and printing package that anyone can use with no specialist knowledge.
The process is a snap simply photograph an item with the 3D imaging hardware, connect the 3D printer and watch as a duplication of the item is made.
Tammabattula explains the science behind 3D printing:
A 3D printer works by using molten polymer plastic, dispensed through a tiny tube, which works in layers to eventually create a 3D, physical item he explains. Continuing, You can make anything from jewelry and figurines right through to useful items for around the home.
While the concept of 3D printing isnt new, Tammabattula has taken it one step further, making it more accessible to the everyday person:
All 3D printers require the item to be made from an intricate and complicated digital wireframe file. Naturally, you need a great deal of technical knowledge in order to produce these. My invention does away with this, instead printing directly from a photograph, by means of a 3D camera. This means anyone can use it! he adds.
The 3D imaging device was developed after 2 years of intensive research by Mr Tammabattula & his engineering team in India.
His software-less system allows anyone to duplicate an item just by photographing it. The device consists of multiple cameras which takes hundreds of pictures simultaneously, while a scanner on the device scans the object being photographed for intricate details. All the sets of data obtained are superimposed to form an accurate real life 3D image within a few seconds, which can then be sent to a 3D printer for duplication.
Tammabattula said "he plans to manufacture this technology in the United States but for now he is working exclusively on producing this technology for some Government Organizations in India".
What? if this technology becomes available to the consumers in the next few years, this would absolutely take it to the next level of 3D printing. Imagine what the consumers could do with such a technology. They see something on the street that they like and simply take a picture of it with this camera, go home, print it off and then they have it. Simply amazing!
For now it is only to wonder what the price tag of such a system would cost. Whatever the price, people will line up to buy it. Anything they want, they could have. This shows a future destruction of the retail world in the making. Maybe everyone will just start working for credits instead of cash like they do in Star Trek. Money has no value in the futurecredits are everything.
But for now it is certain that, if such a technology is manufactured in the U.S.A it could bring back those thousands of jobs and Billions of dollars lost to the overseas manufacturers every year.
About Balaji Tammabattula
Balaji Tammabattula is an emerging guru in the field of science and technology.
Following a Masters in Electronics & Computer Sciences from New York Institute of Technology, Tammabattula went on to work extensively within the Data Storage sector heading up the development of innovative data storage products.
His previous inventions include a long range wireless keyboard & other input devices using the nano technology. He has other major innovations under his belt, but of all his 3D imaging technology is set to revolutionize the 3D printing industry.
His major contribution to the 3D printing sector is currently focused on producing systems for Indian Governmental Organizations.
Find More Computer Press Releases