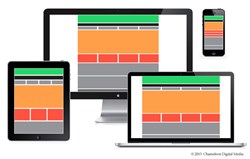 Huddersfield, West Yorkshire (PRWEB UK) 9 October 2013
In the summer of 2013, the Huddersfield based agency made the decision to re-develop their enterprise eCommerce platform from the ground up, taking a mobile first approach. When complete in winter 2013, the new responsive eCommerce platform will be ready to roll out to their existing and prospective clients. All features of their legacy platform will be maintained, plus many new features will be available. The Voracio ePOS integration for true multi channel retailing is a further advance in their field of expertise. Codenamed 'Voracio,' Chameleon see this as future proofing project which will result in "one platform for all devices" and represent a major advance in their stature with the professional and enterprise eCommerce arena.
Company owner and eCommerce entrepreneur James Noon quoted:

"There's plenty of content online discussing the debate of mCommerce vs Responsive eCommerce. In a nutshell, using a mobile commerce platform entails having a standalone website that is developed specifically for use on mobile devices. A responsive eCommerce platform is where one website will cater for all devices, mobile, tablet, desktop, covering all viewports."
"In the past, there were two types of websites a business could choose to have developed to cater for the mobile audience. One was to ask their web developer to build a stripped down mobile version of the desktop site, using redirects for mobile traffic, the other being to commission a mobile specialist firm to develop a separate mobile site. These approaches served well in the past, however are becoming outdated, both having considerable and increasing drawbacks in regard to costs and user experience. Here are just a few of the major issues," added James.
On discussing the negatives of traditional mobile development, James noted the following:

"Both of the above are often only optimized for a limited number of devices. Such is the diversity of mobile devices these days, this means that the users browser experience is compromised. Mobile sites require redirects, having different URLs to the desktop site which makes SEO efforts much more difficult."
"Having separately hosted sites often causes issues with content synchronization, including expensive integration development costs. This is because the mobile and desktop site usually pull content from two separate data sources," James continued.
"Often the user experience from mobile to desktop is inconsistent, your most loyal customers may struggle to perform tasks they are familiar with on your desktop site when browsing your mobile site. Features may differ too; for exampl, your loyalty points scheme may not be available to mobile users, again compromising user experience and conversions. Managing content for two separate sites makes difficult and more time consuming work for marketing departments."
James then continued to discuss the advantages of a responsive website:

"Content maintenance is easier, changes to your site are made through a single CMS; this is better for accuracy and productivity. Responsive sites use one set of URLs, whatever the device the URL for any page will be the same. This is better for SEO efforts and conversion page optimization. Another fact is that Google themselves recommend responsive web design, as seen in their guidelines for mobile development."
"Marketing campaigns are easier to manage, more cost effective and provide a higher return on investment as the users landing page is automatically optimized for their viewport. Responsive sites can be shared more easily and importantly the user experience is consistent across multiple devices. All things considered, responsive sites are more cost effective."
But what of the performance and technical implications for a responsive site?

"We've studied the technical implications of responsive sites in great detail," said James who heads up the eCommerce platform. "There is some opinion that responsive sites can be heavy on load times, however many articles we've studied mentioning such issues are outdated and solutions have already been developed. We have always taken website performance into consideration, for this RWD project we are implementing a number of techniques to ensure optimum performance for all devices, for example we use RESS (Responsive with Server Side coding) and device detection alongside media queries to determine what content to feed to the user."
The company concluded several months back that responsive eCommerce is without doubt the way to go, they believe it is the future of online retail and as such have invested much time and focus on the development of their new responsive ecommerce platform, codenamed 'Voracio.' They are looking forward to rolling out our first sites later this year.
Company Information:

Chameleon Digital Media are a growing force in the eCommerce platform arena. Established in 1998 as a graphic and web design agency, over the past several years Chameleon have invested heavily in the development of their own eCommerce platform. This platform is used by scores of online retailers throughout the UK. Chameleon are midway through the development of their all new responsive ecommerce platform, code named 'Voracio' which makes use of the best in responsive web design techniques. It is set to be one of the first fully responsive ecommerce platforms available in the UK, taking a one platform for all devices approach.
The Huddersfield based business are a full service digital agency, offering ecommerce, CRM integration, web design, online marketing, SEO, PPC and branding. Their success has been attributed to having the right mix of creativity and technical expertise alongside a friendly and personal service.
Chameleon Digital Media

1 St Pauls House

Brooke's Mill

Armitage Bridge

Huddersfield

West Yorkshire

HD4 7BG
+44 (0)1484 304545

james(at)chameleon-web(dot)co.uk
Related Graphic Press Releases