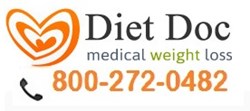 Chicago, IL (PRWEB) November 18, 2013
The professionals at Diet Doc are serious about helping everyone lose weight to improve health, longevity and quality of life. The company is consistently searching for new ways to make achieving weight loss goals simpler, more convenient and less costly for everyone in need. Utilizing Telehealth, the latest medical technology, now enables the company to reach patients in even the most remote regions of the country, delivering fast, safe and consistent weight loss directly to patients' doors. One of the first prescription diet companies to join this new revolution in healthcare, Telehealth allows patients and physicians to connect via the telephone, thus avoiding time consuming and costly visits to local weight loss clinics.
Patients who are ready to change their lives by losing unhealthy excess weight can begin simply by calling the company or logging on to the computer to complete a comprehensive, yet quite simple, medical evaluation, after which the patient will schedule an appointment, at their convenience, to speak directly with a board certified physician. This level of personal service allows the doctors to review and assess each patient's entire system and to identify any improperly performing organs or other barriers that may hinder fast weight loss, without the patient ever leaving their home. Each patient will receive a plan of action along with a complete and detailed physician report.
Qualified patients will work closely with nutritionists, who are certified and specially trained in the science of safe and fast weight loss. Diet plans will be designed that are unique to each patient's personal nutritional lifestyle and medical needs, designed to be rich in essential nutrients, helping the body to function at maximum capacity while melting pounds and inches. Because the diet plans incorporate a wide range of delicious food choices, patients find that they maintain their interest while the rapid loss of weight keeps them motivated. Each diet plan is uniquely developed with emphasis on achieving optimal weight loss with focus on safety and improved long term health and weight maintenance.
Diet Doc's prescription hormone complements the uniquely designed diet plans by sending a powerful signal to the hypothalamus to target stores of trapped fat to be released into the bloodstream and burned as the body's primary energy source. This dynamic combination turns the body into a fat burning machine with patients reporting fat melting from the body in areas that are typically the most stubborn and difficult areas to lose, such as the belly, hips, thighs and underarms.
Diet Doc offers incomparable services to dieters across the country, delivering a consistent effective medically supervised diet plan directly to patients' doors. To further add to the convenience of this revolutionized new diet plan concept, videoconferencing eliminates the need for costly, embarrassing and time consuming follow-up visits to weight loss clinics, while offering improved and easy accessibility.
The addition of Telehealth is making losing unhealthy excess weight easier than ever before. By shifting their focus to the numerous possibilities that Telehealth offers, Diet Doc has made their prescription hormone diet plans available nationwide. Diet Doc's physicians and nutritionists can reach out to a patient in any location using advanced technology, eliminating all geographical and communication barriers.
Diet Doc Contact Information:
San Diego, CA

(800) 272-0482

Weight-loss(at)Dietdoc(dot)info

http://doctorsupervisedweightloss.com/testimonials.php
Twitter: DietDoc10

Facebook: DietDocNaturalHealth
Stuart, FL (PRWEB) February 15, 2006
Dr. Leonard J. Ram, MD is the founder of a new telephone diet consulting service called Trimtalk. Find details at: www.trimtalk.com. Dr. Ram is a medical doctor who is board certified in gastroenterology and nutrition, and is also the author of The Ram Nut Diet.
"It's that time of year again – 'diet season' in America. We've all added more than a few pounds for the holidays and have made our New Year's resolutions to shed them. However, something new is happening. The "diet season" now seems to last 365 days per year.", according to Dr. Ram.
In 2005, most weight loss programs were booked solid right through the summer. As America's girth has grown and obesity and diabetes rates climb to epidemic proportions, the demand for weight loss programs is now high year-round.
Something else has changed. There's a new attitude toward dieting by the public and the media. It's now fashionable to have achieved weight loss. This is the era of the "makeover". We have home improvement makeover TV shows (Extreme Makeover; Home Edition), and now personal weight loss makeover "reality" shows such as The Biggest Loser. By the way, the business of personal appearance enhancement is booming as well—botox injections to get rid of wrinkles, tooth veneers to give us perfect smiles, etc.
"We cheer obese contestants on week by week as they shed pounds, and empathize with them as they share their weight loss struggles with millions of public viewers. The difference is that WE have to foot the bill, not the TV producers, for our weight loss makeovers—and often that tab is steep," says Dr. Ram.
Typical cost of various kinds of weight loss programs:
(average 12-16 weeks, according to Marketdata Enterprises research)

diet food home delivery services – up to $ 1,200 per month

commercial diet company plans - $ 850-1,100

weight loss (bariatric) surgery - $ 25,000

personal counseling and meal planning by a dietitian - $ 800

low-calorie medically supervised meal fasting programs - $ 1,500-3,000

one week stay at a residential weight loss facility/spa – $ 4,000-6,000.
Of course, one can try to do it themselves, on the cheap, and many do. But the fact remains that losing a lot of weight can be expensive.
Now weight loss advice is coming to the telephone. The prices are more affordable than most of the diet programs mentioned above and the quality of the consulting is improving.
According to Dr. Ram, we now wear our successful weight loss endeavor as a badge of pride. We're proud to let all our friends and colleagues know that we lost 40 pounds, and it cost us $ 1,500, $ 3,000, or $ 25,000 to do it. This trend is similar to what happened to the online dating market about five years ago. Before online dating was made mainstream by Match.com, one would never admit that they used a dating service or costly matchmaker. I believe that our attitude toward weight loss programs is moving in that same direction. The social stigma is gone—because so many of us are in the same boat—overweight.
Celebrities such as TV weatherman Al Roker and singer Carnie Wilson had weight loss surgery and lost huge amounts of weight. Their success has been covered extensively and they are glorified by the media. They are our new heroes. On the other hand, when a popular actress or entertainer (usually female) gains a lot of weight, the magazines and media are the first to vilify them and publish the unflattering photos.
The price of some weight loss programs now approaches the price of a new car (at least a used one). Is weight loss the new American status symbol? I think so.
It's something to think about.
ABOUT Trimtalk / Ram Nutrition & Weight Loss
Trimtalk, a new telephone diet consulting service, with its supporting website www.trimtalk.com, is owned and operated by Ram Nutrition & Weight Loss, Inc. Leonard J. Ram, MD., the founder, is a medical doctor board certified in gastroenterology and nutrition. Dr. Ram is the only physician/diet book author in the United States with these qualifications. Dr. Ram is also the author of the Ram Nut Diet book, written for do-it-yourself dieters and for those wishing to learn more about healthy eating and weight loss.
CONTACT INFORMATION
Trimtalk / Ram Nutrition & Weight Loss
1-877-875-TRIM
www.trimtalk.com


email: drlram at trimtalk.com
###
More Ram Press Releases
Stuart, FL (PRWEB) January 31, 2006
Ram Nutrition & Weight Loss, Inc. has just introduced a new toll free 8-week diet phone consulting service, with information and details via the website www.Trimtalk.com. According to Dr. Leonard J. Ram, Trimtalk's founder (and author of the diet book "The Ram Nut Diet"), "I combined my years of medical experience with my interest in helping people achieve weight loss, and Trimtalk was born. I created this program to meet the needs of dieters seeking a complete, long lasting solution, one that addresses the three key components of successful weight loss: nutrition, exercise, and emotional support."
Diet industry analysts agree that dieters in 2006 are looking for convenience; professional, live and customized service; and real results—at an affordable price. However, few weight loss programs provide this rare mix of features.
The Top Complaints of Dieters:

Programs are too difficult to maintain, resulting in poor weight loss results.

Being forced to buy costly pre-packaged company diet foods.

Having to count calories or points via complex plans.

Diet consultants are not available when they need them, and/or they have to drive to a diet center to speak with a consultant.

Support via diet websites is poor. Many take several days to reply to an email, if they do at all.

Many 'diet consultants' lack professional training or competency.

The inability to speak with the same diet consultant each time.
Weight loss counseling has been a growing field over the past decade. However, the quality of information and support the dieter receives varies considerably, resulting in lackluster results. Traditionally, diet "consultants" have been paid poorly and turnover is high. Most are little more than customer service representatives or salespeople pitching products or services the dieter does not want or need. Trimtalk has addressed these issues by recruiting only highly credentialed, empathetic consultants with a personal history of weight loss, and then training them completely to meet the dieter's needs.
A June 2005 article in Consumer Reports found: "...Of all the diet strategies, personal support is the most successful. In a 2002 survey, the dieters who worked one-on-one with a "counselor" or "consultant" said it was second in effectiveness only to devising their own personal diet and exercise plan."
However, quality and affordable diet phone consulting programs that are open to the public are rare in the United States. The Trimtalk program has been designed to fill this void.
The Trimtalk Program was developed by: an MD, Board Certified in Nutrition, a Registered Dietitian, a Licensed Clinical Social Worker, and an Exercise Physiologist. The Trimtalk program includes…
28 days of personalized Meal and Fitness plans.

8 weekly toll-free Telephone Consulting Sessions. The dieter gets one-to-one weight loss consulting each week with the same consultant.

the Trimtalk Workbook, a 70-page manual filled with nutrition, exercise, motivational tips, and strategies for success.

access to the Trimtalk Website, a robust website where clients get all the tools for dieting success, including a weight loss journal.

a pedometer and tape measure.

a copy of the Ram Nut Diet book, by Leonard Ram, MD, the founder of Trimtalk.
"We noted that weight loss analysts have found that about 70% of dieters are in need of emotional eating support. Trimtalk focuses heavily on the emotional component needed for successful weight loss through the use of weekly telephone consulting", said Dr. Ram.
About TRIMTALK and Dr. Leonard J. Ram
Trimtalk, a new diet phone consulting service, with its supporting website www.Trimtalk.com, is owned and operated by Ram Nutrition & Weight Loss, Inc. Leonard J. Ram, MD., is a medical doctor board certified in gastroenterology and nutrition. Dr. Ram is the only physician/diet book author in the United States with these qualifications. Dr. Ram is also the author of the Ram Nut Diet book, written for do-it-yourself dieters and for those wishing to learn more about healthy eating and weight loss.
CONTACT INFORMATION
Leonard J. Ram, MD
Trimtalk.com / Ram Nutrition & Weight Loss, Inc.
Phone: 877-875-8746 (toll free)
www.Trimtalk.com


drlram (at) trimtalk.com
###
More Ram Press Releases