(PRWEB) June 29, 2005
Available in Canada, the US, and Europe, the ASUS V6V notebook's carbon fiber composite chassis is lightweight, durable, and sophisticated with its sleek, brushed gunmetal colored surface. The result: a fusion of form and function that won the prestigious iF Design Award. The V6V notebook includes the latest personal computing technologies such as DDR II memory, ATI 3D graphics processor and Bluetooth™ wireless connectivity to offer robust computing capability and wireless freedom. The V6Vnotebook has a Zero Bright Dot (ZBD) LCD panel with an ATI Mobility™ Radeon™ X600graphics processor that guarantees total satisfaction with notebook display performance. The V6V notebook innovates by positioning powerful speakers in the notebook' s palm rest to deliver loud and clear sound quality.
Comfort, Power and Sound
When designing the V6V notebooks, ASUS placed strong consideration on ergonomics, robust power and sound clarity. The ASUS' award-winning Industrial design team positioned high-quality speakers on the palm rest instead of on the bottom or side like other notebooks, improving sound clarity and user satisfaction of its crystal clear audio sound.
A Promise of Perfection
Asus promises users Zero Bright Dot (ZBD) LCD panels. ASUS' ZBD policy means exchanges are guaranteed with no questions asked, even if only one single bright dot is found. With this assurance, users enjoy a perfect visual display without distraction.
Express Lane
The V6V series leverages the latest Intel 915PM chipset, which incorporates advanced 90nm technology for mobile processing, and supports DDR II memory and a PCI Express graphics interface. Users enjoy multimedia entertainment over fast interfaces running graphics intensive and memory-efficient applications with improved speed and efficiency.
The Slim & Sleek
Though the V6V notebook comes equipped with a 15" display, it weighs a mere 2.49kg (5.5 lbs), which is lighter than most 14" notebooks. The V6V notebook's 8 option keys are placed to provide a distraction-free working area.
Longer Battery Life
The exclusive Power4 Gear+ battery-saving technology controls CPU speed to maximize battery performance. Offering 8 different modes designed for gaming, watching DVDs, listening to music, etc, the Power4 Gear+ battery-saving technology innovation saves battery life by 15%-20% over other notebook brands.
Convenient Wireless Connection
The V6V provides wireless networking anywhere, anytime based on the 802.11a/b/g Wi-Fi standard. Its Bluetooth™ wireless connectivity allows cordless connectivity to a broad range of devices such as PDAs, mobile phones, office peripherals and MP3 players.    
Specification summary:
Display: 15" SXGA+
OS: Microsoft® Windows® XP Professional
CPU: Intel® Pentium® M 750, 533MHz, 1.86GHz, 2MB L2 Cache
HDD: 60GB
Chipset: Intel® 915 PM
Graphics: ATI Mobility™ Radeon™ X600 64MB VRAM
Memory: 512MB DDR2 400MHz, upgradeable to 2GB
Wireless: 802.11a/b/g, Bluetooth™
Interface: 4xUSB 2.0, 1 x IEEE 1394 port, 1 x multiple-standard card-reader, 1 Type II PCMCIA slot, 1 Infrared port support IrDA, 1 x SPDIF
Dimensions and Weight:    33.1 x 27.2 x 2.54~3 cm, 2.49kg
13 x 10.7 x 1.18 inches, 5.5 lbs
About ASUS
ASUS Computer International (TSE:2357) is a leading provider of consumer electronic solutions. Its product portfolio includes notebooks, motherboards, graphics cards, optical drives, information appliances, desktop PCs, servers, wireless solutions, mobile phones and networking devices With world-class engineering plus offices and subsidiaries located in all corners of the world, ASUS provides innovative solutions to consumers, businesses and OEM/ODM customers. The company is the perennial leader of the motherboard and graphics card industries and a top 10 player globally for notebooks, optical drives, broadband modems and a wide range of other products.
For more information about ASUS Notebooks please visit http://ca.asus.com/mobile

PR Contact:
ASUS Computer International (ASUS)
Rick Allen
Tel: 510-739-3777 x4547
E-mail: rick_allen@asus.com
Phaze-9 Corporation (Public Relations Firm)
Joanna Laznicka
Tel: 408-245-5117
E-mail: joanna@phaze-9.com
South Mary Ave, Suite 14,
Sunnyvale CA, 94086
# # #
Related Cpu Press Releases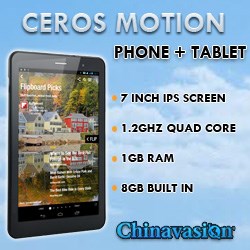 Shenzhen, Guangdong (PRWEB) September 30, 2013
TECH buyers looking for an Android phone/tablet capable of excellent reception in the most remote locations while also being affordable and having an excellent performance should look towards a newly launched 7 Inch quadcore 3G Phablet "Ceros Motion", according to a product line-up announcement from China Android Phone Seller Chinavasion.
According to Chinavasion PR Manager Rose Li, the Ceros Motion offers the unique benefit of having two SIM card slots the only tablet phone on the market to offer a wide range of coverage.
"By having two unlocked SIM card slots users can be sure to get data coverage no matter where they go," says Li. "This makes it almost an essential tool for travellers."
Li says this is not the only thing Ceros has worked hard at and the Motion offers a fantastic performance with a MTK 8389 quad core cortex-A7 chip producing a powerful 1.2Ghz performance on the very latest Android 4.2 operating system.
"This 7 inch tablet is blazingly quick to use," says Li. "Users will be able to get several tasks done at once or operate a graphics heavy game without any form of lag with this Android tablet."
Li says users will also enjoy a fantastic view from the Android tablet with the Ceros offering a 1280x800 resolution on the industry-leading IPS screen.
"Very few other sellers offer IPS technology," says Li. "Users constantly tell us that their IPS screen devices are crisper and clearer than anything they've seen before."
China tablet maker Ceros is quickly creating a name for itself in China and in the west with its ability to offer tablets with some of the best specs possible while still maintaining prices lower than high street brands with similar or even lower specs.
In fact Li says Ceros Motion users can expect the quadcore tablet to cost the same as many brand name tablets with dual core processors and much lower specs.
"Ceros and Chinavasion has gone out of their way to offer devices with the very best specs for the lowest possible prices," said Li.
Chinavasion is an online retailer and wholesaler of Android tablets and other electronics gadgets.
Related Graphic Press Releases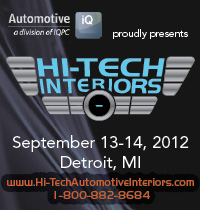 Detroit, MI (PRWEB) August 01, 2012
Automotive IQ, a division of IQPC, announces the Hi-Tech Automotive Interiors Summit, taking place September 13 to 14, 2012 in Detroit, Michigan. The Summit focuses on strategies for improving the connectivity, telematics and infotainment components that are shaping the functional and design components of modern automobile interiors.
Revenues for the North American automotive interior systems and modules market totaled $ 28.30 billion in 2004 and exceeded $ 44 billion in 2011. Connected interior systems and modules have become the focus of innovation and differentiation in vehicles, and automakers have had to emphasize value addition through cutting edge styling, ergonomic design, convenience, and the use of recyclable materials.
Fast developing interfaces including touch screen, voice, and gesture are also beginning to make their way into a broader segment of automobiles in the US market. As a result of consumer demand, instrument panel skin technologies, and efforts toward mass reduction, automakers are under pressure to offer customized features and differentiate vehicles not only from their competitors', but also from other vehicles in their own lines.
The Hi-Tech Automotive Interiors Summit addresses major advancements in vehicle interiors including telematics and mobile integration, as well as integration of federal regulations for the distracted driver. Leaders in the infotainment and human-machine interface (HMI) fields are speaking on dynamic strategies for advancing vehicle infotainment systems while maintaining quality and safety. Other highlights include:


Insights on where the infotainment space is heading and what new technologies to prepare for.
In-depth presentations of new telematics technology and the future of mobile to vehicle integration.
Strategies from leading organizations on the impact of the distracted driver and safety regulations affecting the infotainment space.
The 2012 Hi-Tech Automotive Interiors Summit provides automobile manufacturers and suppliers key insights into developing technology and regulations in infotainment, telematics, and HMI. Internal strategies from key industry leaders provide attendees techniques they can implement in their interior systems design.
For more information on the Hi-Tech Automotive Interiors Summit, please visit http://www.hi-techautomotiveinteriors.com or contact Program Director Matt Barber at Matt.Barber(at)iqpc(dot)com.
About IQPC

IQPC http://www.iqpc.com provides business executives with tailored practical conferences, large-scale events, topical seminars and in-house training programs. Producing over 1,500 events annually around the world, IQPC continues to grow and has offices in cities across six continents including: Berlin, Dubai, London, New York, Sao Paulo, Singapore, Sydney, and Toronto.
Contact:

IQPC

Reem Shamsuddoha

T: +1 646-200-7924

F: +1 888-231-7864

http://www.iqpc.com


Fremont, CA (PRWEB) June 05, 2012
NEXCOM has rolled out 1080P digital signage player NDiS 167 in light of a booming demand for embedded intelligence. Performance, connectivity, and manageability are three important pillars of embedded intelligence. NDiS 167 lays great emphasis on these attributes. Based on the 3rd generation Intel
MobileDemand Introduces the xTablet C1200 Convertible Tablet PC Exceptional Performance, Durability and Anywhere Connectivity for Mobile Professionals on the Go













Hiawatha, IA (PRWEB) February 3, 2011
MobileDemand, manufacturer of rugged xTablet PCs, introduces the rugged, high-performance xTablet C1200 convertible tablet specifically designed for the always-mobile professional who needs superior connectivity and access to business applications anytime, anywhere. This versatile device quickly and easily transforms from a rugged laptop to a Tablet PC making it ideal for field service (utilities, maintenance and repair, insurance), military, public sector (fire, law enforcement, public safety, and inspections), health care, agriculture, delivery and other mobile applications. The easy-grip handle lets mobile professionals quickly grab it and go.
"We have added the xTablet C1200 to fulfill the requirement of some of our customers for a rugged mobile tablet with a full-sized keyboard to enter large amounts of free form data," said MobileDemand President, Matthew Miller. "This xTablet convertible complements our popular xTablet slate computer line (xTablet T7000 and xTablet T8700) and allows us to serve our current customers better as well as open up new markets," said Miller.
The xTablet C1200 is WLAN and WWAN compatible, offers optional Bluetooth, optional Gobi 2000 radio for 3G communication and GPS. Security features include TPM 1.2 technology, a fingerprint scanner and BIOS administrator password/boot password. The rugged xTablet C1200 with Microsoft Windows 7 Professional is powered by the high performance Intel® Core™ i5 520UM processor with Turbo Boost up to 1.86 GHz and Intel® HM55 chipset with 2GB RAM standard and with up to 8GB of memory. Standard with 64GB-256GB Solid State drive and optional shock mounted spinning drive. It also comes with an Express 34 card slot, SDHC card reader, and I/O ports with USB, e-SATA, serial, audio and smart card reader.
The xTablet C1200 is built tough to handle the bumps, drops and spills of real-world use. It meets MIL-STD 810G requirements and tested to survive drops from a 4' height. A special spill resistant design protects the keyboard, touchpad, speakers, wireless and power switches, and all ports are dust resistant. This unique spill-guard design extends the life of the device by allowing liquids to dissipate through the bottom of the computer reducing the risk of damage. The xTablet C1200 keeps running for 4 hours with a hot-swappable 6-cell Li-Ion battery and runs a full 8 hours with an optional second Polymer battery to enable all-day use and even greater productivity.
The new MobileDemand xTablet C1200 Tablet PC features a large 12.1" (1280x800) convertible TFT backlit touch screen with a sunlight readable display option for optimum viewability indoors, in-vehicle and in the field. It offers keyboard and finger touch data entry as well as signature capture and more precise handwriting recognition. It has a 1.3 mega-pixel camera and a full suite of optional accessories including an office dock, vehicle dock and car adapter.
The xTablet C1200 is available for ordering now with full production in March.
About MobileDemand

MobileDemand is a leading provider of rugged tablet computers used in a variety of industries including Food and Beverage Distribution, Manufacturing, Warehousing, Field Service, Retail, Hospitality, Transportation and Logistics, Agriculture, Utilities, Military and Public Sector. MobileDemand rugged computers provide ultra-mobility and versatility and are built Military rugged to withstand harsh environments. xTablets offer a high resolution sunlight readable touch screen, full Windows 7 OS, and powerful Intel Core Duo processor to deliver higher performance at a lower cost and enable greater efficiency and productivity in the field. Additional information is available at http://www.ruggedtabletpc.com.
# # #








Attachments





©Copyright 1997-
, Vocus PRW Holdings, LLC.
Vocus, PRWeb, and Publicity Wire are trademarks or registered trademarks of Vocus, Inc. or Vocus PRW Holdings, LLC.
Related Ram Press Releases
NEW SINGLE/DUAL POWERPC G4 HIGH-PERFORMANCE COMPUTING NODE
FROM THALES COMPUTERS FEATURES ENHANCED CONNECTIVITY,
REDUCED POWER CONSUMPTION













Raleigh, NC, (PRWEB) September 6, 2003 -
based VME COTS computing systems and solutions to OEMs and system integrators, has introduced the PowerNode3, a single/dual 1 GHz PowerPC G4 high-end computing node featuring enhanced connectivity and reduced power consumption. PowerNode3 is designed for state-of-the-art applications requiring real-time data and signal processing, including sonar, radar, medical imaging and machine vision systems.
Product Details
The new PowerNode3 features dual and single Motorola PowerPC G4 7457 processors running at 1 GHz, each equipped with a 2 MB L3 cache and 2 MB private SRAM, linked via a 133 MHz Avignon host bridge. Up to 1 GB onboard SDRAM is accessible at the local bus speed of 133 MHz. The new board provides twin PCI Mezzanine Card (PMC) slots (one
64-bit 66 MHz and one 32-bit 33/43 MHz).
PowerNode3 is designed for connectivity, with an ALMA2e VME-PCI bridge that enables 2eSST data transfers at up to 180 MB/s for VME board interconnection. Dual Gigabit Ethernet interfaces and 4 asynchronous RS232/422/485 lines provide a range of high-speed networking and connection options. In addition, three differential 4x high-speed links are routed to the P0 backplane (as per PICMG 2.17), enabling the PowerNode3 CPU board to be interconnected to fabric technologies based on the LVDS standard.
The PowerNode3 sets a new standard for low power consumption in a high-end node, with a typical draw of 30 W for dual CPU configuration, versus competitive boards that draw up to 60 W (with 7455 1 GHz solutions). The new board is available in three convection-cooled versions (standard, extended temperature, and rugged), as well as a rugged conduction-cooled version for harsh environment applications.
Thales Computers also offers COTS hardware and software as well as dedicated services in a value-added program including high-performance communication layers, machine development and supervision software, built-in test, machine integration, acceptance tests, and configuration and life-cycle management.
The PowerNode3 also comes with Thales Computers' PowerLine4 toolkit for platform management, which speeds development cycles and time-to-market for COTS-based signal processing solutions. PowerLine4 supports LynuxWorks and VxWorks operating systems.
Pricing for the new PowerNode3 starts at $ 5,870. The new board is available now in all versions and temperature ranges.
For more information about the PowerNode3 and the entire Thales Computers line of high-end computing nodes, please visit Thales Computers' website at http://www.thalescomputers.com, or contact Thales Computers at 1-800-848-2330, fax 919-231-8001.
READER SERVICE INQUIRIES: Please forward all reader service inquiries to lkirby@thalescomputers.com.
About Thales Computers: Thales is a world leader in professional electronics in three key markets: Aerospace, Defense and Information Technology & Services (IT&S). The Group employs 60,000 people in nearly 50 countries worldwide, and generated revenues of over €11 billion in 2002.
Thales Computers is the leading developer of commercial and ruggedized VMEbus hardware and software solutions based on PowerPC and Pentium microprocessors. The company's products are optimized for a wide variety of applications in military, aerospace, communications and industrial markets and are in active use by customers worldwide, including Lockheed Martin, Raytheon, Boeing, Toshiba, EADS, British Aerospace, Ericsson, Alcatel and the Thales Group.
©Copyright 1997-
, Vocus PRW Holdings, LLC.
Vocus, PRWeb, and Publicity Wire are trademarks or registered trademarks of Vocus, Inc. or Vocus PRW Holdings, LLC.