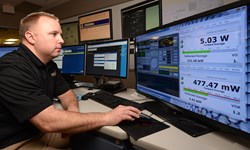 Dallas, TX (PRWEB) December 19, 2013
BearCom, a nationwide provider of wireless communications equipment and solutions, today announced the opening of its Network Operations Center (NOC), which can alert BearCom's enterprise customers to problems with their digital communications systems and help them optimize those systems for maximum efficiency.
"Wireless communications systems are vital to the safe operation of all kinds of business and governmental organizations," said BearCom President & CEO Jerry Denham. "These systems can not only save money, they can save lives." Denham added, "It was with this in mind that we created our new Network Operations Center to monitor our customers' systems."
Modern two-way radios rely on base stations and repeaters to relay voice communications from one radio to the others. If these pieces of the infrastructure develop problems, the operation of the entire system can be compromised. In a typical on-site service call, a technician connects a computer to the system and uses special software to conduct an assessment.
"With the NOC, we can offer what we call Constant Service Presence to detect any issues, evaluate problems, and even dispatch technicians if that's warranted," Denham said. "We're already using Constant Service Presence to help monitor systems we've built for customers who look to us for two-way radio rentals, and we look forward to offering this unique service to more of our customers around the country." The BearCom NOC can monitor customers' Motorola MOTOTRBO systems around the clock and provide system diagnostics, real-time visibility, and proactive response to any issues that arise. Alarms are transmitted by e-mail for resolution, which can be accomplished by BearCom or by technicians on-site.
"Using the NOC allows us to collect metrics on such things as repeater health, network latency, and channel efficiencies," said Ian Torok, Director of Technical Services at BearCom. "Not only can we detect problems, the NOC gives us the visibility to optimize systems in a way that maximizes efficiency."
Torok noted that to open the NOC, BearCom invested not just in the software that assists in the monitoring, but in augmenting the company's own information technology infrastructure to make certain that a secure network connection is always available. "The most important benefit of our new Network Operations Center is the peace of mind it will give our customers," he said. "They no longer have to determine outages and report them. We know about any problems, and we know about them early. Since these kinds of issues typically escalate over time, it's important to be made aware of them as soon as they arise."
Constant Service Presence can be added to BearCom's existing services or arranged along with dispatched repair services as part of a service-level agreement.
About BearCom
BearCom provides a broad line of high-performance wireless communications products, services, and complete mobility solutions. Founded in 1981, BearCom is America's only nationwide dealer and integrator of wireless communications equipment, serves customers from 26 branch offices located throughout the U.S., has several affiliated offices around the world, and employs approximately 400 people. BearCom is headquartered in the Dallas, Texas area. For more information, visit http://www.BearCom.com.