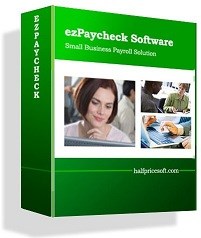 Pittsburgh, PA (PRWEB) November 11, 2013
Nonprofit organizations are continuously searching for new ways to save money, and with ezPaycheck combo version from Halfpricesoft.com the $ 99.00 price for both 2013 and 2014, is a no-brainer! Many non profit organizations are still calculating payroll taxes and writing check manually because many payroll applications on market are too complex and too expensive for them. Payroll tax software developers at halfpricesoft.com want to offer small businesses and nonprofits a better alternative. With this unique opportunity, new customers will save a total of $ 48.00!
At this special price, new customers can complete the years payroll by utilizing the year to date feature as well as roll in the new year confidently that the software they have chosen is easy to use and less expensive than others on the market.
Nonprofit organizations get a bonus deal with a unique combo offer in Ezpaycheck 2013 and 2014 tax season applications. said Dr. Ge, the founder of halfpricesoft.com.
EzPaycheck software is designed to automate paycheck processes to reduce the time spent on running payroll. The softwares graphical interface leads users step-by-step through setting up employee information, importing data, calculating payroll - including calculation of federal, state and local taxes; deductions for Medicare, insurance and 401(k) plans; and printing paychecks. New user can download and try this software for free with no obligation and no cost at http://www.halfpricesoft.com/payroll_software_download.asp
EzPaycheck payroll software includes the latest tax tables and tax forms. This paycheck software also supports flexible tax options to satisfy the special businesses, nonprofits and churches.
Small businesses and nonprofits will appreciate the unique features in the latest release of ezPaycheck payroll software:


Supports daily, weekly, biweekly, semimonthly and monthly payroll periods. Features report functions, print functions, and pay stub functions
Easily calculates differential pay
Prints miscellaneous checks as well as payroll calculation checks
Prints payroll checks on blank computer checks or preprinted checks
Automatically calculates Federal Withholding Tax, Social Security, Medicare Tax and Employer Unemployment Taxes
Includes built-in tax tables for all 50 states and the District of Columbia
Creates and maintains payrolls for multiple companies, and does it simultaneously
Prints Tax Forms 940, 941, W-2 and W-3
Supports multiple accounts at no additional charge
Supports network access
Priced at $ 89, ezPaycheck payroll software is affordable for any size business. To speed up year-end tax reporting for more businesses, halfpricesoft.com launched the special promition of ezPaycheck software. New customers can get payroll software 2013 at discount price of $ 59 or 2013 & 2014 bundle version at just $ 99.
Customers seeking a way to simplify payroll processing with more accuracy to start the no obligation 30-day test drive today at: http://www.halfpricesoft.com/index.asp.
About Halfpricesoft.com

Founded in 2003, Halfpricesoft.com has established itself as a leader in meeting and exceeding the software requirements of small businesses around the world. Offering payroll software, employee attendance tracking software, check writing/printing software, W2 software, 1099 software and ezACH deposit software. It continues to grow in the philosophy that small business owners deserve affordable, user friendly, and totally risk-free software.
Related Computer Press Releases
(PRWEB) April 28, 2004
TrendWatch Graphic Arts is offering two reports at 25% off the original price for a limited time. If you purchase this combo package by April 30th 2004 you will receive both the "Digital Printing: Destination Here " and " Digital Color Printing: Ready for Primetime " reports for only $ 1,500.00.
Highlights from Digital Printing
-- According to the report, investment in digital color printing is on an upward swing, up 5 percentage points to 14% in TWGA's most recent printing survey;
-- 12% of all responding Commercial Printing firms reported that production of digital color printing jobs has increased in the last 12 months;
Like any new technology, acceptance and use is usually a direct function of decline in cost and an increase in quality or functionality. Consequently, digital color printing is also experiencing a sharp, but consistent rise in acceptance and use. According to a new report released by TrendWatch Graphic Arts, prices for digital presses and related consumables costs have declined significantly. This, in conjunction with technological advancements that have greatly enhanced the output quality, has lead to a steady increase in investment in digital color equipment, up 5 percentage points in our most recent survey.
Highlights from Digital Color Printing
-- Report Predicts between 2002 and 2007, the number of commercial printing establishments having digital color presses will increase by 234.1%;
-- And between 2002 and 2007, the number of commercial printing establishments having direct imaging presses will increase by 66.7%;
-- Currently, the average market penetration rate for digital color presses in the U.S. is 3%, while average market penetration rate for direct imaging press installations in the U.S. is 1%.    
TWGA's new report on digital color printing finds that the technology is ready for primetime nearly a decade after it was introduced. The report, analyzes the market forces driving digital color printing, investment levels in press equipment, product applications, user markets, and customer markets.
Methodology
These reports are based on the TWGA historical database, which contains data from the last 18 months of market surveys of printing, publishing, packaging, design and creative professionals conducted by TWGA. Some data was gleaned from established industry resources. Analysis is provided by TWGA analysts and supported by industry data and trends indicated by TWGA primary research.
Availability
The 100+ page TWGA "Digital Color Printing: Ready for Primetime," and the 119 page "Digital Printing: Destination Here" report are both available for purchase by visiting the secure TrendWatch Graphic Arts eStore online at www.trendwatchgraphicarts.com or by phone at 866-873-6310. The price for the reports is $ 1500 TrendWatch Graphic Arts eStore customers can download this report in PDF Acrobat format immediately after purchase.
About TrendWatch Graphic Arts
TrendWatch Graphic Arts specializes in the assessment of trends and changes in graphic communications markets by providing timely and strategic information, hard-hitting market analysis and concise expert opinion. The reports have earned the reputation for containing the most reliable and timely industry intelligence in the graphic arts and graphic design marketplaces. TrendWatch Graphic Arts can be reached on the web (www.trendwatchgraphicarts.com), via email (info@trendwatchgraphicarts.com) or toll-free by phone at 866-873-6310.
# # #