(PRWEB) July 7, 2005
Once again this month in the charts saw quite a few bands battle it out for the chart gig in the music centre, with the number one, two and three spots changing throughout the month. However there can only be three! The chart topping acts for June get to play the temple bar music centre on thursday the 21st of July. The event is free and with the amount of hits the top three bands recieved over the course of the month it'd be amazing if the venue isn't stuffed to the brim. The gig is being filmed and recorded and if the artists cut the mustard on the night they might just get to appear on the best of CPU DVD which we're compiling in conjunction with Ceol Beo.
At number three with 1133 plays Dirty Epics with their track 'The Cure'
At number two Baby Jenks recieved 1433 plays for their track '25 miles' and at number one with not quite so many plays as last months number one but still an impressive figure none the less VASCO JUNIOR with 1741 plays for their track 'My Best Mistake'.
Congratulations to all three, you'll be contacted very soon by email regarding details you'll need to know for the gig.
Once again there were some artists who put in a valiant effort to make it onto the bill these include Subscene, Colm Lynch and Jaded Sun and for these acts I'd just like to say that the July chart has already begun.
Here's the top thirty for the month of June
No.1 - "My Best Mistake" - Vasco Junior - 1741
No.2 - "25 Miles" - Baby Jenks - 1433
No.3 - "The Cure" - Dirty Epics - 1133
No.4 - "Why must I apologize?" - Colm Lynch - 944
No.5 - "I'l Be Fine" - Subscene - 894
No.6 - "Raw" - Jaded Sun - 677
No.7 - "Lead The Way" - Travega - 676
No.8 - "What it takes" - colm lynch - 627
No.9 - "Cut me out" - Barry O'Brien - 616
No.10 - "My Polish Cleft" - Soviet Filter - 571
No.11 - "Way Home" - Anima - 481
No.12 - "Army Of 2" - The Shakes - 299
No.13 - "Whip" - Epoch Rising - 299
No.14 - "Stop" - Kopek - 288
No.15 - "For this day" - Selwyn - 279
No.16 - "Take Me Away" - The Fallen - 276
No.17 - "A Thousand Times Before" - Driver - 264
No.18 - "Skyline" - Rallentando - 235
No.19 - "So lo" - Kill city defectors - 185
No.20 - "Baby Spiders(remix)" - Moesley - 180
No.21 - "Daydreams" - Claire McDonnell - 172
No.22 - "Let It Burn" - Substance - 163
No.23 - "She Moved Through The Fair" - Red Wing - 157
No.24 - "Stücken" - The Lotion - 129
No.25 - "Joyridin'" - Hoovers & Sledgehammers - 127
No.26 - "I'm up for chucking parties" - Niall James Hollohan - 126
No.27 - "Feel You Feel Me" - Reunion - 113
No.28 - "Vito Let's Dance!" - Mola - 109
No.29 - "Skinny Girlfriend" - Gavin Glass - 107
No.30 - "Kids at Night" - Itchy Trigger Finger - 95
###
Related Cpu Press Releases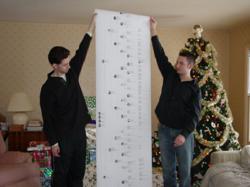 Winfield, IL (PRWEB) November 19, 2012
Ancestry Graphics & Printing has unveiled their holiday plans to allow more genealogists and family historians to see their years of research transformed into a printed family tree chart and to receive a free bonus gift as well. To introduce more families with a genealogy buff in the household to their service, Ancestry Graphics & Printing is selling vouchers this holiday season in increments of $ 25 to fit any budget.
The vouchers can be used for either family tree chart design or printing services. So whether someone is trying to cover the entire cost of transforming a family genealogists data into an eye-catching printed chart, or just wants to provide a meaningful contribution to the genealogist in their family, there are different options available. According to Larry Spiegel, owner of Ancestry Printing, printing an average size genealogy chart usually runs around $ 100 to $ 150. Prices are dependent upon the physical dimensions of the chart and can be lower or higher. If the genealogist in your family has gathered lots of data, but hasnt already done the design work for the type of chart theyd like to print, Ancestry Graphics & Printing can also provide basic design services for only $ 45. Spiegel said these vouchers are ideal for anyone who has already been entering their data into either a genealogy software program, or who is compiling their data using an online service like ancestry.com, but who hasnt yet printed out their research in chart form.
The problem facing an increasing number of the tens of millions of home-grown genealogists who count themselves among the ranks of this countrys second most popular hobby is getting their family tree data out of their software programs and onto a large family tree chart in an attractive manner. Ancestry Graphics & Printing says their service will bring cheer to genealogy buffs in search of a solution to this growing problem. Genealogy software such as Family Tree Maker and online ancestry databases have empowered genealogy buffs to build larger family trees than ever before said Spiegel. In most instances, these large family trees are well past the point of printing on standard letter-size paper and taping together. To solve this problem, many people will try and enlist the help of a commercial printer who is capable of doing large format printing without a large price tag.
Spiegel said if your family tree chart measures over about 8 feet wide, you probably wont be able to get it printed at your local printer or self-serve print shop. And, with some applications, the limit may be as small as 4 feet. Printing a wide genealogy chart correctly requires that the genealogy software program be installed on the printers computer system. Because of growing concerns over third-party software and viruses, it is extremely rare that a commercial printer will run the risk of installing someone elses software on their system for a small one-time job.
Ancestry Graphics & Printing specializes in printing virtually any size family tree directly from all of the most popular genealogy software programs. Using their printing service, Spiegel said individuals are assured that their genealogy chart will be printed exactly as they were designed. By printing directly from the genealogy data within the software program, individuals eliminate the technical problems and limitations associated with outputting their family tree data to a postscript or PDF file prior to printing.
Customers who purchase pre-paid vouchers for family members up until December 24th will also receive as a free gift the latest 104-page digital edition of the U.S. history timeline which Ancestry Graphics & Printing released earlier this year. This insightful timeline provides genealogists and family historians with a colorful glimpse of what life was like in the past. Covering the years 1910 to 2011, Volume 4 is definitely a nostalgic view of history for readers of all ages. For each of the 102 years included, there are twelve subjects covered including what historical, cultural, financial and military events were occurring; and what inventions, conveniences and advances in communication, medicine and transportation were taking place and shaping people's lives.
Complete information about ordering a voucher is available at http://www.ancestryprinting.com/gift.html.
About Ancestry Graphics & Printing

Ancestry Graphics & Printing has been in business since 2003 providing family tree chart printing services to genealogy customers nationwide and around the world. In addition to family tree printing and their newly released U.S. History Timeline, their site also includes many free downloads of genealogy forms, family tree clip art, and information about headstone rubbing. They can be found at http://www.ancestryprinting.com.
CONTACT INFORMATION

Larry Spiegel

Ancestry Graphics & Printing

630-653-8400

http://www.ancestryprinting.com

###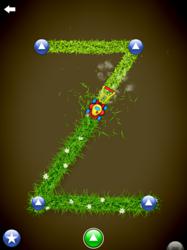 Amsterdam, the Netherlands (letterschool.com) (PRWEB) September 28, 2012
This week, the educational app LetterSchool snagged a position in the top 10 on the American and Canadian iTunes iPad Education charts. In the Netherlands, the Dutch version has held a steady position in the top five since the softwares launch in March. LetterSchool has also reached the top 10 in Belgium and Egypt, and the app is steadily approaching this magical boundary in other countries. Strikingly, the writing app for children is also regularly keeping Angry Birds company in the overall top 100 Paid Apps in several countries. (LetterSchool chart summaries: http://appslists.net/app/141340/LetterSchool; Dutch version: http://appslists.net/app/164429/LetterSchool-NL.)
LetterSchools enviable position among the App Stores top 10 is reason to celebrate for Boreaal Publishers, the Dutch company behind the app. Reaching the top in several countries is an impressive achievement for this tiny newcomer to the apps market, particularly since the App Store is overcrowded with alphabet and tracing apps. Despite the plentiful competition, LetterSchools creators felt they had something valuable to add, and in doing so hoped to raise the bar for this type of app. It seems theyve succeeded: the continuous highly positive response from parents and teachers underscores LetterSchools important role as an innovator in handwriting instruction.
LetterSchool lets kids have fun while they practice the complex skills of handwriting. The methods educational value is strongly appreciated by parents, teachers and therapists. The handwriting app have has already been introduced into many homes, schools and therapy practices all over the world. LetterSchools wide variety of games captures the attention and keeps players practicing their letters and numbers, over and over again. That probably explains the apps success, despite the fact that handwriting isnt exactly a trendy subject. By spending $ 2.99 on LetterSchool, schools not only save money on expensive handwriting methods and software, but also on precious teaching time. A list of the apps awards and experts reviews is available at LetterSchool.com.
LetterSchool competes with advanced mobile games, boasting high-quality graphics, effects and animations at a level rarely seen in apps for young children. In order to make LetterSchool a rock-solid piece of software, the makers didnt just rely on their own experience in education, software development and computer graphicslittle experts tested the app thoroughly. LetterSchool is a universal application for the iPad, iPhone and iPod touch.
Install the free lite version of LetterSchool which will allow you to reach the gold level and test-drive the free-form writing game more quickly. Reporters can also request a promotional code for the full version. Feel free to ask for our media kit containing high-resolution artwork on the contact page of our website.
LINKS

LetterSchool website:

http://letterschool.com/
LetterSchool video:

http://youtu.be/4sDZqBMqG-4
iTunes, LetterSchool:

http://itunes.apple.com/us/app/letterschool/id435476174?mt=8
iTunes, LetterSchool Lite:

http://itunes.apple.com/us/app/letterschool-lite/id481067676?mt=8
Overview of awards and reviews:

http://letterschool.com/reviews.html