White Plains, NY, (PRWEB) July 23, 2009
[yellow tail], America's number one imported wine*, introduces their latest addition to its family of renowned wines in the U.S. - [yellow tail] Sauvignon Blanc. The Sauvignon Blanc joins three other white wine varietals in the [yellow tail] portfolio which include Chardonnay, Pinot Grigio and Riesling.
[yellow tail] continues to provide their consumers with the most comprehensive portfolio of wines to suit any occasion. Sauvignon Blanc is in high demand with the U.S. wine consumer; sales are up 6 percent since last year, according to Nielsen Scantrack.
"As we continue to expand our portfolio, we will maintain our promise of delivering great quality wines that are not only affordable, but fun," said Mark Lyle, Vice President of Marketing for [yellow tail] wines. "Adding the Sauvignon Blanc to our portfolio grows our white varietals, which we see as a popular area for our consumers."
All the wine from [yellow tail] including the new Sauvignon Blanc is instantly recognizable, both for its appearance, personality, and a taste profile which is known for being fruit-forward, easy-to-drink, approachable and fun.
[yellow tail] Sauvignon Blanc quick facts:

Availability: August 1, 2009

Suggested Retail: $ 7.99

Distribution: National

Nose: Vibrant citrus, passion fruit

Palate: Lime, tropical fruit and green apple notes

Finish: Flavor depth, crisp
*Source: Nielsen Scantrack, Total US Food, Drug, Liquor (52 weeks ending 2.7.09)
Media contacts:

Shaun Clair / Lisa Bruno

Catalyst Public Relations

212.714.7900
For more information on (yellow tail) wine please visit us at http://www.discoveryellowtail.com.
Please drink responsibly.
About W. J. Deutsch & Sons, Ltd

W.J. Deutsch & Sons was founded in 1981 by Chairman Bill Deutsch to market quality wines produced by prestigious families from major wine regions of the world. Deutsch's wines are sold to the trade with well-planned marketing support and offered to U.S. consumers at fair market prices. Today the company is renowned for its brand building prowess and ability to identify and fill consumer niches within the wine category. Bill's son Peter Deutsch is CEO; thus two generations of the Deutsch family work side by side in their continuous quest to build strong brands and relationships throughout the wine industry.
The W.J. Deutsch & Sons portfolio includes award-winning wines from: Australia; [yellow tail], [yellow tail] The Reserve, [yellow tail] Sparkling, California; Atlas Peak, Buena Vista Carneros, Esser Vineyards, Gary Farrell Vineyards and Winery, Geyser Peak, Kunde Estate, XYZin, France; Andre Lurton, Georges Duboeuf, Hob Nob Vineyards, J. Vidal Fleury, Pierre Sparr, Sauvion et Fils, Idaho; Ste Chapelle, Italy; Barone Fini, Castello di Monastero, Coldisole, Poggio alle Sughere, Villa Pozzi, New Zealand; The Crossings, Portugal; Quinta Do Vale Meao, Spain; Mar De Frades (Rias Baixas), Cruz de Alba (Ribera del Duero), Ram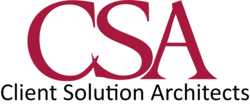 (PRWEB) September 22, 2012
Client Solution Architects LLC (CSA) is proud to announce the award of our second indefinite-delivery/indefinite-quantity (IDIQ) contract, to provide electronic and communication services and solutions in support of mission capabilities for the US Navy, US Marine Corps, US Coast Guard, Military Sealift Command, US Army, and other entities, activities and agencies as assigned or designated by the SPAWAR Systems Center (SSC) Atlantic.
The scope of this contract covers the entire spectrum of non-inherently governmental services and solutions (equipment and services) associated with the full system lifecycle support including research, development, test, evaluation, production and fielding of sustainable, secure, survivable, and interoperable Command, Control, Communications, Computers, Combat Systems, Intelligence, Surveillance, Reconnaissance (C5ISR), Information Operations, Enterprise Information Services (EIS) and Space capabilities. This contract has a primary focus on mission capabilities within the Production, Installation, and In-Service Support Portfolio (PII). CSA will provide integration and test of interoperable C5ISR capabilities that fulfill mission requirements for surface and sub-surface platforms through large-scale integration.
We are very excited to have won another PILLARS prime contract and look forward to the opportunity to help SPAWAR Systems Center Atlantic (SSC LANT) continue its critical mission, said Scott Crawford, CSAs SPAWAR Account Manager. The entire CSA team, including all of our partners, remains committed to bringing our clients innovative production, installation and in-service support processes derived from our experience and designed to help accomplish their objectives.
CSA will be teaming with four other small business awardees for task orders under the terms and conditions of the awarded contracts.


Oklahoma City, OK (PRWEB) February 15, 2012
Oscium today announced it has been named a finalist in the EE Times and EDN 2012 UBM Electronics ACE Awards in the Test & Measurement category. The awards program honors the people and companies behind the technologies and products that are changing the world of electronics.
The winners will be announced at an awards ceremony on Tuesday, March 27 at The Fairmont San Jose, during DESIGN West, a new UBM Electronics conference and expo building on the rich foundation of training, education and products available at ESC, combined with popular summits and new event launches in one venue for the first time.
Im so proud of our team, said Bryan Lee, President at Oscium. Everyone at Oscium is very honored to be among the finalists for this highly respected award.
Osciums iMSO-104 is the only mixed signal oscilloscope that has been merged into an iPhone, iPad, iPod. Although the interface industry standard is dominated by buttons and knobs, Oscium has introduced a touchscreen interface to the market as an alternative way to navigate the display. Joe Wolin, eeWeb Co-Founder, had this to say about iMSO-104, so how does this touch interface compare to an oscilloscope with knobs? We actually think the experience is better! The touch-interface of the iPad represents a viable alternative to traditional knob-based oscilloscopes. The software on this device is outstanding
The new ACE Awards program, presented for the first time by both EE Times and EDN, provides us with an opportunity to recognize the technologies that have made a difference in the way we work, live and play over the past year. We congratulate the finalists on their innovations and leadership in the electronics industry. Additionally, we look forward to our awards ceremony in March to celebrate the innovation, creativity and contributions of the engineering community, said Junko Yoshida, Editor in Chief, EE Times, UBM Electronics.
A panel of EE Times editors narrowed down the entries to five finalists in each category, based on the criteria set forth in an online submission form. Winners are determined from among the finalists by a panel of independent judges, including Robin B. Gray, Jr., Electronic Components Industry Association; Gordon Bell, Senior Researcher, Microsoft Research; Jeff Bier, President, Berkeley Design Technology, Inc. (BDTI), Founder, Embedded Vision Alliance; Larry Boucher, President and CEO, Alacritech; William Dally, Chairman, Computer Science Dept., Stanford University; Erach Desai, Consultant, DESAIsive; John East, President and CEO, Actel Corporation; Gene A. Frantz, Principal Fellow, Texas Instruments, Inc.; Lucio Lanza, Managing Director, Lanzatech Ventures; John Mashey, Consultant, Techviser; Dennis Monticelli, Chief Technoligist and Fellow, National Semiconductor; Martin Reynolds, Dataquest; George M. Scalise, President, Semiconductor Industry Association; Naveed Sherwani, President & CEO, Open Silicon; and Nick Tredennick, Editor, Gilder Technology Report. Judging took place from November 1, 2011-January 6, 2012.
For more information on the awards program visit http://ubm-ace.com/.
About Oscium

Oscium delivers innovative test equipment that leverages the easy-to-use interface of the iPad, iPhone, and iPod touch. As an MFi-approved developer, Oscium interfaces with the iOS family of products through the 30-pin dock connector, making our design both convenient and practical. Using the best in touchscreen-based technology, Oscium is making cutting edge test equipment more intuitive and easy to use. Oscium has created a new category in test equipment called iOS Test with the following first-to-market offerings:
iMSO-104, mixed signal oscilloscope accessory

WiPry-Combo, combination spectrum analyzer & dynamic power meter accessory

WiPry-Power, dynamic power meter accessory

WiPry-Spectrum, spectrum analyzer accessory
The Future of Test Equipment is Here.
About UBM Electronics

UBM Electronics is the global leader in media and marketing solutions for the electronics industry. UBM Electronics delivers results for the key influencers and decision makers involved in the design, development and commercialization of technology through its market leading brands, peer communities and professional education services. More than 1.7 million engineering professionals engage with UBM Electronics brands which include EE Times, EDN, Design News, Test & Measurement World, TechOnline, EBN, Datasheets.com, Designlines and Embedded.com across the globe to accelerate technology sales. The international electronics community gathers at UBM Electronics market leading events such as the Embedded Systems Conferences, DesignCon and ARM Technology Conference to share, learn, discuss, and advance the critical issues and challenges facing the electronics industry. Additionally, UBM Electronics provides end-to-end services ranging from next-generation marketing, integrated media, custom solutions and research. UBM Electronics is part of UBM (UBM.L) a global provider of media and information services for professional B2B communities and markets.
For more information on Oscium please contact:

Bryan Lee, President

T: 719.695.0605, E: bryan(at)oscium(dot)com
For more information on UBM Electronics please contact:

Felicia Hamerman, Vice President, Marketing

T: 516.562.5652, E: felicia.hamerman(at)ubm(dot)com
###
Email Hosting Tackled by RealMetrics in Latest Performance Metrics Category











Wichita, KS (PRWEB) September 26, 2006
RealMetrics, LLC, announced today Email hosting as their latest category of online performance metrics. RealMetrics is an independent provider of objective performance metrics based on systematic testing of online services. RealMetrics has previously focused on web hosting including Shared Hosting and VPS Hosting performance metrics.
RealMetrics establishes actual accounts with online service providers and then conducts over 110,000 systematic tests per day to generate detailed performance data. The tests for web hosting include uptime, web speed, disk speed, CPU speed, and technical support response times. For the new Email Hosting category, the tests include uptime, email delivery reliability, email delivery latency, and technical support response times.
"All of the metrics should be considered when evaluating email hosting providers," stated Kent Johnson, RealMetrics Chief Technology Officer. "The Uptime Metric measures the availability of each provider's POP3 and SMTP servers. The Email Delivery Reliability Metric measures if emails are properly delivered by each provider and the Email Delivery Latency Metric measures how quickly each provider delivers emails. Finally, the Technical Support Responsiveness Metric measures how quickly each provider responds to technical support questions," added Johnson. "We conduct these tests from multiple locations across the U.S. to ensure accurate results."
John Capo with Tuffmail.com emphasized, "Managing a professional email system is a mission critical operation in today's business world. Tuffmail.com customers have high expectations, and our goal is to not only meet but to exceed those expectations." Capo added, "The RealMetrics performance monitoring process is a great tool for consumers to use in their decision making process."
About RealMetrics, LLC
RealMetrics, is a leading independent provider of objective performance metrics to enable Internet businesses to make more informed technology selection decisions. RealMetrics conducts over 110,000 tests per day and is rapidly becoming the trusted source for fact-based performance, reliability and customer service metrics. For more information, please visit http://www.realmetrics.com.
The RealMetrics name and the RealMetrics logo are trademarks of RealMetrics, LLC.
# # #
©Copyright 1997-
, Vocus PRW Holdings, LLC.
Vocus, PRWeb, and Publicity Wire are trademarks or registered trademarks of Vocus, Inc. or Vocus PRW Holdings, LLC.
TechPath Counted Among Top Finalists for the 2010 Microsoft Partner Awards in the Category Communications Sector Partner of the Year











Laguna Beach, CA (PRWEB) July 25, 2010
TechPath announced it has been selected as a finalist for the Microsoft Partner Awards in the Communications Sector Partner of the Year award category.
"We are excited to receive this recognition from Microsoft" said TechPath President Michael Petersen "A major part of our success is our ability to effectively translate Microsoft's product and technologies into solutions that align with our customers strategic goals. Combining TechPath's ability to execute on solution delivery with Microsoft's latest innovations has delivered competitive advantage to our customers and it's wonderful to get the validation from Microsoft."
Awards will be presented in a number of categories, with winners and finalists chosen from a pool of almost 3,000 entrants worldwide. The Communications Sector Partner of the Year Award honors partners who are adding business value to customers by deploying new and innovative solutions based on Microsoft technologies in hosting, media and entertainment, and telecommunications. This award recognizes TechPath for their accomplishments in identifying new opportunities and using technology innovation to address their customer's business and technical challenges.    
"Congratulations to the 2010 Partner Award finalists for delivering such creative and superior Microsoft solutions and services," said Allison Watson, Corporate Vice President, Worldwide Partner Group, Microsoft Corp. "It's incredible to see the level of expertise our partners continue to exhibit as they create and deliver innovative solutions and services to grow their businesses, meet customer needs, and drive down costs."
TechPath is one of Microsoft's preferred partners in the Media & Entertainment space and is a Gold Certified and Managed Partner.
The Microsoft Partner Awards recognize Microsoft partners that have developed and delivered exceptional Microsoft-based solutions over the past year.
TechPath is currently working with some of the top media companies in the world, and has earned the respect of key stakeholders in these organizations for their deep technology expertise. With the ability to optimize technology to meet business objectives, TechPath brings a unique industry-focused approach to the challenges of this market.
For additional information:

Michael Petersen, (949) 743-0369, michael(dot)petersen(at)techpath(dot)com
###
©Copyright 1997-
, Vocus PRW Holdings, LLC.
Vocus, PRWeb, and Publicity Wire are trademarks or registered trademarks of Vocus, Inc. or Vocus PRW Holdings, LLC.
More Tech Press Releases
Austin based eDelegate Local Service Quotes Launches New 'Graphic and Print Design' Category for Local Bids and Quotes











Austin, TX (PRWEB) November 24, 2005
Local service quote system, eDelegate.com, announced today the launch of their Graphic and Print Design service procurement category. Austin has a large number of talented graphic design firms along with hundreds of freelance and independent digital and graphic artists. eDelegate now makes it easy to find the best graphic design artist for specific projects through its online designer and artist profiles, rate and review system and their searchable online portfolio solutions.
Graphic design and printing services is the latest in a series of newly added eDelegate services. Now you can find, free of charge, the top designers, artists, web designers, internet programmers, database developers and many more for most any business based artistic project. Simply post a free no-obligation Request for Proposal, enter the specifics, budget, timeline, and other details and watch the eDelegate system go into action. Once the RFP is posted, all service firms related to your project will receive the details and post their bid and information. You then decide who to use based on your terms and the information from eDelegate about the service firm or professional.
About eDelegate:
eDelegate.com has come to make the search easier for most any home or business service. After providing concierge services for over 5 years, eDelegate.com is proud to offer the most comprehensive, free search for home and business services on the Internet. Anyone can use the free service company search to find the lowest prices and top performing providers on a large selection of services. eDelegate.com also provides a free Request for Proposal (RFP) solution allowing anyone to post a project in any given service category where any service company or professional can reply with their proposal stating price, availability, and links back to their online profile listing reviews, ratings, available service areas and more.
We are attempting to change the buying experience for service procurement focused locally yet with powerful online services giving the buyer every option to better communicate their needs while offering the service vendors the tools and solutions they need to be more competitive.
Representatives of eDelegate.com have said that it is exactly for these types of experiences that they keep the search on their site for free. By increasing their database of regional and local service companies each day, eDelegate.com hopes to continue providing their users with the best experience possible.
For more information about eDelegate.com, visit the site.
About eDelegate.com
eDelegate.com is an independent online service solution site that is based entirely on members' feedback. They are dedicated to helping consumers find the lowest price on their home or business service needs - safe, secure and free.
http://www.edelegate.com/


http://www.edelegate.com/online/
###
©Copyright 1997-
, Vocus PRW Holdings, LLC.
Vocus, PRWeb, and Publicity Wire are trademarks or registered trademarks of Vocus, Inc. or Vocus PRW Holdings, LLC.
Find More Graphic Press Releases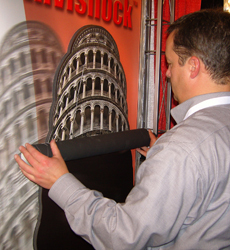 Atlanta, GA (PRWEB) November 13, 2008
The Visual Magnetics™ Graphic System -- the most innovative, versatile and cost-effective solution ever for your changeable graphics needs. This cutting-edge graphic system allows you to create high quality, jaw-dropping displays that can be effortlessly changed out, keeping your image fresh and inspiring. Simply install the permanently mounted Invisilock™ with X-Bond adhesive magnet to the intended display surface and affix your graphics, printed on our patented Visual Magnetics™ magnetic-receptive media. This revolutionary printable substrate requires no frames, fasteners or adhesives for installation.
Ease of Printing: The Visual Magnetics™ Graphic System includes a variety of flexible, magnetic-receptive printable media. Substrates are thin, lightweight and easy to handle. Each media is device-specific and compatible with litho, screen or digital printing, resulting in high-impact, high-quality graphics. Because they are magnetic-receptive, not magnet, they won't stick to your equipment. The thin gauge of the media also allows for tiling of over-sized graphics with virtually no noticeable seams.
Ease of Shipping: Lightweight and flexible, our Visual Magnetics™ printable substrates may be rolled tightly and packed in tubes for shipping. This makes handling easier and eliminates the expense of transporting over-sized crates. The savings in shipping and packaging costs alone allows for more frequent change-outs.
Ease of Installing Images: Because the magnetic backer is permanent, the Visual Magnetics™ Graphic System is amazingly simple to install. Your graphics will be so lightweight and manageable that the need for costly installation specialists is reduced or unnecessary. In fact, employees, including sales associates or maintenance personnel, can often handle the application without difficulty. Unlike media with challenging and aggressive adhesives, the Visual Magnetics™ media is easily repositioned. The flexibility of the printable substrates allows graphics to be easily applied to uneven surfaces, curved arches and even rounded pillars.
Easy on the Environment: The cutting edge technology used in the manufacturing of the Visual Magnetics™ magnetic-receptive coating involves no heavy processing. The media is lightweight and flexible, eliminating the need for excessive and inefficient packaging. The magnetic backer is generally installed once and reused for many years, creating no waste. Our POLYeight and POLYfive materials are made from 30-50% recycled soda bottles. Either media would be a great alternative for your next "green" project.
About Xcel Products, Inc.:

Xcel Products, Inc. is a leading manufacturer and custom convertor of high quality, printable plastic substrates throughout Minnesota and across the country. A one stop resource, Xcel Products, Inc. is uniquely qualified to serve all of your printable plastic needs. From manufacturer to product development house to licensed sales agent - we can easily manufacture and/or source the material you're looking for.
Contact:

Jodi Haugen, Director of Sales & Marketing

Xcel Product, Inc.

Ph: 763-231-3040

http://www.xcelproducts.com
###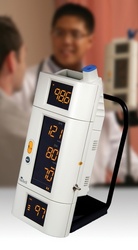 MORRISVILLE, N.C. (PRWEB) November 5, 2007
    Don Wildmon, VP of Sales states, "The SunTech 247(TM) Diagnostic Station establishes a whole new product category in medical devices. Clinicians really like the modular design that allows them to start out with a blood pressure device and later to upgrade to other vital signs parameters as needed."
The new SunTech(R) 247(TM) Diagnostic Station combines the efficiency of an automated monitor with the convenience of a manual mode that allows the nurse or physician to take a blood pressure reading with a stethoscope if ever needed.
"This is the most positive new product reception that I have seen in my 30 years in the medical device industry," states Dr. Edward Wright, VP of Marketing and Business Development. "I am really excited about this new product line and our venture with branded product into global distribution channels."
The SunTech 247's modular design allows the addition of temperature and SpO2 modules and is available in a variety of mounting configurations including wall, table or mobile stand.
SunTech stands behind its belief in better healthcare through superior engineering. Dayn McBee, CEO of SunTech Medical explains, "As the adoption of healthcare information technology increases, the need to upgrade from manual to digital instruments becomes increasingly stronger. We are striving to fill the need for more affordable, flexible, and expandable technology in order to decrease the cost of healthcare and to provide greater ease of use to the clinician."
About SunTech Medical:
SunTech Medical's OEM blood pressure technology is used by many of the world's leading patient monitoring and defibrillator equipment manufacturers. Offerings include algorithms for particular patient environments and conditions including patient transport (ambulance, helicopter, or gurney), patient motion (tremors and spasms) and specific patient populations (dialysis, neo-natal, pediatric, bariatric, or veterinarian). SunTech's finished goods solutions include automated blood pressure monitors for stress and exercise testing, our 24-hour ambulatory blood pressure monitor and general and specialized blood pressure cuffs.