Dallas, TX (PRWEB) July 08, 2013
Next month, Dallas-based TravelSolutions by Campbell marks 30 years of innovation and leadership in global travel management for business and leisure clients.
"In the past 30 years, we have grown to become one of the largest full-service travel management firms in the country," says CEO and partner Bill Campbell. "We focus on white glove service and strategic business solutions to assist our corporate clients with achieving their desired objectives."
Since its founding by Bob Campbell in August 1983, the privately-owned company has grown into an industry leader, known for developing creative high-tech solutions to unique business travel challenges.
While corporate travel is the companys mainstay, its menu of quality services also includes luxury leisure travel (through TravelDesigns by Campbell), group travel and event and meeting planning. Campbell pampers its clients with exacting attention to detail to make their travel experiences something they will never forget.
Managing corporate travel as if it was our own
Chairman Bob Campbell says: "I see our job as assisting our clients to spend their money -- as if it was our own. We like helping our corporate clients solve problems and we offer solutions to assist our clients to maximize their travel expenditures -- thus our name ...TravelSolutions by Campbell."
Among the companys numerous achievements over the years:


One of the first travel management companies (TMCs) to offer fare and
seat scanning robotics.

Developer of and only company worldwide offering ChangeGuard, an airfare scanning technology that allows our clients to change reservations on nonrefundable tickets and avoid $ 200 to $ 600 per ticket in change fees.
Expertise in support of end-to-end integrated expense management
and travel booking technology.

One of the first TMCs to develop Open Booking capture technology via CampbellConnect, a proprietary technology that assists clients by capturing and leveraging travel expenses that may occur outside of their managed programs.
Developers of TC3, an actionable intelligence system that allows program managers to intervene on impending out-of-policy conditions and control virtually every element of their managed program from a single access point.
Bill Campbell says that innovative spirit will continue well into the next decade of operations for TravelSolutions by Campbell. The CEO expects the company to double in size over the next 18 months.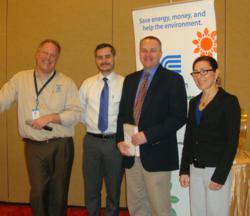 Westchester, NY (PRWEB) February 29, 2012
For the third year in a row Yost & Campbell has been selected as Con Edison's Residential HVAC Energy Efficiency Program Contractor of the Year. Yost & Campbell was the very first recipient of the award in 2009 and received it for 2010 and 2011 for delivering the largest volume of program rebates to its residential customers who participated in the program.
"We are extraordinarily proud to receive this recognition," stated Tom Monahan, Co-Owner of Yost & Campbell, the firm he owns with his brother Kevin. "Our goal is to provide our customers with the very best service as well as the most energy efficient technology available," he added. The firm, celebrating 73 years in business, has become known for retrofitting older homes with unique high velocity air conditioning units that have ducts half the size of conventional air-conditioning and save the homeowner money and precious space while still enabling them to cool off during the summer.
Yost & Campbell was originally founded by Leo Yost and purchased by Tom Monahan, Kevin and Tom's father in 1965. Based in Mt. Vernon New York, the company serves Westchester, Rockland, Queens, Manhattan and the Bronx providing residential HVAC installation and maintenance as well as installation of standby generators for the home.
"Statistics show that every week nearly 3.5 million homeowners experience a power loss across the United States so it's no surprise that installing home generators has become a large part of our business. With the area's recent history of hurricanes and storms resulting in power outages, in some case lasting for days and even weeks, homeowners want to know that they have the power they need to run their refrigerator, freezer, security lights, pumps, security gates, and computer equipment when they need it and that's where the stand-alone generator comes in," stated Tom Monahan.
Monahan noted that generators can be installed for nearly any home regardless of age or size. The firm offers an energy analysis to determine the right size generator so that the homeowner doesn't buy one that is either too small or too big. While a homeowner can install their own generator, the automatic transfer switch needs to be installed by a licensed electrician to prevent back feeding to the power grid which can be dangerous to utility repairmen. Generators are installed outside the home to offer maximum safety and energy efficiency as well as the benefit of no hands-on set up or maintenance by the homeowner. Permanently installed generators are believed to be safer than portable units due to the fact that they do not require refueling during a power outage and are hooked directly into the home's electrical system as opposed to running extension cords. The latest generators test themselves once a week to make certain it is ready in an emergency.
Yost & Campbell is also an authorized and licensed contractor for the new Nest thermostat. The Nest learns the homeowner's heating and cooling preferences over the course of a week and adjusts itself going forward allowing for maximum energy efficiency of all heating and cooling systems in the house. Developed by former Apple engineers, the Nest is the most sought after technology in home thermostats today.
For more information about Yost & Campbell services for installing central air, heating units, boilers or generators, visit http://www.yostandcampbell.com or call 914-668-6461.
# # #
Muncie, IN (PRWEB) March 29, 2006
AccuTech Systems Corporation (ASC), a leading provider of trust and investment management accounting software, in partnership with Campbell University and The Fiduciary Education Center, today announced a new educational service to the trust industry, AccuTech University. The association with Campbell University will give professionals the ability to earn Accredited Trust Financial Advisor (ATFA) and Accredited Trust Operation Professional (ATOP) designations, maintain Certified Trust Financial Advisor (CTFA) and Certified Securities Operations Professional (CSOP) designations and expand trust knowledge. The courses, running one to three days in length, are being offered in various cities around the country.
All courses are accredited through Campbell University, the only university in the U.S. that offers Bachelor of Business Administration (BBA) and MBA degree programs in Trust management.
"Today's financial professionals need solutions that address their busy lives. With AccuTech University, not only do financial professionals get the backing of leading institutions in their respective spaces of the Trust industry, they also get the training in a format that is more conducive to their schedules and at a price they and their companies will appreciate," said Becky Kelly, co-partner, The Fiduciary Education Center, Inc.
ATFA and ATOP classes will be taught by The Fiduciary Education Center, with assistance from AccuTech Systems' staff. Additionally, AccuTech University will offer other courses focusing on various aspects of trust management taught by specialists in their respective disciplines, such as marketing and customer service.
"It is our goal to go beyond providing the best value in trust and investment management software to be an important strategic partner in helping our clients be more efficient and profitable. AccuTech University offers one of the most cost-effective, flexible ways to obtain continuing education in the trust industry, enabling financial professionals to further their careers," said Ray Unger, president and CEO, AccuTech Systems.
"We are pleased to offer ATOP and ATFA designations," said James E. Witherspoon, Jr., chairman, department of financial planning and accounting, associate professor of business at Campbell University. "In an ever changing operations and administrative environment, we are happy to be part of that education process in conjunction with AccuTech Systems and The Fiduciary Education Center."
For more information, please contact Sherri Robbins or Shirley Ertel at AccuTech Systems at (800) 686-0470.
About AccuTech Systems Corporation:
AccuTech Systems Corporation (ASC) is the fastest growing trust and investment management accounting software provider in the nation and the developer of AccuTrust and AccuTrust Gold. Having served the trust and investment management accounting industry for nearly twenty years with nearly 320 community banks, private trust companies, non-profit organizations, IRA administrators to its name, AccuTech Systems' products have established a reputation as the most reliable and cost-effective solutions available. The first to release a 100 percent windows-based product to market and possessing the ability to service any size department via in-house or ASP platforms, AccuTech Systems has remained at the forefront of technology. ASC's commitment to development is second only to its dedication to the relationships forged with customers in providing exceptional service and solutions to best address their needs. AccuTech Systems can be reached at www.trustASC.com or at (800) 686-0470.
# # #