Cambridge, UK (PRWEB) November 24, 2004
Crossware (http://www.crossware.com), a leading embedded tools developer, has released flash programming software that can be used to program Freescale ColdFire® boards using its FireFly USB BDM (background debug mode) interface. This can save developers considerable amounts of time as FireFly can program flash more than 8 times faster than via a parallel port interface.
The flash software – available free of charge to users of Crossware's FireFly interface - will simultaneously control up to 127 USB ports each connected to a separate ColdFire board. A single click of the mouse will program the selected software file into any or all of the connected boards.
The Crossware software can automatically generate a configuration script - required so that the target board can be correctly set up for flash programming - by examining the program that is to be downloaded. This feature eliminates the need for the script to be created manually.
Multiple program formats are supported including Motorola 'S' records, IEEE 695 and ELF. The software can be used with programs generated by any ColdFire tool chain as well as those generated with the Crossware ColdFire Development Suite.
Crossware developed its small yet powerful and fast FireFly BDM interface for Motorola's ColdFire® family of chips. FireFly features a USB controller and requires no external crystal. The miniature debugger plugs directly into the target board minimizing signal delays and ensuring compatibility with the new generation of ColdFire chips running at up to 200 MHz.
The FireFly USB BDM interface is also driven by a new version of Crossware's source level debugging software, which integrates seamlessly with the rest of its ColdFire Development Suite. The user interface is unchanged and so developers can simply replace their existing parallel port interface with the new USB debugger and immediately benefit from the improved performance. In addition, developers can also move to platforms such as the newer generation of notebook PCs, which do not have a parallel port.
For more information about the ColdFire USB Flash Programming Software or any product from Crossware, please contact Alan Harry, Crossware, Old Post House, Silver Street, Litlington, Royston, Herts, SG8 0QE, UK, tel: + 44 (0) 1763 853500 or fax + 44 (0) 1763 853330, aharry@crossware.com.
About Crossware (http://www.crossware.com)
Crossware is a leading developer of programmer-friendly C cross compilers and other development tools for embedded systems based on the 8051, ColdFire, 68000, CPU32 and other chip families. Host environments include Windows 9x, Windows NT, Windows 2000 and Windows XP. The company, founded by Alan Harry in 1984, is headquartered in the UK at Litlington on the outskirts of Cambridge. Crossware's products are used throughout the world by professional developers, educational establishments and hobbyists.
For more information, please contact:
Mr Alan Harry
Crossware
Tel: + 44 (0) 1763 853500
Fax: + 44 (0) 1763 853330
E-mail: aharry@crossware.com
# # #
Find More Cpu Press Releases
First Emerson Network Power OpenVPX Boards Feature 2nd Generation Intel® Core™ Processor Family












Nuremberg, Germany. (Vocus/PRWEB) March 01, 2011
At the Embedded World exhibition today, Emerson Network Power, a business of Emerson and the global leader in enabling Business-Critical Continuity™, released its first OpenVPX (VITA 65) single board computers (SBCs) to provide excellent performance, power efficiency, graphics, memory and I/O for high bandwidth military/aerospace, first responder and rugged industrial applications such as mining. The Emerson Network Power iVPX7220 and iVPX7223 feature the new 2nd generation Intel® Core™ processors and are part of a growing family of VME and OpenVPX/VPX (VITA 46) boards for rugged applications from one of the leaders in embedded computing.
The 6U iVPX7220 and 3U iVPX7223 boards feature the dual-core 2.20 GHz Intel® Core™ i7 2655LE processor with integrated graphics and memory controller, and the Intel® QM67 PCH chipset for advanced I/O functionality. The iVPX7220 also supports the quad-core 2nd generation Intel Core i7 2715QE processor. Both of the products released at Embedded World are rugged SBCs for extreme environments with extended shock, vibration and temperature ratings, and conduction cooling. Emerson Network Power will continue to extend its family of products featuring 2nd generation Intel Core processors during 2011 with additional modules, motherboards and SBCs.
"With the launch of the iVPX7223 and iVPX7220 SBCs, Emerson Network Power is continuing its tradition of bringing to the market the highest quality implementations of the most advanced Intel processor technology," said Paul Virgo, marketing director for the Embedded Computing business of Emerson Network Power. "Available with the highest level of ruggedization from Emerson, these VPX products are built to provide outstanding compute performance in extreme conditions. As VPX and OpenVPX technology evolves and matures, the potential for broader adoption is very exciting."
The 2nd generation Intel Core processors implement an enhanced 256-bit instruction set (including Intel® Advanced Vector Extensions, or AVX) and other features that provide for fast processing of vast quantities of data. This high-throughput capability is supported with both a high-speed fabric with data transfer rates up to 5 Gbps and generous on-board memory provision. The iVPX7223 and the dual-core variant of the iVPX7220 feature up to 8GB DDR3-1333, while the quad-core processor variant of the iVPX7220 is designed to support up to 16GB DDR3-1333 memory. Fabric connectivity includes Gigabit Ethernet to the control plane and PCI Express to the data plane, while the iVPX7220 also offers PCI Express to the expansion plane.
The iVPX7220 also offers 4GB of embedded USB flash and 256KB of non-volatile Ferroelectric Random Access Memory (F-RAM). Additional connectivity includes up to nine USB 2.0 ports, five serial ports, five SATA ports, ten GPIOs, three DisplayPort connections, VGA and dual XMC sites for maximum flexibility. An optional 2.5 inch SATA solid-state disk is also available.
The iVPX7223 offers 4GB of embedded USB flash and 256KB of non-volatile F-RAM. Additional connectivity on this board includes three USB 2.0 ports, two serial ports, three SATA ports, eight GPIO, one DisplayPort connection, one VGA and one XMC site.
Software support on the products includes UEFI BIOS for an improved customer experience and a wide range of operating systems including VxWorks and Linux from Wind River, Windows XP Embedded, Red Hat Fedora Linux, Green Hills INTEGRITY and LynuxWorks LynxOS.
Photos of the iVPX7220 and iVPX7223 are available.
For additional information about embedded computing technology from Emerson Network Power, visit http://www.EmersonNetworkPower.com/EmbeddedComputing.
About Emerson Network Power

Emerson Network Power, a business of Emerson, is the global leader in enabling Business-Critical Continuity™ from grid to chip for telecommunication networks, data centers, health care and industrial facilities. Emerson Network Power provides innovative solutions and expertise in areas including AC and DC power and precision cooling systems, embedded computing and power, integrated racks and enclosures, power switching and controls, infrastructure management, and connectivity. All solutions are supported globally by local Emerson Network Power service technicians. For more information on Emerson Network Power's embedded computing solutions, including ATCA®, COM Express®, CompactPCI®, embedded box PCs and motherboards, VMEbus and the RapiDex™ board customization service for original equipment manufacturers and systems integrators in the telecommunications, industrial automation, aerospace/defense and medical markets, visit http://www.EmersonNetworkPower.com/EmbeddedComputing. Learn more about Emerson Network Power products and services at http://www.EmersonNetworkPower.com.
About Emerson

Emerson, based in St. Louis, Missouri (USA), is a global leader in bringing technology and engineering together to provide innovative solutions for customers in industrial, commercial, and consumer markets through its network power, process management, industrial automation, climate technologies, and tools and storage businesses. Sales in fiscal 2010 were $ 21 billion. For more information, visit http://www.Emerson.com.
Business-Critical Continuity, Emerson Network Power, the Emerson Network Power logo and RapiDex are trademarks and service marks of Emerson Electric Co. PICMG, AdvancedTCA, ATCA, COM Express, CompactPCI and MicroTCA are registered trademarks of the PCI Industrial Computer Manufacturers Group. Intel and Intel Core are registered trademarks of Intel Corporation in the United States and other countries. All other product or service names are the property of their respective owners. © 2011 Emerson Electric Co.
# # #
©Copyright 1997-
, Vocus PRW Holdings, LLC.
Vocus, PRWeb, and Publicity Wire are trademarks or registered trademarks of Vocus, Inc. or Vocus PRW Holdings, LLC.
New Matrox Mura MPX Series Add-In Boards Redefine Collaborative Video Walls and Matrix Switcher/Scaler Solutions












Montreal, Quebec (Vocus/PRWEB) January 27, 2011
Matrox Graphics Inc. today announced the new Matrox Mura™ MPX Series display wall controller board line-up for collaborative display walls and matrix switcher/scaler installations. The new Mura MPX Series cards combine traditionally separate input and output cards onto a single-slot, PCI Express x16 Gen 2 board, leveraging 64 Gb/sec full duplex data transfer to display full frame rate, HD video input channels. The MPX Series output/input boards feature highly flexible, universal input channel support for both digital and analog video (HD, SL-DVI, RGB/VGA, Component, S-Video, and Composite), plus capture and display data sources at full RGB888 image quality with zero compression. System integrators can easily add multiple MPX output/input boards within a single system and incorporate MPX video capture cards for high-volume, analog video input deployments.
Universal Output/Input Boards:
-Mura MPX-4/0 (4 outputs, 0 inputs)

Part number: Mura-MPX44F
-Mura MPX-4/2 (4 outputs, 2 inputs)

Part number: Mura-MPX42F
-Mura MPX-4/4 (4 outputs, 4 inputs)

Part number: Mura-MPX40F
Analog Video Input Boards:
-Mura MPX-V8 (8 inputs)

Part number: Mura-MPX44F
-Mura Mura MPX-V16 (16 inputs)

Part number: Mura-MPXV16F
The ultimate building block for control room video walls, digital signage, and corporate presentation environments, Mura MPX Series includes an updated SDK, including API software—backwards compatible with the existing Matrox PPX/VPX Display Wall Series—plus a new network API with integrated media input/output control for a quicker time to market. The ideal add-in board for display wall controllers, Mura MPX Series can also be integrated within switcher/scaler solutions, providing all-in-one switching, signal conversion, scaling, and de-interlacing capabilities, eliminating the need to purchase separate solutions.
"System designers and integrators will be impressed by the performance, image quality and scalability that Matrox Mura MPX Series has to offer," says Helgi Sigurdsson, Product Manager, Matrox Graphics Inc. "Designed with both outputs and inputs on the same single-slot card to take full advantage of the duplex nature of the PCIe x16 bus, multiple MPX add-in boards can easily be combined in a single system to build large-scale video wall and matrix switcher/scaler solutions."
Matrox will be showcasing the Matrox Mura technology at Integrated Systems Europe 2011 in Booth# 11F48, Hall 11, from February 1-3 at the Amsterdam RAI.
Availability

The Matrox Mura MPX Series display wall controller boards will be available in Q2/Q3 2011. Development kits will be available in February 2011. For more information on Mura boards or to order your development kit, please contact graphics(at)matrox(dot)com.
About Matrox Graphics Inc.

Matrox Graphics is a leading manufacturer of graphics solutions for professional markets. In-house design expertise, top-to-bottom manufacturing, and dedicated customer support make our solutions the premier choice in industries that require stable, high-reliability products. Founded in 1976, Matrox is a privately held company headquartered in Montreal, Canada, with representation and offices in the Americas, Europe, and Asia.
For more information, visit http://www.matrox.com/graphics.
# # #
©Copyright 1997-
, Vocus PRW Holdings, LLC.
Vocus, PRWeb, and Publicity Wire are trademarks or registered trademarks of Vocus, Inc. or Vocus PRW Holdings, LLC.
(PRWEB) April 14, 2004
Concurrent Technologies, a leader in the design and development of high-performance and innovative single board computer products based on Intel® Pentium® and Motorola® PowerPC® technology, and Thales Computers, a leader in the development of high-performance PowerPC- and Pentium-based VMEbus systems, announced that under a recently signed agreement, they will be undertaking the joint development of a new family of Pentium M-based VME processor boards. The boards will be available in commercial, extended-temperature, and rugged versions.
Under the agreement, Concurrent Technologies will be responsible for the design and manufacture of the commercial product lines, and Thales Computers will be responsible for the design and manufacture of the extended and rugged products. Both companies will sell all versions under a cross-distribution agreement.
Glen Fawcett, Managing Director of Concurrent Technologies, stated, "This agreement combines the complementary expertise and skills of Concurrent Technologies and Thales Computers to bring to the market a product family that will meet the needs of our customers, whether they are involved in commercial or defense-oriented products. The products will be designed to be electronically compatible so customers can start development with commercial versions and progress to the rugged versions as necessary, safe in the knowledge that their software can transfer seamlessly from one version to the other."
Alain Albarello, CEO of Thales Computers, said, "This joint development agreement will enable both companies to go to market sooner with new products, while addressing a wider range of customer needs. Thales Computers proposes using its patented Ruggedizer™ technology to transform the commercial version of the board into a rugged product. There is a clear contribution to the project from both companies, hence minimizing joint development risks. This agreement will be fully beneficial to both of our customer communities."
The first commercial products are due for release during Q2, 2004, and the rugged products will be available later this year.
About Concurrent Technologies
Concurrent Technologies is an international ISO 9001 company specializing in the design and manufacture of commercial-off-the-shelf and custom-designed industrial computer boards for real-time embedded applications. The company, which was founded in 1985, has offices in the USA and UK. In addition to its original Multibus II product line, the company has a wide range of high-performance, Intel processor-based VME and CompactPCI products, which are complemented by an extensive offering of PMC (PCI Mezzanine Card) products. The company offers support for many of today's leading industry standard operating systems.
About Thales Computers
Thales is an international electronics and systems group serving the defense, aerospace, and security markets. The group employs 62,000 people worldwide and generated revenues of €10.6 billion in 2003.
Thales Computers is a leading developer of commercial and ruggedized VMEbus systems solutions based on PowerPC and Pentium microprocessors. The company's products are optimized for a wide variety of applications in the military, aerospace, transportation, communications, and industrial markets and are used by customers worldwide, including Lockheed Martin, Raytheon, Boeing, Bombardier, Toshiba, BAE, British Aerospace, Ericsson, Alcatel, Thales Group, and others.
For more information contact:
Concurrent Technologies PLC
Jane Annear
4 Gilberd Court
Newcomen Way Colchester
Essex UK CO4 9WN
+44 1206 52626
jba@cct.co.uk
http://www.gocct.com
Thales Computers, Inc.
Lisa Sanchez
3100 Spring Forest Road
Raleigh, NC 27616
(919) 231-8000,
1-800-848-2330
lsanchez@thalescomputers.com
www.thalescomputers.com
The Simon Group, Inc.for Thales Computers
Marty Simon
Beth Smith
Phone: (215) 453-8700
Fax: (215) 453-1670
E-mail: marcom@simongroup.com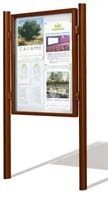 London, UK (PRWEB) October 23, 2008
Known for their realistically priced locking notice boards and poster cases for outdoor displays, UK-based Graphic Pavement Signs Ltd have introduced a range of heavier profile notice boards and poster cases for exterior use.
They are especially useful when pole mounted notice boards are required which can be concreted or bolt mounted into the ground.
The new range also includes double sided notice boards on poles and comes with a choice of silver aluminium or powder coated colours.
There are portrait and landscape cases in the range and all are key locking with the option to replace or reverse the doors simply without tools or having to remove the case from the wall or post. Portrait cases have full length side hinges and landscape cases are top opening with gas struts to hold open the door when changing posters.
The zinc electroplated steel backboard is finished in white lacquer and is for magnet fixing of your notices and posters. The 4mm thick transparent plastic glazing with UV blocking has good shock resistance.
As well as the key locking range above, poster cases be supplied with side locking security screws requiring a special Alan key for entry.
Single post notice boards and multiple post and board options are also available.
These quality outdoor lockable notice boards are used by local authorities, public companies, leisure organisations, schools and universities, churches etc.
Graphic Pavement Signs Ltd have been supplying information display equipment since 1989 and were the first company to sell Pavement Signs, A-Boards and snap frames on the internet.
Further information is available from

Graphic Pavement Signs Ltd

Telephone 01462 673831

www.gpsigns.co.uk
# # #
Montrose, CA (PRWEB) March 17, 2006
Two new microcontroller boards just released by Micro/sys offer a low-power solution to embedded system designers. The MCB08 and the MCB58 are part of the Micro/sys SNAP series of CPU boards and are based on the Freescale (formerly Motorola) HC(S)08 microcontroller. This powerful microcontroller chip allows the MCB08 and MCB58 to have a typical power consumption of only 100mW and 300mW respectively, while running at the fastest speed. The MCB08 has the advantage of drawing about the same power as a couple of LEDs, which makes battery-operation a possibility, and also means that no special system cooling will be required.
The MCB08's tiny footprint of 1.7" x 1.2" x 0.85" makes it a suitable controller for many small systems. Despite its small size and low power, the MCB08 packs a 40MHz HC(S)08 CPU with a fast instruction time of 50ns. The CPU is also highly integrated with up to 46 I/O multipurpose I/O lines. The I/O pins can be used as digital I/O, or they can allow access to eight channels of the 10-bit analog-to-digital converter (ADC). Other functions include eight channels of timers or pulse width modulators (PWM), an 8-channel keypad interface, and 16 pins of high-current (10mA) digital output. Two RS232 serial ports and an I2C port round out the wide range of I/O available on the MCB08.
The Micro/sys MCB58 has all the I/O of the MCB08, but adds many more features that make it ideal as a controller for OEM embedded systems, industrial applications, instrumentation, and many other systems. The features include an RS485 serial port, four isolated digital outputs, four isolated digital inputs, and 24 additional lines of TTL-level digital I/O. The MCB58 also provides filters that allow four channels of PWM to act as digital-to-analog converters (DACs), an onboard temperature detector, a real-time clock, a control area network (CAN) interface, and an EEPROM. Additionally, the MCB58 can interface with the industry-standard PC/104 bus, which allows access to a wide range of I/O.
Both the MCB08 and the MCB58 have 60kbytes of program/data flash and 4kbytes of SRAM. The highly efficient Metrowerks CodeWarrior compiler, which is included in the development kit, combines the simplicity of drag-and-drop software module "beans" with a powerful C compiler. Programs can be compiled, downloaded to the onboard flash with the provided serial cable, and then debugged without leaving the Integrated Development Environment.
Single quantity pricing is $ 75 for the MCB08 and $ 95 for the MCB58. Significant OEM discounts are available. Contact Technical Sales Dept., Micro/sys, Inc., 3730 Park Place, Montrose, CA, 91020, phone (818) 244-4600, FAX (818) 244-4246, URL: www.embeddedsys.com.
Micro/sys has been manufacturing OEM industrial microcomputer products since 1976, including board-level products and integrated computers. Micro/sys embedded computers are specified by OEMs in semiconductor processing, medical, mail handling, pharmaceutical, industrial marking, process control, and many other industries.
Contact: Donna Goedhart
Phone: (818) 244-4600
FAX: (818) 244-4246
www.embeddedsys.com
# # #