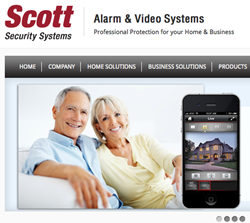 Vancouver, BC (PRWEB) January 07, 2014
It turns out their timing was perfect, according to Scott Security Systems President, Scott Granger.
"We had been exploring ways to take our company to the next level in an extremely competitive and rapidly expanding industry. We had come to the conclusion a partner with the right capacity, access to emerging technologies and a strong national presence was required. That partner would have to be willing not only to invest in our vision, but also had to have the resources to fully support it," Granger noted.
"As a result of our search," Granger explains, "SecurTek made arrangements to fly out and introduce themselves. We each liked what we saw and ultimately a deal was struck. Saskatchewan-based SecurTek became that critical partner that would carry us into the future by making it possible for us to keep focusing on what we do best: service, sales and installations."
Granger soon realized the extent of SecurTek's commitment to growing its market presence locally, and the vast range of monitoring technologies at its disposal: "They offer exclusive new video, lone worker and access control monitoring. They have integrated technologies that make alarm verification easier and ensure more effective responses in emergency situations." Granger adds: "while the details of our agreement were being finalized, SecurTek was already training us on their latest Videofied wireless cameras, popular on construction sites and at locations with copper theft problems."
SecurTek President and CEO Darrell Jones pointed out that SecurTek takes great pride in the relationship it enjoys with its network of independently-owned authorized dealers, noting that Scott Security Systems is an ideal fit and addition to this network:
"Unlike many of the large international monitoring companies, SecurTek does not operate its own installation division. We rely on the knowledge of the local expert dealers who are well aware of the prevailing safety and security concerns in their communities. That is why making our monitoring resources available to Scott Security Systems seemed mutually desirable from all angles. We believe that ultimately, it is the customer who will enjoy the benefits that stem from this strategic alliance."
Jones also adds that as Vancouver's Lower Mainland and Fraser Valley neighbourhoods evolve, so do the methods and required approaches needed to keep the people and their valuables safe. Going forward, SecurTek and Scott Security Systems working together makes this goal more easily achievable.
About Scott Security Systems:
Scott Security Systems is a well-respected and trustworthy company which has provided electronic security systems, video surveillance systems and access control to the Vancouver and Lower Mainland marketplace since 1978. Their major focus has been delivering an extremely high level of service to its extensive customer base. They are also certified to install and service ULC approved alarm systems.
About SecurTek:
SecurTek is a leading provider of monitoring solutions and event related information services with an extensive dealer network and strategic partnerships, servicing customers across Canada. A subsidiary of SaskTel Telecommunications, SecurTek was awarded the Five Diamond Certification for providing superior monitoring service in the North American security industry by the US-based Central Station Alarm Association (CSAA). SecurTek monitoring stations are Underwriters' Laboratories of Canada (ULC) certified. This means SecurTek meets or exceeds the highest industry standards regarding call overflow, staffing requirements, response procedures, computer systems and backup power systems. SecurTek offers burglary, commercial, fire, environmental, medical, video, home automation, access control and residential monitoring services.
Find More Computer Press Releases