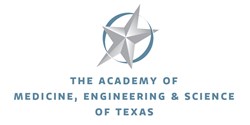 Austin, Texas (PRWEB) December 10, 2013
The Academy of Medicine, Engineering & Science of Texas (TAMEST) is pleased to announce the recipients of the 2014 Edith and Peter O'Donnell Awards. The recipients will be honored during a banquet on Thursday, January 16, 2014, in conjunction with TAMEST's 11th Annual Conference at the Hyatt Lost Pines Resort near Austin, Texas.
The Edith and Peter O'Donnell Awards recognize rising Texas researchers who are addressing the essential role that science and technology play in society, and whose work meets the highest standards of exemplary professional performance, creativity, and resourcefulness. The 2014 awards recipients are:
Medicine—Richard Bruick, Ph.D., is recognized for studies on cellular responses to maintain oxygen and iron homeostasis that have helped lay the foundation for the development of small molecule therapeutics to replace erythropoietin as a treatment for anemia, to treat renal cell carcinoma, and to address iron overload disorders. Dr. Bruick is associate professor of biochemistry and a Michael L. Rosenberg Scholar in Medical Research at The University of Texas Southwestern Medical Center (UT Southwestern).
Engineering—Thomas M. Truskett, Ph.D., is recognized for fundamental contributions in three areas—self-assembly at the nanoscale, dynamics of confined liquids, and structural arrest of complex fluids—that are important for applications ranging from biomedical imaging to the delivery of therapeutic proteins. Dr. Truskett is department chair, Les and Sherri Stuewer Endowed Professor, and Bill L. Stanley Leadership Chair in the McKetta Department of Chemical Engineering at The University of Texas at Austin (UT Austin).
Science—Zhifeng Ren, Ph.D., is recognized for seminal contributions to five scientific fields: carbon nanotubes, thermoelectrics, zinc oxides nanowires, high temperature superconductivity, and molecule delivery/sensing. He was the first to grow aligned carbon nanotubes arrays in large scale, make nanostructured bulk thermoelectric materials with much improved properties, and synthesize hierarchical zinc oxide nanowires. Dr. Ren is the M.D. Anderson Chair Professor of Physics and principal investigator of the Texas Center for Superconductivity at the University of Houston.
Technology Innovation—James Walker, Ph.D., is recognized for his pioneering work, development, and modeling in impact theory, penetration mechanics, material characterization and response under dynamic loading, and their application to resolving problems of international importance in personal protection and safety for defense and the space program. Dr. Walker is an institute scientist at Southwest Research Institute (SwRI), a nonprofit engineering research and development center based in San Antonio, Texas.
"The 2014 O'Donnell Awards acknowledge the important achievements of four, Texas-based researchers whose work has far-reaching implications across a wide range of scientific disciplines," said Dr. E. Linn Draper, Jr., TAMEST's 2013 President. "Primarily focused in medicine and physics, our award recipients conducted cutting-edge research in areas that will improve the health of our citizens, advance our materials engineering technologies, and protect personnel in the armed forces and space program."
The O'Donnell Awards were first presented in 2006, and a total of $ 825,000 has been awarded to 36 recipients since the inception of the program. The awards are named in honor of Edith and Peter O'Donnell who are among the state's staunchest advocates for excellence in scientific advancement and STEM education.
TAMEST's 11th Annual Conference—The Computational Revolution in Medicine, Engineering & Science—will be held on January 16-17, 2014, and will feature a program on advances in computational science, computer modeling, and computer simulation.
The 2014 Edith and Peter O'Donnell Awards video trailer can be viewed online at http://www.tamest.org/programs/2014-recipients.html.
For further information about the TAMEST 2014 Annual Conference, please visit http://www.tamest.org/events/annual.html.
About TAMEST The Academy of Medicine, Engineering & Science of Texas (TAMEST) was founded in 2004 to provide broader recognition of the state's top achievers in medicine, engineering, and science, and to build a stronger identity for Texas as an important destination and center of achievement in these fields. Members include Texas' 10 Nobel laureates and the 260+ National Academies members. TAMEST brings the state's top scientific, academic, and corporate minds together to further position Texas as a national research leader. TAMEST also hopes to foster the next generation of scientists and to increase the awareness and communication among the state's best and brightest about research priorities for the future.
# # #