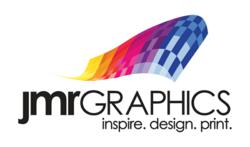 Central Islip, NY (PRWEB) May 27, 2013
On May 27, JMR Graphics, a nationwide truck wraps manufacturer, comments on an article from The New York Times about new outdoor advertisements by Autism Speaks.
According to the article from The New York Times, Autism Speaks is launching a new advertising campaign to help parents detect early signs of autism. The campaign is targeted at Hispanic and African-American parents because the diagnoses in these groups, according to the Centers for Disease Control and Prevention, are above average. Peggy Conlon, president and chief executive of the Ad Council, says that the new campaigns present realistic situations parents will identify with. I believe they will help more minority parents speak to their doctors if they see the signs and get their children the intervention they need.
The advertisements by Autism Speaks are featured across various mediums, including outdoor advertising. One ad features a photo zoomed in on the closed eye of a baby, along with the question, "How can a 12-month-old keep you up at night without ever making a sound? No babbling is one early sign of autism." The text also appears in Spanish with the assistance of LatinWorks.
Representative TJ Pannell of nationwide truck wraps manufacturer JMR Graphics believes that these advertisements will make a difference. Its important to know who youre trying to reach when creating an advertisement, he says. Its great that Autism Speaks can get these statistics to spread awareness about autism to the people who need it most. By putting the information in outdoor and other settings, the message will get across to the maximum number of people.
JMR Graphics is an award winning Nationwide 3M Certified Manufacturer of Graphics for over a quarter of a century. We specialize in branding companies through Fleet Graphics, Vehicle Wraps, Architectural Wall Graphics, Promotional Window Clings, Floor Graphics, Event Signage and much more. We offer a variety of 3M Graphics Films, which are specially designed for most surfaces that require a changeable, short and long-term application. Our exceptional Turn Key Service is backed with a 3M MCS Warranty to give you peace of mind when you need optimum performance for the intended life of your graphics. With our state-of-the-art, cutting-edge facility we inspire our clients by providing creative design, custom-printed graphics and handle a network of nationwide installers. JMR Graphics provides expert capabilities and capacities needed to meet any graphic challenge.
Find More Graphic Press Releases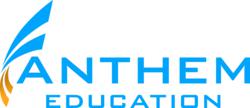 North Brunswick, New Jersey (PRWEB) May 03, 2013
Despite his complex learning disabilities and high-functioning autism, Teore is excelling in the Graphic Design and Animation program at Anthem Institutes North Brunswick campus. Teore is a gifted nature photographer and his education is helping him gain the skills and knowledge necessary to pursue his goals, which include working for National Geographic in film and photography.
Kenny sleeps, eats and drinks his program of studies, said his mother Joananne Teore. We are so grateful for Kennys incredible opportunity to attend Anthem, where not only does he have an excellent curriculum-based education, but also wonderful instructors who have enlightened him about reading social cues and enabled him to be successful by meeting his needs using assistive technology.
Through his exhibit, featuring a display of more than 20 photographs, Teores goal was to educate others about his experiences with autism, dyslexia and dysgraphia.
Kennys story is just one example of how we strive to work with each and every one of our students to help them succeed, said Maria Veglia, Executive Director at Anthem Institute in North Brunswick. We have full confidence that Kenny will successfully complete his program and look forward to helping him establish a fulfilling career.
Anthem Institutes Graphic Design and Animation diploma program gives students hands-on experience with Graphic Design Industry Standard applications. Students take courses in basic design, digital imaging and print, 3D modeling and 3D animation. They learn to use the same packages and tools as graphic design professionals, including 3D Studio Max and Adobe Master Collection Creative Suite and are introduced to standard markup/scripting languages such as HTML, PHP, CSS ActionScript and MySQL.
Taught by graphic design and web professionals, students can receive academic advising from professional education staff, which also arrange for tutoring services when needed and help organize study groups. Program graduates can compete for different kinds of entry-level positions in the graphic design field, including web designer or developer, flash animator, Photoshop specialist or multimedia designer or specialist.
Anthem Institute in North Brunswick is located at 651 US Route 1 South on the 1st floor. For more information about Anthem Education, please contact the campus locally at 855-331-7764.
Find More Graphic Press Releases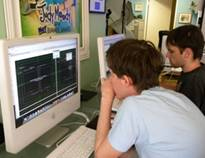 Sherman Oaks, CA (PRWEB) October 12, 2012
Five aspiring Exceptional Minds animators and visual artists shattered yet another glass ceiling for individuals with autism by earning their Flash Adobe Certified Associate (ACA) certificate today, the first organized group of vocational students on the autism spectrum to do so.
This is a dream of mine, to be able to put my ideas to use, said 19-year-old Danny Gott, who along with fellow students Patrick Brady, Christopher Chapman, Lloyd Hackl and Eli Katz received an ACA certificate during an open house at the Sherman Oaks studios on Friday, October 12. Each of the five also received scholarships worth several hundred dollars from Visual Effects Society, a non-profit representing the entertainment industrys visual effects practitioners and one of several industry organizations in support of Exceptional Minds.
I look into the faces of these exceptional students and see dedication and hard work, and an example for anyone who aspires to be more, commented Susan Zwerman, a visual effects producer and board member for Exceptional Minds who helped put together the program to prepare Exceptional Minds students for careers in graphic arts, animation, web design and visual effects.
She says the students accomplishments come at a time when few programs exist outside of high school for Autism Spectrum Disorder (ASD) individuals seeking careers. According to a recent study prepared for the U.S. Department of Education, one in three young adults with autism lack job experience and college or technical training eight years after high school graduation.
Exceptional Minds was started in 2011 by pioneers in the film and visual effects industries as a bridge between high school and the working world for individuals with ASD. Since then, the vocational school and working studio for young adults on the autism spectrum has shattered one autism stereotype after another, including work on highbrow projects such the end credits for recent motion picture Lawless.
Exceptional Minds students have displayed an aptitude for computers and technology that, up until now, has gone largely unmerited.
Its obvious that this community has a special kind of genius and understanding of computers. Now, with this certification, these students have earned the right to compete in their chosen field just like everyone else, said Mike Kanfer, Senior Business Development Manager for Adobe Systems, who has been an early champion of the school since it opened in 2011.
Gott and his fellow students met testing and instructional training requirements for Adobes ACA certification, earning entry-level proficiency in Adobe Flash, which is used to create audio visual and graphic animations. Adobe Flash certification is one of several the students expect to earn during their three years at Exceptional Minds, by all indications the first and only studio of its kind to train individuals with autism for careers in post-production and computer animation.
We work with many different organizations to prepare them for Adobe certification, but I think this is a first for autism, said Jared Baker with LearnKey, which provided the online learning tools and tutorials for Exceptional Minds instructional training. I am not aware of another organization that does what Exceptional Minds does, agreed Francie Stuart with Certiport, the testing organization that helped the school set up onsite testing labs for Adobe ACA accreditation. Having the ACA credential next to their names tells the world that theyve got what it takes, summed up Stuart.
About Exceptional Minds (http://www.exceptionalmindsstudio.org)
Exceptional Minds is a non-profit vocational center and working production studio for young adults on the autism spectrum. Chartered in 2011 to provide the training necessary for visually-gifted ASD individuals who may not otherwise be able to make the transition from high school to the working world, Exceptional Minds offers technical proficiency and work readiness skills that prepare students for careers in graphic arts, animation, web design, visual effects and rotoscoping. Located in Sherman Oaks, California, Exceptional Minds is both an instructional learning facility and a working studio with hands-on student involvement in production projects, many for the film industry.
Find More Graphic Press Releases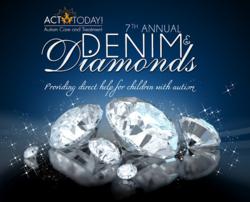 Malibu, CA (PRWEB) October 15, 2012
ACT Today! (Autism Care and Treatment Today!), a national non-profit organization whose mission is to provide access to care and treatment to children with autism, is rolling out the red carpet for over 500 guests who plan to attend the 7th Annual Denim & Diamonds for Autism fundraiser, benefiting children with autism. The star-studded fundraiser will be held on Saturday, November 3, 2012 at the Calamigos Ranch in Malibu, California from 5 pm to 9 pm, followed by a post party from 9 pm to 11 pm. Over 500 guests are expected to attend the fundraiser.
Special tributes will be given to actor Joe Mantegna (Criminal Minds), television executive Steve Mauldin (KCBS 2/KCAL 9) and community activist Kathleen Sternbach for their tireless efforts raising autism awareness.
Confirmed celebrities include actor Joe Mantegna, 2012 ACTivist Honoree ("Criminal Minds"), televisions executive Steve Mauldin, 2012 ACTivist Honoree, KCBS 2/ KCAL 9 GM/President, Grammy nominated singer/songwriter Brian McKnight, actor Shemar Moore ("Criminal Minds"), actor David Hasselhoff ("Baywatch"), actor Thomas Gibson ("Criminal Minds"), actress Jean Smart ("Hope Springs"), actress Vivica A. Fox ("Raising Hope" and "Curb Your Enthusiasm"), actor Richard Gilliland ("Torchwood"), actress Bonnie Hunt ("Cheaper By the Dozen", "Jerry Maguire"), actress AJ Cook ("Criminal Minds"), actress Ariel Winter ("Modern Family"), actor Nolan Gould ("Modern Family") actor Mark Christopher Lawrence ("Chuck"), television host Tom Bergeron ("Dancing with the Stars"), television executive Vin Di Bona (Vin Di Bona Productions), actor Erik Fellows ("Days of Our Lives"), actress Joey King ("Crazy, Stupid Love", "Ramona and Beezus"), actress Hunter King ("Young and Restless"), actor Erik Braeden ("Young and Restless").
According to the Centers for Disease Control and Prevention (CDC), 1 in every 88 children in America is diagnosed with an autism spectrum disorder (ASD), making ASD more prevalent than juvenile diabetes, childhood cancer and pediatric AIDS combined.
Proceeds from the 7th Annual Denim & Diamonds for Autism fundraiser will make it possible for ACT Today! to continuing providing families access to therapy, medical care, assistance dogs, social skills programs, assistive technology, and even safety equipment like helmets for the self-injurious children, as well as fencing for those who wander.
Corporate sponsors to date include: CBS Corporation, Vin Di Bona Productions, TWIW Insurance Services LLC, Reaction Audio Visual, Universal City Nissan, Natrol, William Henry, Maddys Market, Wells Fargo, Pressure Tech, Puritas, Sandy and David Stone, Judy and Jay Hearst, Center for Autism and Related Disorders, Pressure Tech, Burbank Printing, Hoffman International Properties, City National Bank, The Hollywood Reporter, Latham & Watkins, The Shape of Behavior, United Healthcare, CodeMetro, Valley Ecnomic Development Center, Double Helix Water, Isabella Emporium, GLO Hair Salon, Passageway School, Planet Beauty, Rage Models, Daily Duty and Westlake Magazine.
MANDATORY PRESS RSVP - BY NOVEMBER 1st:

Daphne Plump

Email: pr (at) dplump (dot) com
WHO: (as of 10/12)

Joe Mantegna, 2012 ACTivist Honoree, actor ("Criminal Minds")

Steve Mauldin, 2012 ACTivist Honoree, KCBS 2/ KCAL 9 GM/President

Brian McKnight, Grammy nominated singer/songwriter

Shemar Moore, actor ("Criminal Minds")

David Hasselhoff, actor ("Baywatch")

Thomas Gibson, actor ("Criminal Minds")

Jean Smart, actress ("Hope Springs")

Vivica A. Fox, actress ("Raising Hope" and "Curb Your Enthusiasm")

Richard Gilliland, actor ("Torchwood")

Bonnie Hunt, actress ("Cheaper By the Dozen", "Jerry Maguire")

AJ Cook, actress ("Criminal Minds")

Ariel Winter, actress, ("Modern Family")

Nolan Gould, actor ("Modern Family")

Mark Christopher Lawrence, actor ("Chuck")

Tom Bergeron, TV host, ("Dancing with the Stars")

Vin Di Bona, TV executive (Vin Di Bona Productions)

Erik Fellows, actor ("Days of Our Lives")

Joey King, actress ("Crazy, Stupid Love", "Ramona and Beezus")

Hunter King, actress ("Young and Restless")

Erik Braeden, actor ("Young and Restless")
WHERE:

Calamigos Ranch @ Pavilion

327 S. Latigo Canyon Road, Malibu, CA
MEDIA CHECK-IN:

4:00 PM @ Pavilion

**Press must show credentials
MEDIA SET UP COMPLETED:

4:45 PM
RED CARPET:

5:00 PM - 6:00 PM
RECEPTION & SILENT AUCTION:

5:00 PM - 6:45 PM
SEATED DINNER PROGRAM & AWARDS:

7:00 PM
For more information about ACT Today!s 7th Annual Denim & Diamonds for Autism fundraiser, visit http://www.denimanddiamondsforautism.net.
Sherman Oaks, CA (PRWEB) September 16, 2012
They arrived at the Exceptional Minds studio classroom this week with flash drives, headphones, and high expectations. Lloyd returned with his collection of drawings to be rendered, Kevin brought his latest animated adventures of Salsa Joe. Some came from Hollywood a few miles away, others from as far away as Hawaii.
Fifteen students with six movie credits between them, including those for major motion picture Lawless, greeted each other with a mixture of high-fives and half-smiles on September 10 as the second vocational year began at Exceptional Minds, a unique school and working studio for young adults on the autism spectrum.
If our second year is anything like our first, be prepared to be blown away by the talent in this room, commented Exceptional Minds Program Director Ernie Merlan, referring to a year of many firsts at the school and working studio. Among the highlights of the studios first year in operation were visits to and by DreamWorks and Warner Brothers, support from actors Tom Hanks and Ed Asner, and paid movie projects as well as being featured on the CBS evening news.
Exceptional Minds was established in 2011 as a bridge between high school and the working world for those with Autism Spectrum Disorder (ASD). Now viewed as the poster child for whats next for the tidal wave of ASD individuals about to enter the workforce, Exceptional Minds is one of the first vocational schools and working studios to address the unique skills and aptitudes of young adults on the spectrum. The three-year program includes technical training for Adobe (ACA) certification, job readiness skills and a professional reel/portfolio that graduates can use to seek employment in the fields of animation, computer graphics and visual affects.
New York, NY (PRWEB) January 24, 2012
Greg Herzog, of Herzog Body Tech LLC has received the Trademarks from the U.S. Patent and Trademark Office: FITNESS PREDICTOR
New, Informational Website (TeachTown, Inc.) Supports Educators and Parents of Children with Autism












Los Angeles, CA (PRWEB) June 20, 2011
TeachTown, Inc., (http://www.teachtown.com) an innovative developer of educational software and video modeling technology has launched a new, information-packed website in support of children with autism and special needs.
Educators and parents can find the latest research on autism, learn best practices of classroom technology, read educator and student stories, download fun activities and watch demos of two TeachTown curriculum-based instructional programs; TeachTown®: Basics, computer-aided instruction (CAI) and TeachTown®: Social Skills, animated video modeling.
TeachTown programs are set in a colorful and immersive community where animated characters take students on an educational journey complete with fun rewards and educational games. Students learn and practice fundamental skills in math, language, communication, behavior, social and emotional development. Assessments and student progress reports guide the development of IEPs (Individual Education Plans) and complement teachers' instruction through consistent delivery of skills measured in standardized tests.
The new site features a video interview with Jennifer Maloni, a Maryland parent. Mrs. Maloni is a national advocate on autism-related issues and the co-author of The Friendship Puzzle, a children's book on what it is like for school-age children to interact with a classmate who has autism. In the video, she describes her sons' after-school learning routine using TeachTown®: Basics.
Last year, Maloni began to use the educational software at the recommendation of her sons' teacher at William Winchester Elementary School in Carroll County. Both of her boys use the computer-aided instruction daily in class and at home, and are better able to socialize and generalize skills.
"Many parents want to participate in their child's learning experience," said Mrs. Maloni, "so we took full advantage of the software's take-home privileges. Our boys get off the bus and want to turn on the computer. They practice the skills they learn in school and love the character, Pico, who motivates them to keep going. I like the organized way the computer teaches real life skills."
The latest research in the Journal of Pediatrics shows a rise of 17 percent among American children with development disabilities, including autism. (May 23, 2011 - Washington Post/Bloomberg)
TeachTown CEO, Terry Thoren, said, "As the demand for specialized learning tools in schools grows, we will continue to develop innovative curriculum-based educational programs. We invite anyone interested in these relevant issues about autism to join our community. Together, we'll tackle the challenges that educators and families face and work toward a better learning future, just as Mrs. Maloni has done on behalf of all children."
Check out the new TeachTown website at http://www.teachtown.com and sign up for the enewsletter featuring more educator, parent and student videos, along with fun and free activities and resources. Parents and teachers can also download supplemental curriculum tools in the TeachTown Fun Stuff section; a portal that houses visual schedules, character puppets, flashcards, token boards and the much requested character expression pages.
Call 800-283-0165 to request a quote or talk with an education specialist.    
About the Products:
TeachTown®: Basics is a research-based, computer aided instructional program that delivers highly engaging On Computer Lessons connected to motivational Off Computer Activities for students who are developmentally 2 to 7 years old.
TeachTown®: Social Skills is a video modeling-based curriculum for students with a language age of 4 to 8 years. Engaging animated characters teach socially valid skills in each episode and targeted skills are developed through lesson plans, classroom activities and homework assignments.
About TeachTown, Inc.
TeachTown, Inc. is an innovative education company that produces learning products for children with Autism Spectrum Disorders (ASD) and other special needs. Joining co-founder, Dr. Christina Whalen is a team of experts: Dr. Shannon Cernich, Ph.D., BCBA-D, Dr. Lauren Franke, PsyD, CCC/SLP, and Melinda Docter, Ed.D. Board Chairman, Dan Feshbach, has a son with autism, and CEO, Terry Thoren is a gifted animation storyteller who helped to bring the Rugrats to global blockbuster prominence.
###








Attachments



















©Copyright 1997-
, Vocus PRW Holdings, LLC.
Vocus, PRWeb, and Publicity Wire are trademarks or registered trademarks of Vocus, Inc. or Vocus PRW Holdings, LLC.
Visual Schedules Inc. Announces a Visual Schedule Giveaway in Honor of National Autism Awareness Month












Mechanicville, New York (Vocus/PRWEB) April 14, 2011
Visual Schedules Inc., a customized magnetic family and classroom visual schedule company, joins thousands of organizations across the nation in celebrating National Autism Awareness Month. Visual Schedules will give away two free visual schedules during their promotion, running throughout the month of April.
On April 30, two lucky winners will receive a choice of Visual Schedules' most popular products, personalized by gender and ethnicity. Registrants are simply required to submit an e-mail entry at http://www.visualschedules.com and Like the company's Facebook page.
"Our visual schedule products were developed after my son was diagnosed with an autism spectrum disorder," says Joann Tierney-Daniels, Visual Schedules' President and founder. "A visual schedule was suggested by his special education teacher, but finding the perfect fit was difficult. Most visual schedules available were projects, requiring time and effort from parents. Life was overwhelming after Ben's initial diagnosis. I didn't have the time for a creative endeavor. "
As a result, Tierney-Daniels went to work, hired a graphic design team, and started Visual Schedules. The company manufactures customized visual schedules for children. Their product line is two pronged, one branch dedicated to family schedules, while the other focuses on educators and the classroom.
Although their visual schedules were designed to assist all children; the company emphasizes the impact visual schedules have on children diagnosed with autism spectrum disorders. Research has shown the utilization of a visual schedule assists with communication difficulties, capitalizing on the visual strengths of children with autism spectrum disorders.
Alarmingly, the rate of autism spectrum disorder diagnoses appears to be on the rise. The Centers for Disease Control and Prevention(CDC) report that autism spectrum disorders currently effect one out of every 110 children in the United States. This estimate is expected to increase when the revised figures are released by the CDC later this year.
Affected families struggle to find, and finance, adequate tools and resources to assist their children. "Our intent is to spread awareness about autism and the needs of our children," Tierney-Daniels stipulates. "The autism community has given tremendously to my family. National Autism Awareness Month is the perfect opportunity for Visual Schedules to pay it forward."
Visual Schedules Inc. was founded in 2009 and is headquartered in Mechanicville, NY. More information about Visual Schedules Inc. is available on-line at http://www.visualschedules.com.
###








Attachments
















©Copyright 1997-
, Vocus PRW Holdings, LLC.
Vocus, PRWeb, and Publicity Wire are trademarks or registered trademarks of Vocus, Inc. or Vocus PRW Holdings, LLC.