White Plains, NY, (PRWEB) July 23, 2009
[yellow tail], America's number one imported wine*, introduces their latest addition to its family of renowned wines in the U.S. - [yellow tail] Sauvignon Blanc. The Sauvignon Blanc joins three other white wine varietals in the [yellow tail] portfolio which include Chardonnay, Pinot Grigio and Riesling.
[yellow tail] continues to provide their consumers with the most comprehensive portfolio of wines to suit any occasion. Sauvignon Blanc is in high demand with the U.S. wine consumer; sales are up 6 percent since last year, according to Nielsen Scantrack.
"As we continue to expand our portfolio, we will maintain our promise of delivering great quality wines that are not only affordable, but fun," said Mark Lyle, Vice President of Marketing for [yellow tail] wines. "Adding the Sauvignon Blanc to our portfolio grows our white varietals, which we see as a popular area for our consumers."
All the wine from [yellow tail] including the new Sauvignon Blanc is instantly recognizable, both for its appearance, personality, and a taste profile which is known for being fruit-forward, easy-to-drink, approachable and fun.
[yellow tail] Sauvignon Blanc quick facts:

Availability: August 1, 2009

Suggested Retail: $ 7.99

Distribution: National

Nose: Vibrant citrus, passion fruit

Palate: Lime, tropical fruit and green apple notes

Finish: Flavor depth, crisp
*Source: Nielsen Scantrack, Total US Food, Drug, Liquor (52 weeks ending 2.7.09)
Media contacts:

Shaun Clair / Lisa Bruno

Catalyst Public Relations

212.714.7900
For more information on (yellow tail) wine please visit us at http://www.discoveryellowtail.com.
Please drink responsibly.
About W. J. Deutsch & Sons, Ltd

W.J. Deutsch & Sons was founded in 1981 by Chairman Bill Deutsch to market quality wines produced by prestigious families from major wine regions of the world. Deutsch's wines are sold to the trade with well-planned marketing support and offered to U.S. consumers at fair market prices. Today the company is renowned for its brand building prowess and ability to identify and fill consumer niches within the wine category. Bill's son Peter Deutsch is CEO; thus two generations of the Deutsch family work side by side in their continuous quest to build strong brands and relationships throughout the wine industry.
The W.J. Deutsch & Sons portfolio includes award-winning wines from: Australia; [yellow tail], [yellow tail] The Reserve, [yellow tail] Sparkling, California; Atlas Peak, Buena Vista Carneros, Esser Vineyards, Gary Farrell Vineyards and Winery, Geyser Peak, Kunde Estate, XYZin, France; Andre Lurton, Georges Duboeuf, Hob Nob Vineyards, J. Vidal Fleury, Pierre Sparr, Sauvion et Fils, Idaho; Ste Chapelle, Italy; Barone Fini, Castello di Monastero, Coldisole, Poggio alle Sughere, Villa Pozzi, New Zealand; The Crossings, Portugal; Quinta Do Vale Meao, Spain; Mar De Frades (Rias Baixas), Cruz de Alba (Ribera del Duero), Ram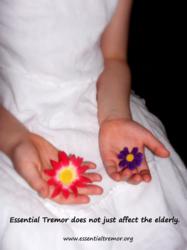 Lenexa, Kansas (PRWEB) December 03, 2012
Essential tremor (ET), a neurological condition that affects an estimated 10 million people in the U.S., now has a specific classification with important ramifications for patients and healthcare providers.
The World Health Organization (WHO) has given validation to millions of people in the U.S. diagnosed with essential tremor when the International Statistical Classification of Disease and Related Health Problems (ICD) code book was updated to the 10th edition. What was once coded and known by the healthcare community as a nonspecific tremor (333.1) or nonparkinsonian tremor now has a name and a code.
ET is very frequently misdiagnosed as Parkinsons disease. The condition is often characterized by rhythmic, involuntary and uncontrollable shaking of the hands and arms during movement, but it sometimes can also affect the head, voice, legs and trunk. This serious and progressive condition can significantly affect a persons quality of life socially, professionally and emotionally.
For the ET community, this designation means that essential tremor is recognized as a separate neurological condition that is classified and separate from other tremor disorders, says Catherine S. Rice, Executive Director of the International Essential Tremor Foundation.
Despite the high prevalence of ET, estimated at 46% among persons aged 65 and older, until now, there was no ICD-9-CM diagnostic code that is specific for ET, says Dr. Elan Louis, Department of Neurology, Columbia University, referring to the code system in the 9th edition of the code book.
The 10th edition ushers in, for the first time, a specific diagnostic code for ET. For the ET community, including patients, patient advocacy groups, physicians, and researchers, this is an important step that has implications in terms of research, clinical care, and public health, says. Dr. Louis.
For research, patients can be better ascertained from clinical care databases and billing data bases. A disease-specific code may be queried and cases may then be easily identified. The lack of a specific code for ET has been a barrier in this regard.
Prior to this classification, the medical community could not code essential tremor as a diagnosis all to itself. It was lumped in with other nonspecified conditions. Rice says, We considered this yet again another sign of indifference for a person diagnosed with essential tremor because their medical condition could not be properly classified by the medical community.
In clinical settings, ICD codes are universally applied across the country, thereby helping physicians to define the exact medical problem of a patient, anywhere in the country. The codes are necessary for patients filing insurance claims. Clinical trials would benefit from the ability to more accurately identify a patient sample, based on a more precise diagnostic code. Similarly, for clinical researchers and pharmaceutical companies, the usage patterns of specific medications may more easily be tracked in ET patients through computer linkage to pharmacy records.
Clearly, essential tremor is now recognized as a valid neurological condition that is viable, specific and respectable. This is a huge step forward in the fight to increase awareness not only with the public but with everyone in the healthcare community, says Rice. And it also provides a way of tracking the incidence and mortality rates so appropriate statistical information can be gathered.
But our job is not over and in many ways it intensifies. We must keep the pressure on continue to demand and expect that essential tremor as a neurological condition be given the respect it deserves and that it no longer be diminished as a nonspecific condition in the eyes of the healthcare community, says Rice. We must continue to make sure that people are not ignored or disrespected and that they be given as much courtesy and consideration as others who have other medical conditions. People diagnosed with essential tremor deserve so much more; access to better treatments, greater awareness of the condition and its effects and the funding of more research. This is a grand step in the right direction but by no means, the last.
About The International Essential Tremor Foundation:

Headquartered in Lenexa, Kan., and founded in 1988, the International Essential Tremor Foundation is the leading organization in the world dedicated to helping those affected by essential tremor. The IETF funds research to find the cause of essential tremor (ET) that leads to a treatment and cure, increases awareness, and provides educational materials, tools, and support for healthcare providers, the public, and those affected by ET.
Since its inception, the IETF has distributed more than $ 600,000 in research grants to fund 24 promising ET research studies. To learn more about essential tremor, visit http://www.essentialtremor.org.
###
Related Computer Press Releases
"Where Money Goes To Die": A New Series From Money Morning Answers the Question - Can Mobile Computing & Cloud Storage Put Microsoft, Intel & Cisco Back on Top?













Baltimore, MD (PRWEB) May 26, 2011
New technologies, like mobile computing and cloud storage, could save the original high-tech Big Three. Or the venture into new technology could serve as little more than a final gasp for these fading giants. Learn the answer in a new series by Money Morning.
For most of the 1990s, U.S. high-technology heavyweights Microsoft Corp., Intel Corp. and Cisco Systems Inc. didn't just perform in their respective markets…
They ruled them:
·    Microsoft's Windows operating system ran more than 95% of the world's PCs and its word-processing and spreadsheet programs accounted for an estimated 95% of the market for office-applications software.
·    Intel, the other half of the so-called "Wintel" duopoly, had its chips in more than 90% of the world's PCs.
·    And Cisco was acknowledged as the backbone of the Internet, a key reason that – back in March 2000, with a market cap of $ 555.4 billion – it became the most valuable company on earth.
Indeed, the shares of all three companies were the "must-own" stocks of the 1990s. Microsoft's shares rose more than 9,000%, Intel's 10,000% and Cisco's phenomenal 66,000% during that 10-year stretch.
But in the decade that followed the "dot-com" crash, these once-invincible leaders have been transformed into miserable laggards – and are now the focus of shareholder scorn on a regular basis.
Over the last 10 years, while the Nasdaq Composite Index rose about 34% and the Standard & Poor's 500 Index 8%. Meanwhile, Microsoft has slumped 25%, Intel 15% and Cisco 12.5%.
Once the innovation leaders in their fields, these three technology giants are no longer the front-runners in new ideas or new technology.
But ventures into mobile computing and cloud storage could return Microsoft, Intel and Cisco to their former glory, if they can learn how to play the new consumer technology markets.
All three companies have watched adaptable, inventive newcomers eat away at their de facto monopolies. And with continued dominance a virtual impossibility, what sort of future awaits these technology giants?
Learn if Microsoft, Intel, and Cisco can be reborn in the age of mobile computing in Part I of Money Morning's four-part series: "Where Money Goes to Die:" After a Decade in Decline, Can Microsoft, Intel And Cisco Pull off a Rebound?.
(**) Please feel free to repost this story on your website, including a link to the original article on Money Morning – only the investment news you can profit from.
Money Morning.com provides valuable investment research and analysis by top industry and market experts to its more than 600,000 readers everyday - offering unique insights on new market trends and little-known companies and industries, while showing readers the truth behind today's largest business stories.
Respectfully,

William Patalon III

Executive Editor
###
©Copyright 1997-
, Vocus PRW Holdings, LLC.
Vocus, PRWeb, and Publicity Wire are trademarks or registered trademarks of Vocus, Inc. or Vocus PRW Holdings, LLC.
Research Indicates First Time Trade Show Attendees Unable to Select the Best Display Systems to Match their Budgets -- Alta Graphics Provides the Answers












Miami, FL (PRWEB) March 9, 2010
Alta Graphics "Pre Packaged Trade Show Display Systems" simplify the process of selecting professional quality Banner Stands and Pop Up Booths.
Alta Graphics simplifies the process of building a trade show booth by pre packaging Banner Stands, Pop up booths, literature racks and portable sales counters to allow advertisers to easily match show size and budget with the right display system for professional brand promotion. While the internet is filled with choices of inexpensive trade show display systems, the success of your exhibit investment depends on matching the right display systems and graphics. The best "Value Proposition" may not be the cheapest banner stand available.
Trade Shows offer one of the most powerful ways to introduce your products and company to new clients. Event costs are frequently underestimated as being the cost of the space rental. Associated expenses like employee time, travel and entertainment, promotional giveaways and event promotion are hidden costs that are part of the investment. Matching your booths display systems with your overall budget may be the single most important decision affecting the Return on Event Investment. You want the very best booth in the show within your budget.
Alta Graphics has created packages for the most common trade show configurations using the best combination of components together with a package discount!
Small Format Events
Business card exchange or smaller networking events frequently provide a small area and table for the exhibitor to use. Exhibit systems need to be very light, quick to set up and should not be oversized.


    Silver Package : Retractable Banner Stand, Portable Literature Rack
    Gold Packag]: Retractable Banner Stand, Portable Literature Rack, Printed Table Cover
    Platinum Package: Table top Pop Up, Retractable Banner Stand, Portable Literature Rack, Printed Table Cover
Traditional Trade Show
The 10' trade show booth is the industry standard and most companies will start with this configuration and grow over time. Typical event costs will range between $ 2,000 and $ 8,000 for space, travel and promotion. Experts recommend that you match your display investment with your total event cost. You do not want to spend $ 5,000 to show up and have a $ 500 display that is the worst in show. Remember that your display hardware and graphics will work for several years making the cost per use lower.
        Silver Package ($ 1,000+ range): In-Line Banner Stand Back Wall, Portable Literature Rack,
    Gold Package ($ 3,000+ Range): Pop Up Booth, Retractable Banner Stand, Portable Literature Rack
    Platinum Package ($ 5,000+ Range): Pop Up Booth, Retractable Banner Stand, Portable Literature Rack, Portable Customer Service Counter
Critical Trade Show Display Cost Considerations
While selecting the display hardware is the starting point, there are two additional factors that determine success. Both Graphic Design & Messaging and the selection of the printing material are what really is seen. You can have the best hardware with poor results if this is not properly executed.
Graphic Design
Designing display graphics is not the same as a brochure or web site in terms of objective and execution. The goal is to be seen and reinforce your product or brand and NOT to sell. The purpose of being at an event is the personal contact allowing your team to sell. The Graphics need to bring people to your team so you can show what you do. You can read more tips in our article "Designing large format graphic – 10 most common mistakes". Alta Graphics offers professional creative services that can consult with your designers at no charge or handle the complete design project.
Display Print Materials
Large format printing offers an incredible array of choices that affect the overall look and cost of the booth. Because over half the cost of most displays is the actual print and it's typically the only thing that visitors really see it is CRITICAL in configuring the best package. Properly matching your budget and creative artwork to the proper print material is the single most important factor in the success of your display investment. Our entry level systems use lower cost printed vinyl (PolyGraf) while the mid range and highest quality systems use Photo Mylar (OpalJet) or printed Fabric (FabGraf). "Properly matching your budget and creative artwork to the proper print material is the single most important factor in the success of your display investment." We offer free consulting and samples to help you in this aspect of building a trade show display system that will represent your companies brand for years of use. Check our blog article "Configuring a Banner Stand" for additional information and tips.
Alta Graphics specializes in professional business communication services including printing, trade show display systems, marketing services and imprinted promotional items. With over 20 years of experience we are uniquely positioned to deliver comprehensive communications services across the complete range of advertising medias. For more information, visit http://www.alta-graphics.com
Media Contact: John Butler 305-477-1344
###








Attachments




©Copyright 1997-
, Vocus PRW Holdings, LLC.
Vocus, PRWeb, and Publicity Wire are trademarks or registered trademarks of Vocus, Inc. or Vocus PRW Holdings, LLC.
Last Minute Gift Idea: "Ask Dave Taylor" iPhone App Answers Tech Questions in the Palm of Your Hand











(PRWEB) December 24, 2009
Looking for a last-minute gift idea for the technology lover on your list? Dave Taylor, a recognized technology expert, national speaker and creator of the popular AskDaveTaylor.com Web site, has launched the "Ask Dave Taylor" application for the Apple iPhone. available in the Apple App Store for 99 cents
The app includes more than 2,200 entries from the popular AskDaveTaylor.com blog. More than 1 million unique visitors each month who come to find solutions to their tech support problems or learn tips and tricks to improve the functionality of the technology in their lives.
"Millions of people will get new tech gadgets and programs this holiday season, but it's no fun to be stumped trying to figure them out," said Taylor. "This app provides thousands of articles to help anyone — from a beginner to a power user — fix problems and get the most from their new devices or programs."
The "AskDaveTaylor" app includes thousands of illustrated Q&A articles, including:


350 articles on Macs and Mac OS X
300 articles on computer and technology basics 
250 articles on Windows troubleshooting and customization 
190 articles on web site design and development
175 articles on Facebook, Twitter, MySpace and other social networks 
150 articles on blogging best practices 
140 articles on business and management
120 articles on iPhones and other cell phones 
150 articles on search engine optimization (SEO) 
100 Linux and Unix programming and help articles
To keep the information fresh, the app purchase price includes access to the AskDaveTaylor.com data channel, so every time the user launches it, articles are added and updated.
The AskDaveTaylor app was developed in cooperation with Sleeping Giant Solutions (http://www.sleepinggiantsolutions.com), which develops strategies to attach brands and products to the lifestyle of their consumers through games, software, mobile applications, motion graphics, unique marketing concepts and distribution channels.
About Ask Dave Taylor
AskDaveTaylor.com and the AskDaveTaylor iPhone App are products of Intuitive  Systems, LLC, a privately held company based in Boulder, Colorado. More  information can be found at http://www.intuitive.com/ and you can find the 99-cent AskDaveTaylor iPhone App by searching the App Store for "tech support" or visiting http://www.AskDaveTaylor.com/app.
###






Attachments
















©Copyright 1997-
, Vocus PRW Holdings, LLC.
Vocus, PRWeb, and Publicity Wire are trademarks or registered trademarks of Vocus, Inc. or Vocus PRW Holdings, LLC.
Ohio Renaissance Festival Answers Request from Family of Deceased Man











Harveysburg, OH (PRWEB) April 15, 2006
Charlotte Miller and her family will forever remember the date October 8. On this day, Charlotte's husband, Brett, a passenger in a car driven by son Michael, was tragically killed when an impaired driver rammed their car on the passenger side at a fairly high rate of speed. Just the week before, the Millers had enjoyed yet another visit to Brett's favorite place – the Ohio Renaissance Festival. Brett would attend several times a season, making the nearly 3 hour drive from Coldwater, OH.
"On March 1st, we received the first email with her 'rather unique' request. After hearing her story of an automobile accident which killed her husband and seriously injured her son she had my full attention. Her request to scatter some of her husband's ashes at our festival site became more meaningful as she explained how much he loved our festival and that it was their practice to attend several times a season," stated Amy Zimmer, Office Manager of the festival. Zimmer continued, "When I shared this request with management, there was no hesitation to honor her wishes."
This afternoon, the Miller family traveled down to the Ohio Renaissance Festival, not for a day of entertainment, but for a much more somber event. Brett's ashes were scattered around 1:15pm in a scenic area of the festival grounds as family and festival staff members watched. As Charlotte stated, "There will be one less jolly pirate in the world."
As a result of the legalities Charlotte and her family are facing, she hopes to build awareness of her efforts to change laws regarding the rights of victims involved in accidents caused by impaired drivers. "We recently found out that if the person who drove was convicted of a felony (which the charges are) his insurance will not cover anything. . . .So, in order to have the medical bills paid we had to agree on a misdemeanor charge. This is something I have written to all our political people about, to get this changed so that the offenders get their proper punishment," stated Charlotte.
The Ohio Renaissance Festival will open for its 17th annual season on September 2nd and run eight weekends thru October 22nd including Labor Day confident that Brett will be enjoying the festival as always, each and every day.
###
©Copyright 1997-
, Vocus PRW Holdings, LLC.
Vocus, PRWeb, and Publicity Wire are trademarks or registered trademarks of Vocus, Inc. or Vocus PRW Holdings, LLC.
Silicon Valley Blog LazyTechGuys.com Helps the 'Tech Aware' Find Answers













San Jose, CA (Vocus/PRWEB) January 06, 2011
LazyTechGuys.com is the new blog in town. It features technology news, the latest scoop on video games, introductions to exciting gadgets, and how-to guides. It covers both local Silicon Valley technology news and global technology news with the author's personal flair, passion, and insight from his respective industry.
LazyTechGuys.com is attracting early adopters, social media enthusiasts, entrepreneurs, influencers, corporations, marketing professionals, PR specialists, advertising agencies, Web 2.0 aficionados, and technology journalists. It is even capturing the attention of other technology blogs by catering to individuals who are 'tech aware'—and too lazy to search for the news elsewhere.
LazyTechGuys.com blog categories include:
Commentaries – The guys at LTG share their perspectives with the masses
Features – Cool stuff people need to know
How to (DIY) Advice -- Step-by-step instructions for doing things the easy way
Technology News -- Technology news from around the world
Podcasts — Insider scoop and commentary, often featuring special guests from influential companies, on topics like technology in business and latest trends,
Videos - High-quality production of exclusive interviews, product comparisons, trade shows, new gadgets…all things tech
Reviews – Evaluations about everything from hardware and software to video games and websites
LazyTechGuys evaluate technology news stories about executive moves, business changes, and business processes in the tech world that affect the way businesses innovate and grow. Although they make no claims about being professional writers, the LazyTechGuys are technology enthusiasts, who work to bring the best of the web and the world to their readers.
About LazyTechGuys

LazyTechGuys is a Silicon Valley social media / blog site that offers the average lazy technology aficionado a single site to get daily news, reviews, and insights on the tech world around them. They inject a little humor here and there to keep things interesting. This would be a good time to laugh.
# # #








Attachments
















©Copyright 1997-2011, Vocus PRW Holdings, LLC.
Vocus, PRWeb and Publicity Wire are trademarks or registered trademarks of Vocus, Inc. or Vocus PRW Holdings, LLC.
Related Tech Press Releases