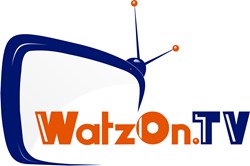 Las Vegas, NV (PRWEB) January 06, 2014
WatzOn.TV (@watzontvcom) announced today that it has been selected to participate in ShowStoppers LaunchIt, which is a curated pitch event for 16 companies selected from the more than 200 young, innovative, transformative and entrepreneurial start-ups that exhibit in Eureka Park, a TechZone within CES where retailers, venture capitalists, manufacturers and others will find entrepreneurs launching new products, services, apps and ideas.
"We are delighted to participate in CES 2014 and are so honored to take part in Launchit so that we can take our story straight to the media. The Consumer Electronics Show is absolutely the top Electronics and Technology show in the world. As a new technology, we are proud to be able to offer our website and applications to our fellow vendors, bands, television shows, celebrities and other content creators so that they can get the word out to their customers and fans quickly and efficiently. By participating in Launchit, the press will be able to see our value message and uniqueness in an intimate setting and send that news to their readers. The fact that users can create free channels about anything within 60 seconds makes us completely unique and innovative. With WatzOn.TV at CES, we're looking to make the experience even more interactive, nimble and compatible with other viewing technologies," said Kimberly Penney, V.P. Corporate Communications. "The feedback we received from our viewers and guests has been remarkable thus far and we look to continue that the level of engagement in 2014 and beyond."    
Key Information for ShowStoppers Live Show and Follow Up:
January 6, 2014 at 11:30 AM
Place: Mandalay Bay Hotel - Mandalay Bay Room South Seas Ballroom J, which is on level three of the South Convention Center at Mandalay Bay
January 7-10

    Coverage of all the top CES presenters with video content 24/7 at WatzOn.TV/CES2014
    WatzOn.TV Social Media expert will be online online answering questions sent to @watzontvcom with the Twitter hashtag # ces2014watzontv or by visiting WatzOn.TV Facebook™ page at Facebook.com/Watzontv.
January 11

    The WatzOn.TV team will keep the CES 2014 channel live for post-conference viewing.
About ShowStoppers

The 10th-annual ShowStoppers @ CES is the blockbuster press event of the consumer electronics, IT and technology industries. It's where hot companies with cool products -- industry leaders, innovators, award winners, visionaries and startups -- make new connections, promote brand, take leadership and open new markets. More than 1,400 top journalists and analysts regularly attend ShowStoppers @ CES – including, among others, ABC, AVING, BBC, c't, CBS, CNET, Chip, CNN, Crunchgear, Dempa Shimbun, Deutsche Press Agentur, Engadget, eWeek, Fierce Wireless, Financial Times, Frankfurter Allgemeine Zeitung, IDC, IDG News Service, Informa Telecoms, IntoMobile.com, NBC, Nikkei, PC Magazine, PC World, Phone, Magazine, PhoneScoop, PhoneArena, PhoneDog, Pocket-lint, RCR, Wireless, Reuters, Slashgear, Smartphone, T3, technologizer, TechWeb, TelecomTV, teltarif.de, TheStreet.com, Tietovikko, Times of India, ubergizmo, the Verge, Which?, Wired, Wireless Investor, Wired, Wireless Telecom, Wireless Week, and ZDNet.
About WatzOn.TV

Founded in 2013, WatzOn.TV is a worldwide innovator in on-demand video content streaming. The company offers a suite of applications designed to push video content out to any user who uses an iPhone, iPad, Android or computer and enjoys on-demand streaming content and content curation. The ease of use and integration with video mediums make it easy to use and accessible anywhere there is Wi-Fi or internet connectivity. WatzOn.TV will be presenting their new technology at CES and SXSW Interactive, top interactive trade shows in 2014. For more information on WatzOn.tv: http://www.WatzOn.TV