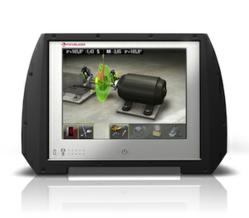 Richmond, Virginia (PRWEB) April 10, 2013
The new Fixturlaser NXA Pro laser-based shaft alignment tool utilizes the latest technology in digital signal processing, as well as other innovations, to provide faster and even more intuitive operation, but with advanced functions and capabilities.
"A revolution in usability" says Elos Fixturlaser's CEO Hans Svensson about the new high-end system for precision shaft alignment, the Fixturlaser NXA Pro. "If we can provide the ultimate shaft alignment system when it comes to usability, we will help thousands of companies worldwide to become more efficient, reducing waste of both components and energy. We believe strongly that if all rotating equipment in the world were aligned within specifications we would have a much healthier environment. An alignment system that is as easy to use as the Fixturlaser NXA Pro will pave way for this result."
The new Fixturlaser NXA Pro alignment system replaces the Fixturlaser XA Professional system, incorporating numerous innovations and improvements. The innovations start with a new display unit with a 6.5inch touch screen with video game style realistic graphics and include a completely redesigned set of transmitter/detectors.
A MEMS (microelectromechanical systems) gyroscope in the display unit powers the new OmniView function. With OmniView, the screen display changes in real time to always show the machine being aligned from the same viewing angle as seen by the operator, i.e., the system logs the users position and keeps track of it in relation to the machine. No other laser alignment system can do this.
The new sensors use a 2nd generation scientific grade CCD technology with 'best-in-class' accuracy as well as increased reliability. Resolution of the 30 millimeter vertical sensors is equivalent to the vertical resolution of ultra high-definition television. Updated algorithms improve the sensors performance for linearity, sidespot and dirt rejection, and ambient light filtration.
The redesigned sensors now offer the smallest form factor on the market, with batteries and Bluetooth communication built-in, providing for easier access on machines with limited space. The new high performance inclinometers incorporated into the sensors have 2.5 times higher accuracy and 10 times higher resolution than the previous generation. In addition to the new inclinometers, the sensors also have built-in MEMS gyroscopes, allowing the system to track shaft rotation angle, even when placed in the vertical orientation required for performing a vertical shaft alignment. No other laser alignment system can do this.
Power management has been completely redesigned for the new NXA Pro to provide the industrys best operating times while using 40% less power. The system operates, under continuous use, for up to 10 hours between charges. (The sensors can continuously measure for 17 hours without charging.) Also included is an advanced 1-hour quick-charge feature.
Reporting and data management has also been updated. Reports can easily be downloaded to a USB drive.
The Fixturlaser NXA Pro continues to support the Verti-Zontal Compound Move
New 4 Axis Receiver Solves Industrial Alignment Problems











Peabody, MA (PRWEB) July 15, 2009
Pinpoint Laser Systems® is announcing a new four axis Microgage Receiver that provides useful alignment information for evaluating and correcting machinery alignment problems. The new 4D Microgage Receiver measures two linear axes X and Y and their two angular components yaw and pitch. The two linear axes show how well machinery is aligned along a common centerline and the angular readouts show if parallelism problems are present. The new 4D Microgage Receiver is ideal for aligning lathes, turning centers, spindles as well as moving linear slides, rams and pistons, injection molding machinery, moving mechanical sub-assemblies and more. A compact, digital display provides precise linear and angular readings and is easy and intuitive to use.
4D Receiver in useThe method of operation is simple - a narrow laser beam provides a measuring reference line and the 4D Microgage Receiver measures where this laser line lands on an internal detector and determines the position of a machine or sub-assembly relative to this laser reference beam. This receiver will operate over distances of 100 feet or more and deliver a measuring precision of 0.0005 inch and 0.005 degrees; ideal for demanding industrial alignment applications. The Laser Microgage system along with this new 4D Microgage Receiver puts precise measuring and alignment capability right into the hands of plant engineers and manufacturing personnel so that they can monitor and optimize their own production machinery and equipment.
Since 1992, Pinpoint has offered a broad line of easy-to-use products that incorporate lasers, optics, electronics, and solidly built mechanical features. Customers use the tool for both routine and complex measuring and alignment tasks. Pinpoint's measuring equipment is actively used in the aerospace industry, machine ships, paper and textile mills, shipbuilding facilities, extrusion plants, and electronic assembly facilities to name a few. Pinpoint has also worked closely with many manufacturers to develop specialized alignment systems for robotic applications, medical scanning devices and numerous other applications.
For additional information on any of our Microgage products or editorial material, please contact Pinpoint Laser Systems at 800-757-5383 or visit our website at http://www.pinlaser.com.
###
©Copyright 1997-
, Vocus PRW Holdings, LLC.
Vocus, PRWeb, and Publicity Wire are trademarks or registered trademarks of Vocus, Inc. or Vocus PRW Holdings, LLC.
Related Ram Press Releases