(PRWEB UK) 24 October 2012
In the not so distant past, travellers thought of airport lounges as a businessmens travel extra, something a little special for the executives and VIPs amongst us who wanted the ultimate departure terminal experience. Well airport lounges have began to change and online travel extras comparison website Cheap.co.uk looks at whether an airport lounge is worth considering for the everyday, leisure traveller in their latest news article - Click to read Cheaps airport lounge guide as an overview on airport lounges.
Airport lounges have started to aim towards the leisure traveller noting that parents with young children may want a more relaxing experience in the terminal. Young children get extremely excited when going on holiday and a number of airport lounges have moved into this market offering means of entertainment for the little ones such as childrens zones, computer consoles, dvds and toys.
A spokesmen for the company advised: airport lounges have often been overlooked by the holiday maker but with prices as low as seventeen pounds and many offering reduced rates for children, a parent can really consider an airport lounge as a means of keeping the children entertained in the terminal. A parent and two children can often receive lounge access for around thirty seven pounds and what many forget to note is that in the terminal building drinks and food can be expensive but lounges often provide this within the initial rate.
The Leeds Bradford Premier lounge is a perfect example of this; the lounge is offering visitors the ability to play on games consoles and features a kids activity room. Lounges at Manchester airport are also following suit with a number offering Nintendo Wiis which will certainly keep the children busy.
Cheap.co.uk is an online comparison web site using a number of suppliers in markets such as airport parking, car hire, airport hotels and airport lounges.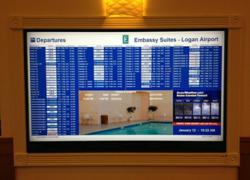 Boston, MA (PRWEB) January 24, 2012
Embassy Suites Boston at Logan Airport is providing guests with a new 21st century amenitya convenient digital signage total travel information center. The hotel installed an enhanced FlyteBoard display from Flyte Systems, the leading provider of real-time airline flight information and travel content for the hospitality industry, convention centers, and related businesses.
The new high-definition FlyteBoard provides guests with departures at Logan International Airport, a customized property reader board display of daily hotel meetings and events, updated weather and storm warnings, and breaking news alerts. Click here for more information on Flyte Systems airport travel information services.
Flyte Systems delivers a valuable service at a very reasonable cost

I worked with Flyte Systems at other Hilton properties and know that guests value Flytes reliable airline information displays. We wanted more at this property, and Flyte delivered a total traveler information package, said Joseph Sullivan, director of engineering and security for Aimbridge Hospitality at Embassy Suites Boston Logan Airport. The propertys FlyteBoard is a large flat panel monitor that displays the propertys meetings and events, airline activity at Boston Logan, and has a section that rotates between weather and US news headlines. We are very pleased with the finished product. This is a valuable service for guests at a very reasonable price. Flyte Systems is the only full service flight information display solution that provides real-time airline departure information.
No other digital signage company offered what Flyte Systems delivered

We evaluated other companies, but none of them offered what Flyte Systems could deliver, Sullivan said. Our new FlyteBoard is much more attractive and delivers more information than a standard reader board. We provide professional property meeting room photos and graphics to Flyte and they customized our board with Embassy Suites and Aimbridge Hospitality logos. Flytes airline information is absolutely essential to our guests; this saves our front desk staff time and enables us to run a more efficient guest service operation.
Real-time Flight Information

Flyte Systems offers a suite of products that serve the traveling public: FlyteBoard, FlytePass, FlyteChannel, FlyteTouch, and FlytePad with handheld mobile airline information.

AbTech Industries Announces the Completion of the Storm Water Treatment System for Albany International Airport Bulk Fuel Facility












Scottsdale, AZ (PRWEB) August 8, 2007
AbTech Industries today announced completion of a new stormwater pretreatment system installed as part of a recent capacity upgrade at Albany International Airport's bulk fuel refueling and storage facility. Albany International is operated by the Albany County Airport Authority.
The Albany County Airport Authority has a history of being environmentally proactive and stipulated that all designs for the fuel facility upgrade were to surpass existing environmental regulations including SPDES (State Pollutant Discharge Elimination System) for stormwater discharge standards for large volumes of processed stormwater from the bulk fuel facility. This was done to protect nearby Shaker Creek, a sensitive receptor leading to a downstream drinking water intake. AbTech Industries, Inc., a leader in turn-key stormwater treatment systems and developer of the Smart Sponge Technology, was brought in to help design a high-capacity stormwater pretreatment system that would meet the SPDES guidelines.
"We are proud to have been a part of this project," said Rodolfo Manzone, Chief Technical Officer (CTO) of AbTech Industries. "It was important for us to understand the needs of the Albany County Airport and to help them achieve their goals for a system upgrade that would expand its capacity as well as protect the environment and the community," he concluded.
The system design involving a stormwater lift station with liquid oil sensors and a bank of absorption filters which was developed and installed in conjunction with the project contractor, FPI Mechanical, of Cohoes, NY. AbTech Industries provided the Smart Sponge Technology filtration system in which chemically selective absorbing hydrocarbons encapsulate fuel from the stormwater into a stable solid which does not leach when land-filled. The spent filter media has been proven to be non-leaching (TCLP) and is suitable for land-filling or waste-to-energy disposal. The completed stormwater pretreatment system processes 250 gpm of stormwater with no bypass, ensuring that the entire flow is filtered to ensure that the effluent quality meets the SPDES permit discharge requirements.
"AbTech Industries is committed to developing water filtration systems designed to keep our water ways free of harmful bacteria and chemicals that that contaminate waters due to stormwater runoff" said Glenn Rink, President AbTech Industries. "The Smart Sponge water filtration technologies have been deployed in hundreds of communities across the country and are helping hundreds of beaches, lakes and reservoirs remain free of Ecoli and oil-based chemicals that can make people sick," he said.
The Albany County Airport Authority implemented the bulk fuel facility upgrade to ensure that Albany International Airport could maintain a reliable source of aviation fuels in all weather conditions for the foreseeable future, in an environmentally responsible manner.
About AbTech Industries:

AbTech Industries, Inc., based in Scottsdale, Arizona, provides communities and industries with customized solutions to control or remove petroleum products such as gasoline, oil & grease, sediment, trash and debris, while destroying bacteria that are threatening the quality of our nation's waterways.
AbTech's products incorporate a polymer-based filtration material, the Smart Sponge®, a technology that effectively removes pollutants from flowing or pooled water, encapsulating them so that they cannot be released back into the environment even under high pressure. In addition, AbTech is the first company to combine an antimicrobial agent in its filtration material and provide the first solution that effectively destroys bacteria at the street level. AbTech's products are deployed in over 36 states in several different applications, notably stormdrain-sewer systems, filters and vaults.
The Environmental Protection Agency has included AbTech's Ultra-Urban® Filter series with Smart Sponge technology as a Best Management Practice (BMP) under the federal environmental guidelines that apply to local and state governments.
Reflecting AbTech's overall commitment to environmental protection, the company creates products that are fully recyclable to provide a complete, closed-loop solution for hydrocarbon -- oil & grease; and trash and debris removal. AbTech Industries, Inc. also supports clean water advocacy initiatives throughout the world and is a strong supporter of Adopt-A-Waterway (formerly Adopt-A-Stormdrain) and the Waterkeepers Alliance, Inc.
###
©Copyright 1997-
, Vocus PRW Holdings, LLC.
Vocus, PRWeb, and Publicity Wire are trademarks or registered trademarks of Vocus, Inc. or Vocus PRW Holdings, LLC.
More Tech Press Releases
(PRWEB) August 19, 2010
Amsterdam Airport Schiphol, syncreon, DB Schenker, Red Prairie and TranPak have confirmed as sponsors and exhibitors for the Hi-Tech & Electronics Supply Chain Summit, November 9-10 in San Jose.
Schiphol and syncreon will be presenting to the audience of hi-tech supply chain executives and offering their perspectives on current supply chain issues facing the industry.
The 2 days of discussion will focus on 'Recession Hangover' issues such as reduced freight capacity, supplier instability, forecasting, S&OP and working with reduced resources.
The Summit comes as many hi-tech supply chains are facing a new breed of challenges, many of which are a direct result of the recession itself, or a result of actions taken to survive the recession.
Limited sponsorship and exhibition opportunities for the Summit remain and are available to companies offering an industry-leading supply chain service or solution to hi-tech or electronics manufacturers and retailers. Details on these opportunities can be found on the website, or by contacting eyefortransport directly.
Other confirmed speakers for the event include:

Cheryl Brown VP Global Operations & Supply Chain HP
Patrick McGivern SVP Global Supply Chain Verifone
John Sorci Vice President Global Operations Symantec
Si Gutierrez Former VP Supply Chain Netgear
Matt Tabisz 3PL Senior Operations Manager Samsung
Mike Madeleine Americas Freight & Logistics Manager EMC
Steve Blaz Director Blaz & Associates
Stan Aronow Hi-Tech Expert AMR
Linda Guzzi VP Supply Chain Applied Materials
Kevin Wrenn SVP PC Business and Product Operations Fujitsu America
Terry Wages Worldwide Logistics Manager Quantum Corporation
Deepak Yadav Sr. Director, Business Planning Sharp
Dave Mangelsdorf VP Global Logistics Verifone
Kevin O'Meara Director, Supply Chain Operations Whirlpool
Karl Braitberg Senior Director Global Demand Management Cisco
John Lowe Director of Logistics Google
###
Find More Tech Press Releases