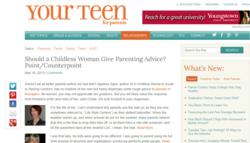 Beachwood, OH (PRWEB) May 31, 2013
With its new feature, Point/Counterpoint, Your Teen Magazine for Parents explores whether adults without kids have any right to advise parents on how to raise their children.
Two women share their viewpoints in Should a Childless Woman Give Parenting Advice? Point/Counterpoint.
Your Teen Magazine for Parents created the feature to prompt parents to think about whether they value or resent the opinions of childless adults.
View the full package here:

http://yourteenmag.com/2013/05/parenting-advice-from-a-childless-woman-2/
We were all perfect parents before we had kids. We all promised that our kids would never behave like those other kids. And then we had our own kids, Editor in Chief/Publisher Susan Borison shares. On the other hand, someone without children has a different and potentially valuable perspective to share. Our package already is triggering adamant discussions about the sensitive subject.
The Point/Counterpoint includes Ageleke Zapis, author of "A Childless Womans Guide to Raising Children" and Julie Cristal, a freelance writer and mom of two who weighs in with her parental rebuttal.
Here are some excerpts:
Ageleke Zapis:

When we were teenagers, we were never let loose at the mall to run wild and act up with our friends. We were at home doing homework or told to spend quality time with our family. (Truth be told, sometimes it was quality time and other times it was quantity time.) As far as my parents were concerned, hitching a ride with my friend Jackie to the mall was never an acceptable option. I was allowed to wander as far as my mothers voice would carry and not an inch further. (For the record, her voice carried down to the end of the block.)
Julie Cristal:

Mostly, I wish those who judge would pull up a chair the next time they see a group of loud, frozen-yogurt consuming teens and learn their backstories. Or visit a school. Most teens today are nothing short of magnificent and it gives me great hope for the future when I spend more than a few hours with several. They are kind and good and creative, using not only traditional artistic mediums, but those that involve crayons being replaced with computers.
About Your Teen Magazine:for Parents
Your Teen addresses the challenges inherent in raising teens and helps parents of teens to continue the journey toward the goal of successful parent. In the magazine format, parents can post questions, offer personal tactics and hear the different perspectives of professionals, other parents and teenagers on relevant topics. Your Teen hopes to ease the worry.
Your Teen is available in Barnes & Noble.
Find More Computer Press Releases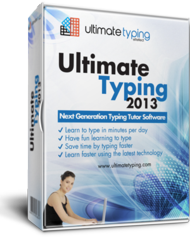 New York City, NY (PRWEB) December 24, 2012
Children born in the 21st century have come into a world where computers are used for everything. Computer games teach 4-year-olds their letters and numbers, and even primary school children are often required to use the computer for their homework. Because of this, a 21st-century typing tutorial program needs to be able to teach better typing skills to anyone, both children and adults alike.
This is one of the specific design goals that the developers of Ultimate Typing software aimed for, keeping in mind that typing faster is a valuable skill set that can benefit people of all ages. With over 220 scientifically designed lessons, as well as the 600-plus practice exercises and games, there is something for everyone in this typing software.
Making the exercises varied is only one of the many important steps that the makers of Ultimate Typing have taken to ensure optimal results for the users. Holding the user's interest during lessons is one of the most important factors in kind of tutorial program. Since Ultimate Typing was designed to be versatile, and to keep people interested no matter their age, the developers deliberately provided a lot of options for creativity and personalization in the learning process. They also incorporated fun games and reading materials suitable for children as well as adults.
Since Ultimate Typing is easily used by both children and adults alike, it's obvious that Ultimate Typing is software that can definitely be enjoyed by the entire family. Friendly competition among brothers and sisters might even add to the interest, and the element of speed has always been key to many kinds of contests children enjoy.
Since the program has a multi-user capacity, each family member can easily open their own individual account. The progress tracking is done by user, with helpful graphs and charts showing individual progress on speed and accuracy as well as finger dexterity.
For both adults and children, effective learning can be as simple as making an educational activity fun and entertaining to keep the learners interested and motivated. With so many options available with Ultimate Typing, effective learning is guaranteed, and all that's necessary is regular practice to improve typing skills.
For more information about the Ultimate Typing software, visit http://www.ultimatetyping.com/.
About Ultimate Typing
Ultimate Typing Software is a tutorial program designed specifically for the improvement of typing skills. It was created by eReflect, a world leader in e-learning and self development software.
Since its creation in 2006 by its director, Marc Slater, the company has already catered to over 112 countries all over the world, offering products with the latest cutting-edge technology, some of which are among the worlds most recognized and awarded in the industry.
Sherman Oaks, CA (PRWEB) September 16, 2012
They arrived at the Exceptional Minds studio classroom this week with flash drives, headphones, and high expectations. Lloyd returned with his collection of drawings to be rendered, Kevin brought his latest animated adventures of Salsa Joe. Some came from Hollywood a few miles away, others from as far away as Hawaii.
Fifteen students with six movie credits between them, including those for major motion picture Lawless, greeted each other with a mixture of high-fives and half-smiles on September 10 as the second vocational year began at Exceptional Minds, a unique school and working studio for young adults on the autism spectrum.
If our second year is anything like our first, be prepared to be blown away by the talent in this room, commented Exceptional Minds Program Director Ernie Merlan, referring to a year of many firsts at the school and working studio. Among the highlights of the studios first year in operation were visits to and by DreamWorks and Warner Brothers, support from actors Tom Hanks and Ed Asner, and paid movie projects as well as being featured on the CBS evening news.
Exceptional Minds was established in 2011 as a bridge between high school and the working world for those with Autism Spectrum Disorder (ASD). Now viewed as the poster child for whats next for the tidal wave of ASD individuals about to enter the workforce, Exceptional Minds is one of the first vocational schools and working studios to address the unique skills and aptitudes of young adults on the spectrum. The three-year program includes technical training for Adobe (ACA) certification, job readiness skills and a professional reel/portfolio that graduates can use to seek employment in the fields of animation, computer graphics and visual affects.
San Francisco, CA (PRWEB) August 16, 2012
The survey reveals that U.S. adults with children under 18 years old living in their household (parents) are more likely to use their mobile phones for shopping-related activities compared to those without children under 18 years old in their household (non-parents). In fact, parents showed more activity than non-parents across all aspects of digital commerce (mobile and online) - from making purchases via mobile phones to receiving text and email alerts, and taking action on them.
The data comes from the third wave of a poll commissioned by Placecast and conducted online by Harris Interactive among 2,262 U.S. adults ages 18 and older earlier this year. A primary goal of the poll, titled The Alert Shopper III, was to uncover how Americans use their mobile devices related to shopping from coupons and offers, to finding a store, to purchases.
Twenty-seven percent of parents made an online purchase via their smartphone in the past year as compared to 17% of non-parents. The survey also found that parents are three times more likely than non-parents to make a purchase due to a text message from a retailer (9 percent of parents, versus 3 percent of non-parents). Parents are twice as likely to check-in to a location-based social network using their phones, when compared to non-parents. (11 percent versus 5 percent).
The survey revealed that over half of the parents surveyed own smartphones, compared to just over a third of non-parents (52 percent versus 35 percent). Parents have come to rely on their mobile phones to make their lives easier whether that means using the GPS on their phones to find a retailer, receiving text alerts from merchants, making an online purchase using their phones, or redeeming an offer from a daily deals company like Groupon. In all of these areas, parents reported a greater rate of use on their phones within the past year, when compared to non-parents. The data also shows that parents are twice as likely to use their phones GPS to find a store as non-parents are, and also twice as likely to download an app from their favorite merchants (40 percent versus 22 percent). (chart 1)
Armed with smartphones, parents have discovered ways to save money, save time, and get the best offers. The Placecast survey showed that parents of young children (under 6 years of age) are more interested in text marketing for certain products and services - like home furnishings, sporting goods, travel services, convenience store items and particularly coffee and beverage promotions - half of all parents with kids under six reported that they would be interested in text alerts for coffee and beverages. (chart 2)
It was also found that people with children under 18 in the household also actively sought out promotions and discounts more this year than in the past year compared to non-parents; 7 percent of the non-parents signed up to receive text alerts from retailers, compared to double that number (14 percent) of parents who said they signed up for text alerts. (chart 3)
As brand marketers grow more aware of Parent Power on mobile, they can tailor programs to meet their interests and needs, says Placecast CEO Alistair Goodman. In terms of m-commerce, parents are showing that they are early adopters. Brands that know how to connect with tech-savvy parents are going to see greater ROI in this back-to-school season.
Any parent can confirm how having a child changes your behavior with technology and shopping, says Kathryn Koegel, Chief of Insights for Primary Impact consulting, which worked with Placecast and Harris Interactive to develop the poll. You go from being able to check your computer as often as necessary to a constantly on-the-go lifestyle where mobile computing becomes essential and a critical timesaver. Parents in playgrounds are shopping for a variety of goods and most significant for retailers, they are using their phones for retail activities in stores. They are the most likely demographic sector to have purchased an item on their phone in a store. This is an amazing opportunity and challenge for retailers to drive loyalty rather than send people to a competitor.
This research marks the third survey conducted online by Harris Interactive on behalf of Placecast similar studies were conducted in summer of 2009 and winter of 2010. The results collectively make up a series called The Alert Shopper, a tracking study conducted to understand shifting consumer usage and attitudes about marketing on mobile phones. 2262 adults, from a nationally representative sample, were surveyed in February 2012.
To learn more about Placecast research, visit http://www.placecast.net
BREAST AUGMENTATION ISSUES SERIES SOFTWARE NOW AVAILABLE ONLINE FREE FOR ADULTS











(PRWEB) October 21, 2001
ORANGE COUNTY, CA -- BREAST AUGMENTATION ISSUES, a fully functional software series, is now available online via John Di Saia's Plastic Surgery Interactive web site. Each issue covers a topic of potential import to the woman considering breast augmentation. The first two issues are currently online for download and installation on user computers. The first deals with goal size for the augmented breast and the second with implant position "Over" versus "Under the muscle."
The model for issue of the product is via adult verification and download. The service chosen does not levy a charge but does require information in screening the potential user. The modest revenue realized helps defray bandwidth costs and the system keeps utilization by minors to a minimum. As the program is illustrated with patient semi-nudity, the issue of minimizing access by minors has become an issue. The average adult can be cleared to then download the software in minutes.
BREAST AUGMENTATION ISSUES will run in Windows 9x or NT. The program introduces potential patients to breast augmentation "one issue at a time" with illustrations and pertinent information. The installation is polite with an uninstall option. Actual breast augmentation patient images are included. For the best program performance, hi color (16 bit or above) video should be present. A 486 with 16 MB of RAM will run the program, but the screens will load much faster with a Pentium(TM) or better CPU utilizing 16 MB of RAM or more.
For more information, please access the web site:
http://www.psinteractive.net/software.htm
PLASTIC SURGERY INTERACTIVE is the brainchild of plastic surgeon John Di Saia, M.D. who developed both the web site as well as several programs for patient education over the last five years. The web site at present has served over 100,000 visitors.
©Copyright 1997-
, Vocus PRW Holdings, LLC.
Vocus, PRWeb, and Publicity Wire are trademarks or registered trademarks of Vocus, Inc. or Vocus PRW Holdings, LLC.
More Ram Press Releases