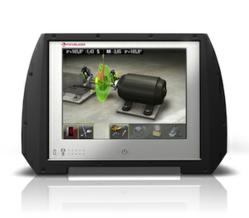 Richmond, Virginia (PRWEB) April 10, 2013
The new Fixturlaser NXA Pro laser-based shaft alignment tool utilizes the latest technology in digital signal processing, as well as other innovations, to provide faster and even more intuitive operation, but with advanced functions and capabilities.
"A revolution in usability" says Elos Fixturlaser's CEO Hans Svensson about the new high-end system for precision shaft alignment, the Fixturlaser NXA Pro. "If we can provide the ultimate shaft alignment system when it comes to usability, we will help thousands of companies worldwide to become more efficient, reducing waste of both components and energy. We believe strongly that if all rotating equipment in the world were aligned within specifications we would have a much healthier environment. An alignment system that is as easy to use as the Fixturlaser NXA Pro will pave way for this result."
The new Fixturlaser NXA Pro alignment system replaces the Fixturlaser XA Professional system, incorporating numerous innovations and improvements. The innovations start with a new display unit with a 6.5inch touch screen with video game style realistic graphics and include a completely redesigned set of transmitter/detectors.
A MEMS (microelectromechanical systems) gyroscope in the display unit powers the new OmniView function. With OmniView, the screen display changes in real time to always show the machine being aligned from the same viewing angle as seen by the operator, i.e., the system logs the users position and keeps track of it in relation to the machine. No other laser alignment system can do this.
The new sensors use a 2nd generation scientific grade CCD technology with 'best-in-class' accuracy as well as increased reliability. Resolution of the 30 millimeter vertical sensors is equivalent to the vertical resolution of ultra high-definition television. Updated algorithms improve the sensors performance for linearity, sidespot and dirt rejection, and ambient light filtration.
The redesigned sensors now offer the smallest form factor on the market, with batteries and Bluetooth communication built-in, providing for easier access on machines with limited space. The new high performance inclinometers incorporated into the sensors have 2.5 times higher accuracy and 10 times higher resolution than the previous generation. In addition to the new inclinometers, the sensors also have built-in MEMS gyroscopes, allowing the system to track shaft rotation angle, even when placed in the vertical orientation required for performing a vertical shaft alignment. No other laser alignment system can do this.
Power management has been completely redesigned for the new NXA Pro to provide the industrys best operating times while using 40% less power. The system operates, under continuous use, for up to 10 hours between charges. (The sensors can continuously measure for 17 hours without charging.) Also included is an advanced 1-hour quick-charge feature.
Reporting and data management has also been updated. Reports can easily be downloaded to a USB drive.
The Fixturlaser NXA Pro continues to support the Verti-Zontal Compound Move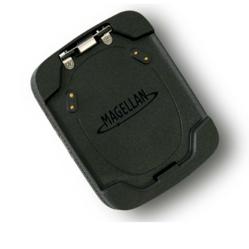 Bozeman, MT (PRWEB) August 04, 2012
The all new Magellan Switch features excellent data and accuracy for cyclists, runners and outdoor sports enthusiasts according to the Heart Rate Watch Company.
"These are some great new GPS fitness products, great design, rugged, offers cycling and running data and is priced below comparable models from other manufacturers", says Rusty Squire, President of the Heart Rate Watch Company. He adds, "If there is any drawback it is that it does not make a great day-to-day time piece because the time is in the menu and you must also manually save each activity before powering the device down".
Where the Switch by Magellan does shine is in the accuracy of its GPS and its ability to measure pacing in either minutes per mile or in miles per hour, along with its ability to connect to ANT+ compatible devices like foot pods, power meters for cycling, chest straps and other accessories.
Magellan Switch also twists out of its wrist band allowing you to mount to a bike, with optional multi-sport mounting kit, and it also allows you to change the lithium-ion rechargeable battery by using a back-up battery that can increase the useful life in GPS mode another 14 hours, the regular Switch battery lasts about 8. "This is one thing that always bugged me with other GPS watch units and that was no user changeable battery option because once it was dead you only had one choice, wait for it to re-charge", says Squire. He adds, "For ultra runners and athletes who wish to measure an activity period of longer duration this extended battery solves a big problem - extended power".
The Magellan Switch was just released in July and comes in two versions, one with a heart rate strap and one without. The one without the strap is for those who only want pacing data or already own an ANT+ chest strap and do not wish to duplicate the expense. The Magellan GPS watches are a great new arrival from a trusted name in GPS technology.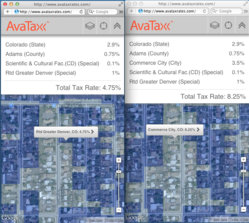 Bainbridge Island, WA (PRWEB) March 28, 2012
Can an app add interest to sales tax calculation? Avalara, the market leader in sales tax automation for businesses of all sizes, says its new Avatax Rates app does that and more.
Specifically, the Avatax app offers a free, easy way to look up sales tax rates across the U.S. through a touch map interface with clear, detailed delineation of the 11,000+ sales tax jurisdictions nationwide. Avatax Rates is fueled by Avalaras industry-leading geo-location engine, which calculates precise sales tax rates based on geographical coordinates. This allows Avalara customers including mobile users to accurately conduct business from virtually any place on earth.
From a visual perspective, the Avatax app provides a graphical map interface that shows tax jurisdictions overlaid on a map, giving users an interesting opportunity to see precise sales tax boundaries and corresponding rates, which can vary drastically block by block.
Sales tax boundaries can be amazingly arbitrary. There are countless examples like Commerce City, Colorado where the tax regions go back and forth in same neighborhood, said Jared Vogt, Chief Strategy Officer at Avalara. Because Avatax calculates sales tax data based on exact geospatial location instead of zip codes were able to provide the right rate with pinpoint accuracy, even if the transaction is in a new construction site, a transitory farmers market, or on an offshore oilrig.
This unmatched level of accuracy gives businesses many advantages, including greater risk mitigation in the event of an audit, and reduced customer service issues related to incorrect tax rates. Avalara also provides businesses the ability to file and remit sales tax with the highest level of confidence.
The free Avatax Rates app is available for Android, iPhone and iPad users and can be found at http://www.avataxrates.com, Google Play, Apple and Amazon app stores. Additionally, AvaTax Rates works as a web app on all major browsers.
About Avalara

Avalara is the leader and visionary in sales tax automation for businesses of all sizes. It simplifies the complexity associated with sales and use tax and in the process makes compliance achievable by all.
Avalara partners with nearly 170 of the worlds leading accounting and commercial software publishers to accomplish this. Its web-based offering provides the most complete set of transactional tax compliance services available, including tax calculation, exemption certificate management and returns processing. It also offers 1099 filing and reporting.
Avalara currently serves more than 60,000 registered users globally and calculates VAT, sales and use taxes on more than 750 million transactions annually. It also manages more than 1.5 million exemption certificates, submits approximately 500,000 returns and files and remits nearly $ 10 billion in sales and use tax collections per year.
Established in 2004, Avalara is a founding member and Certified Service Provider of the Streamlined Sales Tax initiative and one of the fastest-growing companies in America. It employs more than 250 professionals at its headquarters on Bainbridge Island, WA and offices in Seattle; Irvine, San Diego and Rocklin, CA; Falls Church, VA and Pune, India.
Innovative New Computer Program to Assess Diabetes Risk with Increased Accuracy











(PRWEB) November 9, 2005
An original intelligence system is on course to becoming the first multidisciplinary diagnostic tool for diabetes, thanks to a unique algorithm developed by computing studies professor, Alma Barranco-Mendoza, PhD, at Trinity Western University.
The innovative computer program currently being prototyped at the University is designed to help health professionals identify people at risk of developing Type 2 diabetes with increased accuracy. While there is currently no cure for the disease that afflicts over two million Canadians, Type 2 diabetes—the most prevalent of the two types—is preventable.
"There are effective diagnostic tools available to doctors and nurses," explains Barranco-Mendoza who has already landed nominations for the 2004 BC Systems Institute Innovations Award and the 2005 NSERC PhD Dissertation Award, "but none of them employ intelligent profiling. Their capabilities are limited to a general estimate of risk since they are only able to take one risk factor into account."
Barranco-Mendoza's sophisticated algorithm is capable of assessing and weighing numerous risk factors—including lifestyle, race, genetic information, family history and pancreas tissue images. This algorithm sets Barranco-Mendoza's computer program on course to becoming the first multidisciplinary diagnostic tool for diabetes. Instead of delivering a general reading of low, medium or high—what patients currently receive—the new program will express risk as a specified percentage.
"Dr. Barranco-Mendoza developed a unique, highly original algorithm that represents an outstanding contribution to the field of Computing Sciences," says Veronica Dahl, PhD, Professor of Computing Science at Simon Fraser University and Barranco-Mendoza's PhD Supervisor. "It rests on state-of-the-art developments in logic programming, but it goes far beyond. By incorporating complex theories, the program is able to simultaneously consult and draw inferences from diverse and even incomplete sources."
Additionally, Barranco-Mendoza's making headway in diabetes research data collection, representation and analysis, collaborating with the BC Genome Sciences Centre and the Medical Image Analysis and Diabetes Research Laboratories at SFU. Together these groups can develop more comprehensive profiles of "at-risk" patients, thereby increasing the understanding and precision of diabetes risk-assessment in general.
"Once a certain amount of data is gathered," says Barranco-Mendoza, "the intelligent system will start learning by itself. It would mine the data and identify trends not evident to us. It is believed that there may be DNA markers for the disease and if we can identify them we're on our way to finding a fast and effective early diagnostic test and even possibly making headways to eventually find a cure."
This research was made possible by the TWU Diabetes Research Endowment Fund, initiated by a generous 2M dollar donation. Other three-year diabetes research projects underway include:
    Investigation of the disruption of insulin signalling for examining specific cell behaviours regulating glucose metabolism (TWU biologists)

    Partnership with a local First Nations community exploring strategies to identify and reduce risk factors for Type 2 diabetes in aboriginal youth (TWU nursing and kinesiology departments).
Trinity Western University, located in Langley, B.C., is a not-for-profit Christian liberal arts university enrolling over 3,300 students this year. With a broad based, liberal arts and sciences curriculum, the University offers undergraduate degrees in 38 major areas of study ranging from business, education and computer science to biology and nursing, and 14 other graduate degrees including counselling psychology, theology and administrative leadership.
# # #






Attachments




©Copyright 1997-
, Vocus PRW Holdings, LLC.
Vocus, PRWeb, and Publicity Wire are trademarks or registered trademarks of Vocus, Inc. or Vocus PRW Holdings, LLC.
Time Interval Counter with 1 Picosecond Single-Shot Accuracy











San Rafael, CA (PRWEB) March 14, 2011
Berkeley Nucleonics Corporation is excited to introduce the Model 1120 Time Interval Counter (TIC). The Model 1120 represents a breakthrough in signal measurement with 1pS resolution on a single-shot. For repetitive waveforms, the jitter is typically 10 ps. The start and stop inputs allow for a wide dynamic threshold range and as well as slope select.
"Setting a threshold for the input trigger reduces the likelihood of a false ready", stated Test Engineer, Mark Slattery. "The controls via ethernet are convenient for reproducing a test routine or automating setup tasks."
The Model 1120 includes a simple, front panel interface to allow researchers to modify setup parameters without the need for a remote PC interface. The recorded data is stored in the Model 1120's non-volatile RAM for later readout (front panel or Ethernet).
Event counting up to 10MHz is standard with the Model 1120 for periodic and aperiodic counting requirements. The event counter has a range of 10,000,000 counts and provides front panel or remote data reporting based on the setup parameters selected.
The ability to capture and measure signals is fundamental to Berkeley Nucleonics. The company's flagship Pulse and Digital Delay Generators offer sub-nanosecond timing control of up to 32 edges in a single digital delay generator. High Voltage Pulse Generators allow users to select amplitudes up to 800V with fast rise times and nanosecond delay and width resolution. Light Pulse Generators provide optical and electrical outputs with 100mW of light at wavelengths from 450nm to 1580nm. More details on the complete benchtop line of test equipment is available at http://www.berkeleynucleonics.com or 800-234-7858.
About the Company –
Berkeley Nucleonics was founded in 1963 as a spin-off of the Lawrence Berkeley National Laboratory (LBNL) in Berkeley, California. The company manufactures lines of instrumentation for medical, nuclear, physics and chemistry fields. Customers are serviced by a network of approximately 50 international and domestic agents and service centers. The company is routinely cited for contributions to the advanced research of US federal agencies and various large academic institutions. New products for 2011 include a 16 Channel Pulse and Delay Generator, an Arbitrary Waveform Generator, a 40pS Universal Counter / Time Interval Counter and a growing line of 100MHz – 500MHz Oscilloscopes.
###






Attachments




©Copyright 1997-
, Vocus PRW Holdings, LLC.
Vocus, PRWeb, and Publicity Wire are trademarks or registered trademarks of Vocus, Inc. or Vocus PRW Holdings, LLC.