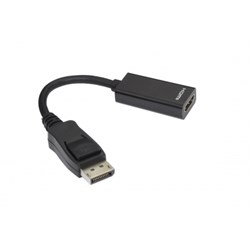 (PRWEB) January 12, 2014
Hiconn Electronics is a leading online supplier of top quality adapters. Recently, the company has introduced its new designs of DisplayPort to HDMI Adapters.
"We are glad to announce our new products. With our new production line, our productivity has increased a lot, which means a lower than average price on each item. So, we'd like to offer discounts on our new DisplayPort to HDMI Adapters. Customers who place an order before January 30 can get a discounted price, up to 30% off," the CEO of the company says.
Here is some detailed information about the new adapters:
--Compliant with DisplayPort specification 1.1a for both 1.62 Gbps and 2.7 Gbps

--Support full DisplayPort link tracking

--Support resolutions up to 1920 x 1200 pixels and HDTV resolutions up to 1080p

--Compliant with HDMI specification up to 2.25Gbps

--Support deep sleep mode (suspend mode)

--Latching DisplayPort® connector ensures a solid connection

--Easy to use cable, no software required

--Ideal for digital entertainment centers, home offices, business conference rooms and trade show displays

--Keep your existing HDMI-enabled monitor to be used with your new --DisplayPort device

--Ideal for using your HDMI monitor as a secondary display
In addition, the company has decided to explore its effluence in the USA and Australian markets, which are very important for every electronics supplier. According to the CEO, many clients are satisfied with the company's products, especially adapters and converters.
About Hiconn Electronics

Hiconn Electronics (Shenzhen Hiconn Electronics Co. Ltd.) is devoted to designing and manufacturing a wide range of connection cables and customized cable assemblies, offering many HDMI cables, VGA cables, SATA cables, USB cables, 1394 cables, DVI cables, SCSI (Small Computer System Interface) and more. For more information, please visit http://www.hiconn.net/.
Contact Person: James Yin (Sales Director)

Company Name: Shenzhen Hiconn Electronics Co., Ltd.

Address: Shenghua Building., Xixiang Road., Baoan District, Shenzhen, Guangdong Province, China

Zip Code: 518102

Tel: +86-755-8109 8345

Fax:+86-755-2779 3497
Related Computer Press Releases