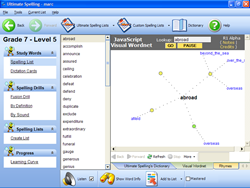 New York City, NY (PRWEB) January 12, 2014
eReflect has always been a proponent of distributing no-cost quality content for people who either don't have the time to purchase spelling improvement software or those who cannot afford one. The latest mini-guide on how to improve spelling skills through a series of five simple steps has now been made available to everyone by eReflect, through Slideshare.net. This guide's aim is to offer a rudimentary basis for understanding the complexities of learning to spell and how spelling improvement actually takes place.
The first step towards spelling efficiency is being aware of any personal weaknesses. Knowing the weaknesses that slow down learning, and identifying strong points that will improve the study process, helps ensure that the learner will be able to emphasize those areas that need it the most. For instance, many people find it hard to spell homonyms such as their, they're and there, or cannot figure out when the "i before e rule" applies and when it doesn't. So if the learner knows that they tend to omit the often unpronounced letters in adverbs such as completely and basically, spelling them as completely and basically, focusing on paying attention to this habit will help, through practice, teach the correct orthography once and for all.
Apart from the advice to practice spelling through games, flash cards and other spelling activities, this guide draws spellers' attention to their visual memory and how it can facilitate learning to spell and improving writing skills. A word's spelling is visually stored in the brain, so by taking advantage of this brain feature a person can quickly become better at spelling because they can visually recall accurately any word's spelling no matter its difficulty level. Many people cannot tell if they got a word's spelling correct unless they write down that word and look at it. What this actually means is that a person tends to draw on their visual memory to judge whether a word has been spelled correctly. eReflect hopes that these and other tips in their new five-step spelling improvement no-cost guide will help more people become better at spelling and writing.
For more information about how Ultimate Spelling software can improve spelling performance for you and your family, please visit the official website at http://www.ultimatespelling.com.
About Ultimate Spelling™
Ultimate Spelling provides a modern and easy to use spelling software that has been designed with one goal in mind – making children want to learn.
It is a fast and easy way to master even the most complicated spelling, without the need to write long lists or complete boring tests.
In fact, Ultimate Spelling provides more than just spelling help. It is a complete educational resource that boosts all level of a child's literacy.
Containing a personal computer tutor, Ultimate Spelling is the most realistic step-by-step guide to flawless spelling ability.