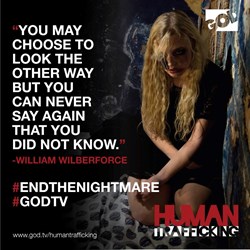 Plymouth, Devon (PRWEB UK) 15 January 2014
"20.9 million people are victims of human trafficking. 27% of victims detected globally are children. There is a 1%-2% chance of a victim being rescued." - International Labour Organisation – (ilo.org)
GOD TV is broadcasting a compelling 'Human Trafficking Season' throughout January 2014 to create awareness about one of the most evil practices in the world today. "The Church cannot remain silent on this issue," said GOD TV co-founder and CEO, Rory Alec. "We need to speak out with one voice and each do our part to end the nightmare of Human Trafficking."
Some of the advocate groups being featured on GOD TV during the Human Trafficking Season include: Exodus Cry (Benjamin Nolot); The A21 Campaign (Christine Caine); Love 146 (Rob Morris); Agape International Missions (Don Brewster) and XP Missions (Patricia King).
The network is airing films, documentaries, and conference sessions that seek to find solutions to Human Trafficking, as well as its own original material. Being interviewed on GOD TV's flagship series, In Depth, are Ben Cooley of Hope for Justice in the UK and Danielle Strickland of Stop The Traffik, Canada, with presenter, Liz Ray.
Human Trafficking Season on GOD TV this January includes the following films:

    Nefarious - Merchant of Souls, an award-winning production that exposes the extreme wickedness of sex slavery. Produced by Exodus Cry's Benjamin Nolot;
    The Pink Room, a heart-wrenching movie that offers hope, a story of redemption, rescue, restoration, reintegration and prevention set in Cambodia;
    Sex & Money, a gripping documentary that follows a group of students travelling across the USA on "A National Search for Human Worth".
Broadcast times can be found on god.tv, where the programmes are also available via video on demand. (god.tv/humantrafficking/vod) Viewers are being asked to sign a pledge to end trafficking that includes prayer and other practical steps like taking a stand against pornography.
A joint social media effort is also underway on Facebook and Twitter using the hashtag, #EndTheNightmare. GOD TV and the many advocate organisations who have provided programming are creating a buzz as viewers share or retweet about this month's programming.
"As a Christian Television broadcaster I believe it's imperative to illuminate this issue as God is calling many people to put an end to Human Trafficking," said GOD TV Co-founder and Director of Television, Wendy Alec. "He is calling us to rise up like Abraham Lincoln and William Wilberforce did in their day, and help eradicate modern-day slavery."
Other programmes coming up this month in the Human Trafficking Season focus on:

    Exodus Cry's Abolition Summit where Don Brewster of Agape International Missions examines how believers should respond to both the victims and perpetrators;
    Annie Lobert, the founder of Hookers for Jesus shares how she was once trapped in the sex industry, but is now free;
    Well-known Bible teacher, Joyce Meyer shares her heart for the enslaved, featuring Christine Caine and the A21 campaign that exists to abolish injustice.
     Patricia King talks about XP Mission's project to help young girls sold by their mothers.
In addition to its programming, GOD TV assists charitable causes such as Mercy Ministries (mercyministries.co.uk), which helps young women recognise their true value.
GOD TV can be watched throughout the UK on SKY (580), Freesat (694), Virgin (279) and Freeview HD. Viewers can also watch via the Internet: on their smartphone via the GOD TV App; computer (god.tv); or TV screen, through a Roku device.
Contact: GOD TV's Head of Ministry Development, Dean Seddon at dseddon(at)god(dot)tv

Prepared by GOD TV Communications Officer, Al Gibson.
About GOD TV: GOD TV was founded in London in 1995 by media entrepreneurs, Rory and Wendy Alec and has since grown into a global network. GOD TV is owned by several Angel Charities internationally, including the Angel Foundation in the UK. The network's worldwide broadcast license is held by Angel Christian Television Trust Inc., a US not-for-profit corporation and its charities adhere to the UK Evangelical Alliance Basis of Faith. GOD TV transmits worldwide from Jerusalem providing free viewing to a potential viewership of 900 million people. The network has offices internationally including Sunderland and Plymouth in the UK. In addition to its extensive media outreach, GOD TV helps people in charitable ways, supporting orphanages, feeding programmes and life-giving water projects.