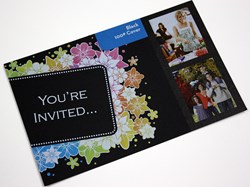 Chaska, Minnesota (PRWEB) October 09, 2013
Smartpress.com is excited to announce that it now offers the option of white ink printing on color paper, as well as on clear vinyl decals, labels and window clings. Smartpress.com is a leader in online printing and a provider of quality digital printing services, including business card printing, wedding invitation printing and an assorted variety of other custom print offerings.
White ink printing opens up a new world of graphic design possibilities for digital print projects. Simple white ink on colored paper is quite striking and its appeal is hard to replicate with other processes for short run printing. Including white ink as a fifth color in the CMKY process provides a unique look for wedding invitations and business cards that recipients are sure to notice.
"Customers have wanted white ink printing to be available for quite a while. We really wanted to do it right, so we've been working on developing this capability for months," said Chuck Reese, President at Smartpress.com. "We're so thrilled to finally announce this new offering to our customers, and with Smartpress.com's commitment to quality and 100% satisfaction, we're sure they'll be pleased with the results."
Until now, ordering white ink printing meant finding a foil stamping printer that offers both colored paper stock and white ink. Often when both are offered, choosing white ink means that the entire design, including text, would have to be white, without the additional four-color options. Furthermore, most printers that offer white ink printing restrict design choices to a handful of templates, inhibiting creative freedom. Finally, typical white inks are translucent, causing the design to inherit the hue of the paper on which it is printed.
The white ink that Smartpress.com uses is different. The white ink is printed digitally, which lends itself to significant design freedom and choice. With this method, any short run white ink printing is more affordable and achievable when compared to custom foil stamping or silk screen printing, whether it is for wedding or promotional campaigns. While it is slightly translucent, full color plus white ink on color paper stock, or white ink on Kraft colored paper, provides the look many designers have been seeking.
New colored paper options at Smartpress.com are the perfect base for white ink print designs. Apple Red, Black, Coco Brown, Gold Leaf, Navy Blue or Kraft make attractive paper choices for white ink business card printing, save the date printing and other select printing services. White ink printing is also available on clear vinyl decals, labels and window clings.
See the white ink digital printing possibilities by ordering a free sample book from Smartpress.com - just pay shipping: http://smartpress.com/offering/samples.
About Smartpress.com

Smartpress.com is the fastest, easiest way to buy print online. The company prides itself on world-class customer service and attention to detail with 100% outcome satisfaction. The Smartpress.com advantage is providing a simple ordering process with fast turnaround at competitive prices. This 100% employee-owned company uses state-of-the-art digital presses with a wide selection of paper stocks, and has the ability to deliver top-quality results in quantities as small as a single piece. Smartpress.com provides sophisticated finishing options including a wide variety of print media, mounting substrates, laminates and digital die cutting. The company also has the capability to print photographic quality, large format prints; backlit graphics; magnets; and banners. In addition, they can execute full variable data and cross-media direct marketing campaigns. To see the wide variety of offerings and to learn more, please visit http://smartpress.com.