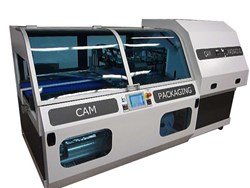 Toronto, ON (PRWEB) September 24, 2013
Consumers are complex and base personal food purchases not only on taste and price, but also on variables like product appearance, whether a product is locally sourced, organic, fair trade, or if packaging is eco-friendly.
Packaging subconsciously guides buyers; packaging that is transparent or can reseal is perceived to be a healthier food option. High quality foil packaging attracts shoppers that are looking for better quality products. Matte finish or gloss finish, packaging reseal options, weight of packaging, microwave compatibility, attractiveness in design and graphics and ability to hold and pour easily are packaging characteristics consumers are comparing when buying.
CAM Packaging Systems is mindful of emerging trends and offers food manufacturers equipment that matches their needs and can service both high-quality packaging solutions as well as multiple styles of packaging media. The company provides various manufacturing businesses with packing solutions that range from primary packaging to the finished palette and everything in between.
"The Canadian food manufacturing industry changes more machines each day than the American food manufacturing industry does in a month," states Gareth Kennedy, owner and president of CAM Packaging Systems in Aurora, Ontario. "In Canada, we have a lot of small volume due to a smaller population and varying consumer preferences – so equipment needs to be flexible and changeable."
Fluctuating trends in buyer personas require food manufacturers to use versatile packaging equipment that can adjust to frequent change-overs of both packaging style and point of sale presentation. To appeal to distributors and consumers, packaging style needs to be multi-useful with flexible features like the ability for a bag to stand on its own and for it to be hung.
Packaging remains relevant to almost every type of industry. Packaging needs to appeal to consumers in a way that will encourage shoppers to bypass the trusted brand and try something new.
In a world that demands convenience, these trends force food manufacturing companies to comply with ever changing consumer trends. "Your process should not adapt to your packaging solution," says Kennedy. "Show me a food manufacturing project and I'll match you with the equipment that will provide you with the best result."
For example, investing in a fully-automatic case erecting system and basic box-taping solution will not only save time and money, but at CAM Packaging Systems, the mid-level, cost effective packaging machines that can offer a 6-12 month return on investment compared to manual packaging assembly process, and potentially less depending on staff cost rates and manufacturing volume.
About CAM Packaging Systems
CAM Packaging Systems matches the right equipment that targets the complex packaging requirements of the manufacturing industry. With decades of industry experience, the CAM packaging company team provides innovative equipment for packaging solutions that will increase productivity, decrease waste and scrap materials and reduce cost per package for manufacturers. Shrink wrapping equipment and materials will help transform production without sacrificing quality or performance. Flexible packaging equipment is available in both durable and dependable and produces packaging options that are high quality, cost-effective and versatile.
Email: gkennedy(at)cam-systems(dot)ca