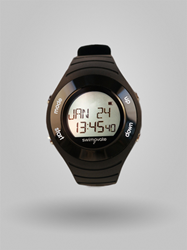 Birmingham, MI (PRWEB) September 29, 2013
The swim data analysis software that is used with the Swimovate PoolMate Pro and PoolMate HR lap counting watches can now be downloaded for Mac free on swimovateusa.com. The software, previously available to PC users is now compatible with Mac, and allows athletes to log their swims into the software, then graphically analyze it with a variety of operations.
Brad Sorock, spokesman for Swimovate USA, said: "We are constantly upgrading and putting out software that will allow our PoolMate watches to work effortlessly with any computer. Our new Mac software is a big step towards making that happen."
Swimovate's PoolMate series of watches come standard with automatic lap, calorie, speed, and distance calculators. Additionally, PoolMates automatically calculate stroke efficiency for the user, so the swimmer no longer needs to calculate the quality of their stroke by hand. The PoolMate Pro and PoolMate HR models have the additional ability to connect to a computer to log and analyze data. Swimovate USA is consistently adding more features and seamless functionality to their swim analysis software.
About Swimovate USA:

Swimovate USA is the North American division of the Swimovate Poolmate, Poolmate Pro, & Poolmate HR automatic lap counting watches, and provides additional resources for swimmers that can improve their training for triathlons or competitions. Since 2007, Swimovate has been offering innovative training tools like the Poolmate HR and Poolmate Pro swimming watches for swimmers. The company was founded by serious swimmers who understand what athletes need when it comes to maximizing training efforts and getting accurate session data. Swimovate is an enthusiastic group of talented entrepreneurs who have a passion for swimming and triathletes. The Swimovate team has competed in a variety of well-known athletic events, including Ironman events around the world, and is committed to helping swimmers of all abilities reach their goals. For purchase or more information, please visit SwimovateUSA.com.