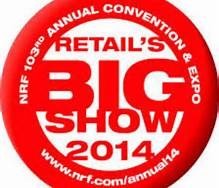 Middleton, MA (PRWEB) December 19, 2013
Newcastle Systems, a manufacturer of mobile powered workstations, will be demonstrating its newest NB Series SLIM mobile workstation configured specifically for retail applications at the National Retail Federation's "Big Show 2014" in New York City on January 14-15, 2013.
Exhibiting with their software partner ProShip Software, look for the Newcastle Team in Booth #111. Newcastle will be featuring its new "NB Series SLIM", a mobile workstation cart equipped with a battery that can power almost any workstation configuration for up to 8-10 hours.
Already widely used by many of America's largest retail chains, common configurations for NB Series carts include label printers, barcode scanners, laptops, monitors and other peripherals. The large variety of accessories available allow for retailers to efficiently streamline everyday processes in both the warehouse and on the retail floor. Users who convert their stationary workstations into mobile ones see immediate savings and improved accuracy.
John O'Kelly, CEO of Newcastle Systems, stated "We've seen a lot of uptake of this approach to process improvement by our retail clients. There has been a particularly significant impact for them in the receiving area of the warehouse and in doing inventory and relabeling processes on the retail floor. With the new "SLIM" unit, we are now able to provide even more maneuverability and a slimmer footprint more suited for the retail floor where customers may be present as well."
About Newcastle Systems, Inc.
Newcastle Systems is a provider of workplace mobility solutions that include a range of mobile computer carts for every mobile workstation need and a unique power pack system that enables companies to maximize workplace efficiencies with smaller investment. Newcastle Systems mobility solutions are in place around the world helping reduce footsteps in warehouses, speeding receiving operations, improving staffing efficiencies in retail, and providing convenience and ergonomic benefits for employees in many sectors including Manufacturing, Educations, Distribution, Military and other Government entities.
FOR MORE INFORMATION: Please visit our website at http://www.newcastlesys.com or direct inquiries to us via sales(at)newcastlesys(dot)com.
Related Computer Press Releases