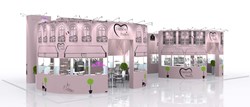 Poole, Dorset (PRWEB UK) 30 September 2013
Quadrant2Design, the Poole based exhibition design agency, has launched a new, innovative way to expose their competitors shortcomings.
It has launched a 'questions for our competitors' section on its website, posing the very questions many exhibition contractors don't want their customers to ask.
Quadrant2Design believe it's understandable that new customers like to shop around when choosing an exhibition company for a new project, or when they're looking for new ideas.
To help with this process, Quadrant2Design's new 'questions for our competitors' list suggests the 'blind side' questions that, although important, clients might not think to ask.
Alan Jenkins, Managing Director of Quadrant2Design said: "We are very confident in our Prestige Events System, our offer and service. If potential buyers ask our competitors the same probing questions we have asked of ourselves, we will win the business. This might upset a few sales people out there, but I'm not worried!"
Alan continues, "Competitors with 'cheap' exhibition stand solutions and inferior service levels, should be worried about well informed customers, who ask 'difficult' questions".
Quadrant2Design would like to challenge any competitor to match the Prestige Events System's capabilities and their service model. Does their system have seamless-effect graphics, curved graphic walling, integrated showcases and digital screens? Can their solutions be easily self-installed by a client, without tools or special knowledge?
Do other exhibition stand solutions have the Prestige Events System's flexible and modular characteristics, the ability to reconfigure for any exhibiting space?
And can they offer Quadrant2Design's Free-Hire Service, or their promise to pre-build every exhibition stand before it leaves the premises - the ultimate 'quality control check'?
"Our 'Questions for our Competitors' also highlights a disturbing omission on many exhibition contractors websites, the total lack of any photographs of 'real' exhibition stands that they have produced for clients, as well as any genuine sounding reviews," comments Alan Jenkins.
To see the list of questions go to: Questions for our Competitors.
For further information, please contact a Quadrant2Design Design Consultant: phone +44 (0)1202 650 333 or email designteam(at)quadrant2design(dot)com.
Related Graphic Press Releases