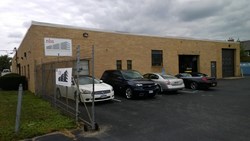 Amityville, NY (PRWEB) October 03, 2013
New Business Solutions Inc., a minority and woman owned display manufacturer in New York, will be attending the New York MWBE Forum Oct. 3-4 in Albany.
MWBE provides nationwide services to minority and women businesses to educate, mentor, and help leverage their capabilities to maximize opportunities and promote sustainability.
New Business Solutions Inc. is a Long Island-based company that manufacturers a multifaceted array of retail merchandising solutions, including custom displays, display cases, and retail displays. They specialize in wire/sheet metal and tubular fabrication, injection molding, vacuum forming, plastic fabrication, extrusions, wood fabrication, graphics capabilities, and logistics. They are committed to ensuring they produce a quality solution that meets the client's individual needs and requirements. Unlike other corporations, where the bottom line is the most important factor in the decision-making process, New Business Solutions Inc.'s most important factor is satisfying the customers.
New Business Solutions Inc. is also active in the community, supporting Breast Cancer Awareness Month,cancer research and a member of The Amityville Chamber of Commerce. They also support Hispanic Heritage Month along with Goya, one of their clients. Their staff speaks both English and Spanish to better serve their diverse array of clients.
New Business Solutions Inc. headquarters are located at 31 Sprague Ave. in Amityville, N.Y. For more information, visit their website at http://www.nbsdisplays.com, or call them at 631-397-0637.
About the Company:
Over the past 30 years, New Business Solutions has developed into a local and internationally recognized producer of quality point of purchase displays and store fixtures.
NBS utilizes a mixture of traditional craftsmanship and the latest innovative technology to design and create products directly in line with customer specifications. Their sales, engineering, manufacturing, and customer service departments are involved in every step of the project from inception all the way through delivery. NBS produces quality, affordable display and fixture solutions domestically at their corporate headquarters and production facility on Long Island, New York.
New Business Solutions also has global solutions to fit their customers' needs. With production capabilities in Asia and Europe, NBS has strategic partnerships with several manufacturing facilities in Taiwan, China, Poland and Germany. All production and distribution is monitored by an NBS team of production and quality specialists to ensure that all product specifications are met and followed through in a time sensitive manner.
Related Graphic Press Releases