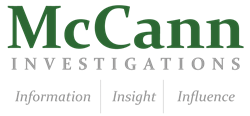 San Antonio, TX (PRWEB) December 12, 2013
McCann Investigations, a digital security and private investigations firm based in Texas, recently announced that it now offers the expertise of its professional digital security analysts for expert testimony in San Antonio court cases.
McCann provides a wide variety of digital forensics services, including traditional surveillance and computer security. All of the specialists at the agency must undergo rigorous training and have gained extensive field experience, which makes them perfect witnesses in court cases that require experts to clearly explain the significance of digital evidence found in investigations.
"We are always happy to be of use to the Texas court system," said Daniel Weiss, Managing Partner at McCann Investigations. "All of our investigators are capable of giving clear, knowledgeable testimony that makes it easier for judges and juries to understand exactly why evidence being presented to them is significant."
Computer forensics examinations typically involve analysts poring over files found on computers, laptops, flash drives, external hard drives, mobile devices and servers. These analysts extract any evidence that they find, and then use that evidence to track down the perpetrator of that crime and determine how they managed to accomplish their crime.
Because jury members and judges typically do not have expertise in digital security, the testimony services provided by McCann's San Antonio digital security specialists are extremely important to the process of any case. The evidence that they provide could sway the verdicts given by the court.
"We have great confidence in the ability of our digital security analysts to clearly articulate the significance of any evidence that they find," said Weiss. "The years of experience and the amount of training that these men and women have undergone is a major asset to court proceedings."
For more information about the services provided by McCann Investigations in the San Antonio area, visit the company's website at http://www.mccanninvestigations.com and follow the company on Twitter at @mccangi.
About McCann Investigations

McCann Investigations is a Texas-based private investigations practice focused on comprehensive investigations incorporating digital forensics, surveillance, undercover work and background checks for clients in various case types. Service areas include intellectual property theft, non-compete enforcement, fraud, embezzlement and family law. McCann Investigators are experts in the latest computer forensics tools and are licensed with the state of Texas. McCann examiners have provided expert testimony and reporting in hundreds of cases across the state.