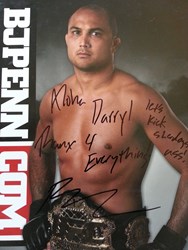 Austin, TX (PRWEB) September 24, 2013
DigITech Web Design is pleased to announce that two-time Mixed Martial Arts World Champion BJ Penn has endorsed their leading Austin website design firm. Penn is also a Brazilian Jiu-Jitsu world champion who is presently fighting for the Ultimate Fighting Championship. He has endorsed digITech Web Design because it is a cutting edge leading company providing innovative web designs, graphics designs, WordPress development, mobile app development and SEO services, which are all tailored to meet the exact needs of their individual clients.
DigiTech Web Design is different because they use a 360-degree web design philosophy. This means they don't just build websites; they create their websites from top to bottom to represent the specific needs of each client. Each website is built with three unique main elements, including web design, search engine optimization and social media integration. When all three are added together, it equals success. They also include industry leading protocols, such as a direct sales funnel and call to action that specifically steers potential customers to take action, resulting in the sale of a product or service. This is what makes digITech the leading Austin TX Web Design firm.
When using the services of digITech Web Design, clients will receive personalized services and website solutions that work best for their individual company needs. Since every company has its own exclusive set of needs, digITech works intensely to meet those needs through their ground-breaking website creations.
Anyone who would like more details on DigiTech can learn more by visiting the digITech Web Design website or by calling (512) 653-3003.
About digITech Web Design: DigITech Web Design is a leading website design firm based out of Austin, Texas. They offer top-notch website design, Word Press development, mobile application development and search engine optimization. They incorporate state-of-the-art technology into all of their customized websites to create visually striking websites. They also build them to engage prospective customers and assist in increased website traffic, which in turn results in profitability for a company. We also deliver best in class Mobile App Development for both the iPhone and Android Platform, in which we have developed the custom iPhone app for BJPENN.
Company: DigITech Web Design

Address: 7703 N. Lamar Blvd. Suite 510

City: Austin

State: TX

Zip code: 78752

Telephone number: (512) 653-3003
Find More Graphic Press Releases