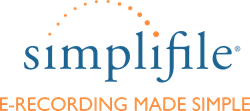 COLES COUNTY, Ill. (PRWEB) December 17, 2013
Simplifile, the nation's largest electronic recording (e-recording) service provider, announced today that recording customers may now e-record documents through Simplifile in Coles County, Ill.
Customers range from title companies, banks, attorneys, and lien filers to government agencies throughout the state and even some national submitters who traditionally send land documents to the Coles County recorder's office by mail or courier service.
"Instead of driving to the courthouse or using the mail, customers can submit their documents directly from their computer, saving time and money on postage or fuel," said Paul Clifford, president of Simplifile. "The time-saving factor is probably the biggest reason thousands of people have switched to e-recording, as documents can be recorded in minutes with Simplifile, as opposed to waiting several days or even weeks for the mail."
With Simplifile's online service, documents can be scanned, uploaded, and prepared for submission to the recorder's office. These "electronic versions" of the original, paper documents are received in real-time by the county, reviewed, stamped, recorded and returned to the submitter.
Recording fees are also paid electronically via Automated Clearing House (ACH), eliminating the need for checks and reducing the occurrence of check fraud.
"E-Recording is more secure and definitely more convenient for both the county and its customers," Clifford said.
Coles County is the 16th Illinois county to begin e-recording with Simplifile.
For more information about e-recording in Coles County call 800-460-5657 or visit simplifile.com.
About Simplifile
Simplifile is the nation's largest and fastest-growing e-recording service provider. Simplifile supports thousands of e-recording customers including title companies, banks, attorneys, lien filers, and other organizations that create and submit documents to nearly 1,000 local, state, and federal government jurisdictions. Simplifile's electronic document services save time and the expense associated with traditional document submission methods. Simplifile is focused on building the industry's largest and easiest-to-use e-recording service for organizations of all shapes and sizes. More information about Simplifile may be found at simplifile.com or by calling 800-460-5657.
"Simplifile" is a registered service mark of Simplifile, LC.
# # #