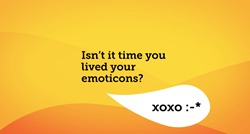 Philadelphia, PA (PRWEB) September 30, 2013
Designed to give the network a consistent voice, Philadelphia full-service and digital advertising agency, D4 Creative, created a series of animated spots that are humorous, sassy and will further crystallize the personality of the brand. Each spot is designed to engage the viewer and simultaneously promote one of Veria Living's programs. D4's original soundtrack is a crucial element for the campaign by infusing a hip, pop, fun, and unforgettable 'sunshiny' feeling that will keep viewers smiling throughout their day. Here is a link to view a few of them:
http://d4agency.com/press/veria-tv
D4 senior creative director David Lesser led the creative team for the campaign and oversaw the production that featured motion graphics designed at D4's in-house After Effects and Avid HD facilities.
The Philadelphia ad agency is AOR for Veria Living, the first true 24/7 wellness lifestyle channel being distributed nationwide through various providers such as FiOS, Dish Network, RCN, and Cablevision.
Kurt Shore, President and Chief Creative Officer of D4 said, "We designed the campaign to be highly contextual, that is, we give something to the viewer at the exact moment they are watching — a little random act of wellness that that they can do while watching the channel."
About D4 Creative Group

D4 is one of the region's most successful creative and branding advertising agencies and is located in the Manayunk section of Philadelphia. The agency is a certified Woman/Minority Business Enterprise (WMBE). Unique to the region, D4 Creative offers full in-house audio suites, video suites, design suites and post-production suites. D4's clients include Penn Maid, ARI Fleet, Weinstein Bath and Kitchen, Veria Living, Pond Lehocky Stern Giordano, Espoma, Frontier Communications, Sandia National Laboratories, and Nuna. For more information, visit our website at http://www.d4agency.com.