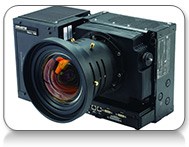 Orlando, FL (PRWEB) December 05, 2013
Christie® today announced that Aero Simulation Inc. (ASI) awarded Christie the contract to supply the U.S. Marine Corps with projection systems consisting of 12 Christie Matrix StIM™ WQ 1-chip DLP® solid state LED projectors for AH-1W Weapons Systems Trainer (WST) Device 2F136A upgrades. Six display system projectors will be installed at Marine Corps Base Camp Pendleton, Calif., and six at Marine Corps Air Station (MCAS), New River, N.C. in 2015.
The U.S. Marine Corps' project includes the modification and technical refresh of two existing AH-1W WST systems with the replacement of visual display projectors, image generators and visual databases. With the goal of upgrading the system displays and supportability, while reducing lifecycle costs, the modified trainers will help teach pilot and co-pilot cockpit familiarization, engine operation, tactical navigation, and emergency procedures. The trainer supports standalone tactical training, as well as integrated virtual training with other devices. These features let the students practice essential aircraft operations and tactics skills in an environment closely resembling real world scenarios.
The 2F136A WST device comprises several functional systems producing a simulated environment and emulating real world scenarios for AH-1W Super Cobra helicopter aircrews with each trainer consisting of two visual display domes. The training device's computer systems control two separate training platforms, one housing a Pilot position and the other a Co-pilot/Gunner position. The system provides Pilot and Co-Pilot/Gunner transition weapon systems, integrated crew, and flight proficiency training.
About Aero Simulation, Inc.
ASI is recognized for innovative flight simulator design and manufacture, as well as cost- effective simulator modifications, upgrades, relocations and site support for military customers, as well as commercial airlines and aircraft manufacturers. For more information, visit http://www.aerosimulation.com.
About Christie
Christie Digital Systems USA, Inc. a wholly-owned subsidiary of Ushio Inc., Japan, designs, builds and installs customized projection display solutions. Christie delivers turn-key solutions for sophisticated virtual reality, simulation systems and control room environments including high-resolution power walls, multi-sided immersive environments, curved screen displays, domed simulation and multi-projector arrays. Industries and organizations that rely on Christie range from government agencies to oil and gas, aerospace to entertainment, and manufacturing and design to pharmaceuticals. For more information, visit http://www.christiedigital.com.
-30-
For more information contact:

Carmen Robert, Christie

519-572-5824

Carmen(dot)Robert(at)christiedigital(dot)com
Mario Almonte

Herman & Almonte Public Relations

212-616-1190, ext. 267

malmonte(at)herman-almontepr(dot)com
Christie® and Christie Matrix StIM™ are trademarks of Christie Digital Systems USA, Inc., registered in the United States of America and certain other countries.
DLP® is a registered trademark of Texas Instruments.
Related Computer Press Releases