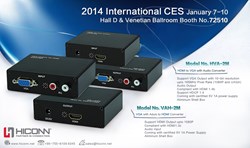 (PRWEB) January 02, 2014
Several days ago, Hiconn Electronics, the distinguished device manufacturer and retailer, held a seminar on what to display at the 2014 CES. More than 20 major officials and workers attended the seminar.
First of all, a speaker declared the meeting open and reported some detailed information about the 2014 International CES. According to the speaker, the 2014 CES, the world's most famous mobile technology event, will run January 7-10, in Las Vegas, Nevada. This year, more than 500 companies from around the world will attend the show.
Secondly, the attendees had a hot discussion about what to display at the show. All people expressed their ideas freely and happily. They have decided that the latest versions of VGA with Audio HDMI Converters and HDMI to VGA with Audio Converters will be the company's major displayed products. All its items will come with detailed product description and great discounts.
At the end, they made a schedule for those who are going to the United States to attend the Consumer Electronics Association. The representatives of the company will fly to American around January 2 (that will also depend on the tickets and weather). The attendees were so considerate that they have even listed some details about what should be paid attention to.
About Hiconn Electronics
Hiconn Electronics (Shenzhen Hiconn Electronics Co. Ltd.) is devoted to designing and manufacturing a wide range of connection cables and customized cable assemblies, offering many HDMI cables, VGA cables, SATA cables, USB cables, 1394 cables, DVI cables, SCSI (Small Computer System Interface) and more. For more information, please visit http://www.hiconn.net/.
Contact Person: James Yin (Sales Director)

Company Name: Shenzhen Hiconn Electronics Co., Ltd.

Address: Shenghua Building., Xixiang Road., Baoan District, Shenzhen, Guangdong Province, China

Zip Code: 518102

Tel: +86-755-8109 8345

Fax:+86-755-2779 3497
Related Computer Press Releases