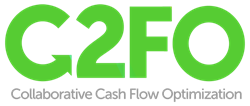 Kansas City, Mo (PRWEB) December 18, 2013
C2FO, the world's market for working capital, announced today that it has hired Dru Shiner, CPA, to lead global sales for the company, which has enjoyed explosive growth since its founding in 2008.
Shiner comes to C2FO with a successful track record of leading international teams, identifying and building new business, as well as driving incremental business from existing customers. Prior to C2FO he served as Vice President of Global Strategic Accounts for Salesforce.com, the enterprise cloud computing leader. During his time at Salesforce.com, he led a specialized executive global sales team. His team focused on bringing enterprise caliber sales processes and execution that drove incremental revenue to both new and existing Global Accounts at the company, based in San Francisco, CA.
Prior to Salesforce, Shiner led business strategies for Oracle Corporation, in Redwood Shores, California. Before that, he was director of CRM Center of Excellence for SAP America, based in Newtown Square, Pennsylvania. A product of Southwest Missouri State University and a resident of the Kansas City metropolitan area for more than twenty years, Shiner has led sales and strategy for global businesses around the world. This is the first time he will assume such a role for one based in his hometown.
"We are delighted to have Dru join our executive leadership team. We know he will be very effective in growing our sales team and driving revenue for our member companies and C2FO," said Alexander "Sandy" Kemper, C2FO founder and CEO.
"This is an outstanding opportunity to help grow this extraordinary enterprise into the global business powerhouse it can be," said Shiner. "As a life-long Kansas Citian, I am very pleased to be given the ability to build something significant and world-changing right here in my hometown," he added.
C2FO is Collaborative Cash Flow Optimization. C2FO helps companies across the globe collaborate with their supply chain in a live, web-based market to achieve accelerated cash flow and increased efficiencies in working capital management and profit.
About C2FO

C2FO is the world's market for working capital and risk-free profit. C2FO is the only working capital exchange that allows companies to optimize their working capital positions in a live, bid/ask environment. Companies across the globe use C2FO to increase their gross and net profit while simultaneously producing vital Early Cash Flow Delivery to their supply chain. C2FO is Collaborative Cash Flow Optimization. Learn more about C2FO at http://www.C2FO.com or contact Christine(at)C2FO(dot)com or phone 816-268-2570.