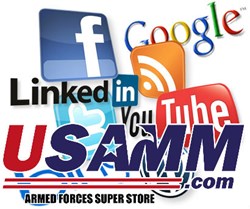 Milwaukie, OR (PRWEB) September 24, 2013
Local uniform superstore USA Military Medals is adding several professional graphic design and media specialists to its ranks, here, today, reinforcing their marketing department with the added talent.
While also upgrading software and computer systems to the latest and greatest, UMM is shifting its focus on marketing to a more advanced state. In a marketing world where social media and the quality of its content are growing at an unprecedented rate, UMM sets to embrace the movement full force.
"With the way things are going out there in marketing, it was a no-brainer that we hire on some folks with a deeper knowledge of these factors," said USAMM, LLC President of business operations, Jared Zabaldo.
USAMM, out of Milwaukie, Ore., owns and operates USA Military Medals along with various other military uniform e-commerce stores.
"These are professionals with a great amount of experience in these fields, which means we have a better shot at reaching our customers the majority prefers to be reached," said Zabaldo.
UMM's main focus involves building ready-to-wear, mil-spec ribbon and medal racks, which may be purchased through their sites and additionally through the "EZ Rack Builder" – a free online uniform tool for any branch of service.
A military ribbon or medal "rack" is military slang, referring to the colorful rows of awards generally located above the wearer's left pocket on U.S. armed forces dress uniforms.
Online marketing tools have major influence in the military uniform arena, notes Zabaldo, and to be competitive at this level requires that companies big and small revamp how they are approaching and tackling such goals.
"It's exciting to know that with all the online technological advances out there, that we have a foot in the door," said Zabaldo.
About USA Military Medals:
USA Military Medals (http://www.usamilitarymedals.com/) is an internet-based company formed in 2005, carrying more than 12,000 dress uniform products in stock and specializing in custom military medal and military ribbon rack production with their state-of-the-art rack builder. USA Military Medals also operates a brick and mortar store servicing local military personnel and veterans.