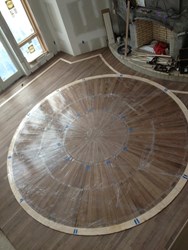 West Long Branch, NJ (PRWEB) December 05, 2013
Full-service hardwood floor company, Tri-State Hardwood Flooring, is expanding their repertoire to meet the demand of clients seeking intricate, unique designs on their hardwood flooring. Better known as laser cutting, this process involves the use of a high-powered beam to cut material (wood, acrylic, plastic, fabric, etc.) with computer-controlled parameters. Depending on the material, the laser beam either vaporizes, burns or melts everything in its direct path. Furthermore, laser cutting is an efficient process as it greatly reduces the likelihood of needing finishing work.
In business for over ten years, Tri-State Hardwood Flooring sees the need to offer this service due to immense customer satisfaction:
"Since customer satisfaction is our main priority at Tri-State, we're committed to providing our clients with a range of high-value services that will increase the worth of their homes," says Tri-State Secretary, Talita Santos. "It's a tough market out there, especially in New Jersey, and adding this unique touch will not only make the flooring aesthetically pleasing, but will turn an ordinary home into a prized possession."
With the cutting-edge technology employed by Tri-State, they have the capacity to work with each customer to the fullest extent. From what they've seen so far, customers are partial to three dimensional wood medallions, borders and engravings. However, Tri-State plans to offer a book of designs to choose from in the future, given their connections with graphic design agencies.
Tri-State Hardwood Flooring is a full service hardwood floor company in West Long Branch, NJ that serves clients in the New Jersey, New York and Pennsylvania area.
###
For more information about this topic, or to schedule an interview with Jerry or Talita, email triwoodflooring(at)gmail(dot)com or contact Tri-State at 732-768-0741.
Find More Computer Press Releases