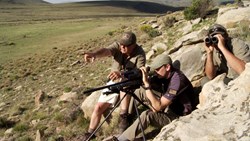 Austin, TX (PRWEB) October 26, 2013
TrackingPoint™ is investing in conservation, education, and hunter advocacy efforts worldwide through a sponsorship of Dallas Safari Club (DSC). CEO Jason Schauble states "TrackingPoint is a Texas company, and we believe in being involved in the organizations that support hunting and shooting as the Texas way of life. Our founder is a safari hunter and many of our employees are safari hunting enthusiasts. Together, we are working to create the next generation shooting experience for hunters of all kinds. The TrackingPoint team has designed smart rifles to democratize long range accuracy, facilitate collaborative hunting, and give every hunter the ability to record video of his experience, all of which we believe to be the ultimate combination of features for the tech-savvy safari hunter. We are excited to sponsor Dallas Safari Club; they are a community pillar in our home state that supports the same hunting and shooting rights we do. We hope to work hand in hand to provide the best tools possible for hunting anywhere."
An independent organization since 1982, DSC has become an international leader in conserving wildlife and wilderness lands, educating youth and the general public, and promoting and protecting the rights and interests of hunters worldwide. DSC is quickly growing as a global force for wildlife. The organization now grants more than a million dollars per year for special initiatives ranging from lion conservation, research and anti-poaching efforts in Africa to pronghorn and desert bighorn sheep restoration in Texas. Engaging and educating youths in traditional outdoor skills, and crusading for lawmaker and policymaker support for sportsmen's causes also are DSC priorities.
TrackingPoint, the Texas-based applied-technology company that created the first smart rifle system for long-range hunting, is a sponsor of DSC's annual convention and expo Jan. 9-12 at the Dallas Convention Center. This public-welcome event generates most of the funding for DSC grants.
"Companies like TrackingPoint are an important part of the DSC movement", says Ben Carter, executive director for DSC. Carter expressed gratitude for their support, adding, "All of our sponsors deserve a pat on the back. Their involvement is vital because it helps DSC expand its reach and make a meaningful difference for wildlife and hunting around the world."
TrackingPoint's products include .300 Winchester Magnum and .338 Lapua Magnum smart rifles, available thru an application-only process on the TrackingPoint website.
More Tech Press Releases