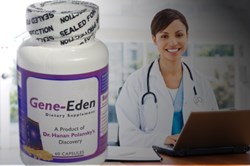 Rochester, NY (PRWEB) December 02, 2013
Genital ulcers increase the risk of HIV. A genital ulcer is an open sore in the genital area. The herpes simplex virus is the most common cause of genital ulcers (1). "In the United States, most young, sexually active patients who have genital, anal, or perianal ulcers have either genital herpes or syphilis…genital herpes is the most prevalent of these diseases." This is according to the CDC in a page last updated on January 28, 2011 (2).
This observation prompted the CDC to recommend HIV testing of everyone with genital ulcers. "HIV testing should be performed on all persons with genital, anal, or perianal ulcers who are not known to have HIV infection (2)."
Researchers wrote that "Early and prompt therapy may decrease the risk of transmission of the infectious agent to others (1)." polyDNA points out that preventing an outbreak can prevent the development of genital ulcers, and the risk of HIV.
"Both HSV-1 and HSV-2 can cause genital herpes and genital ulcer disease. We recommend Gene-Eden-VIR to target the latent HSV-1 and HSV-2." Mike Evans, polyDNA
A study published on August 12, 2013 in the peer reviewed, medical journal Pharmacology & Pharmacy, in a special edition on Advances in Antiviral Drugs, showed that Gene-Eden-VIR reduced herpes symptoms. Study authors wrote that, "Individuals infected with the herpes virus…reported a safe decrease in their symptoms following treatment with Gene-Eden-VIR (3)." The study authors also wrote that, "We observed a statistically significant decrease in the severity, duration, and frequency of symptoms (3)."
To learn more about Gene-Eden-VIR, and the herpes virus visit http://gene-eden-kill-virus.com/Herpes-Remedy.php. All orders of Gene-Eden-VIR are completely confidential, and no information is shared or sold to any third party. Privacy is assured.
References:
(1)    Genital ulcers--what's new? Published in August 2013.

         http://www.ncbi.nlm.nih.gov/pubmed/24167932
(2)    Diseases Characterized by Genital, Anal, or Perianal Ulcers. Updated on January 28, 2011.

        http://www.cdc.gov/std/treatment/2010/genital-ulcers.htm
(3)    Gene-Eden-VIR Is Antiviral: Results of a Post Marketing Clinical Study. Published on August 12, 2013.

        http://gene-eden-kill-virus.com/PP_Gene-Eden-VIR-is-Antiviral.pdf
polyDNA is a biotechnology company that develops dietary supplements using the unique scientific method developed by Dr. Hanan Polansky, which is based on Computer Intuition.
In addition to his unique scientific method, Dr. Polansky published the highly acclaimed scientific discovery, called Microcompetition with Foreign DNA. The discovery explains how foreign DNA fragments, and specifically, DNA of latent viruses, cause most major diseases.
polyDNA developed Gene-Eden-VIR, an antiviral natural remedy that helps the immune system kill latent viruses.